---

Big Bend Resort & Adventures Tours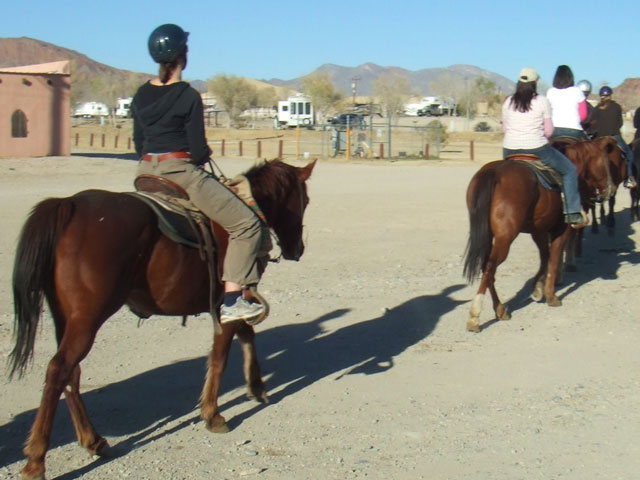 Cruise through breathtaking desert valleys framed by rugged mountains, visit fascinating historic sites, and explore the most remote reaches of Texas on horseback when you go on a tour during your stay at Big Bend Resort & Adventures.
These tours, offered by Big Bend Stables and Big Bend Overland Tours, that take you to some of the region's most impressive places.
Choose from one of the following adventures and you'll leave Big Bend with unforgettable memories.
---
Big Bend Horseback Riding Tours
Old Mine Tour
During this two-hour tour, you'll visit the last working quicksilver mine in Big Bend and the remains of a once-thriving community. See for yourself what life on the frontier must have looked like as you take in staggering views of desert valleys and stunning mountains.
Indian Head / Pictograph Ride
The ancient Native American petroglyphs aren't the only thing you'll admire on this three-hour journey. Ride up to the top of the Ocotillo Mesa for an unparalleled look at the Chisos Mountains and Big Bend National Park.
Half Day Ride
Roam the desert in style on this four-and-a-half-hour excursion. Learn area history as you take in all the majestic scenery from your trusty steed. Halfway through, you'll sit down for a Texas-size picnic of fine cheeses, fresh fruit, specialty salads, roasted entrees, and crave-worthy cookies.
Desert Sunset Ride
As the sun sets, Big Bend is transformed into a mesmerizing wonderland of vibrant color. What better place to experience it than the Painted Desert? Watch the sunset from Ocotillo Mesa and fall in love with Big Bend.
---
Big Bend Overland Tours
Ernst Tinaja Tour
Cruise through the desert in an off-roading vehicle before you reach one of the region's famous landmarks. The Ernst Tinaja is a natural watering hole surrounded by towering multi-colored walls of limestone. To reach it requires a one-mile hike, providing the perfect opportunity to take in all the rugged beauty of Big Bend.
Santa Elena Loop Tour
Visit the century-old Luna's Jacal and Terlingua Abajo settlements and stand at the base of the Santa Elena Canyon's 1,500-foot-high cliffs during this five-hour tour. This excursion includes a box lunch at the Historic Castolon Store and stops at Sotol Vista and the Sam Nail Ranch, where you'll learn about the area's history, geology, and wildlife.
Indian Head Springs and Moon Valley Tour
Imagine what ancient life was like in Big Bend thousands of years ago at this Native American campsite estimated to be in use more than 7,000 years ago. Check out the historic pictographs and revel in all the gorgeous desert scenery before trekking to Moon Valley, where famed astronaut Neil Armstrong trained to collect rock samples in April 1964.
River Road Tour
Experience the flowing waters of the Rio Grande River and observe all the diverse flora and fauna, unusual rock formations, and stunning desert vistas on this 10- to 12-hour tour. The excursion passes the Marsical Mine ruins and the Glenn Springs historic site as you traverse River Road between Castolon and the Rio Grande Village. Lunch on this 120-mile round-trip tour is included.
Discover Big Bend Resort & Adventures' other tours, and book your next getaway, by clicking here.
---
---