---
Hotel Galvez & Spa in Galveston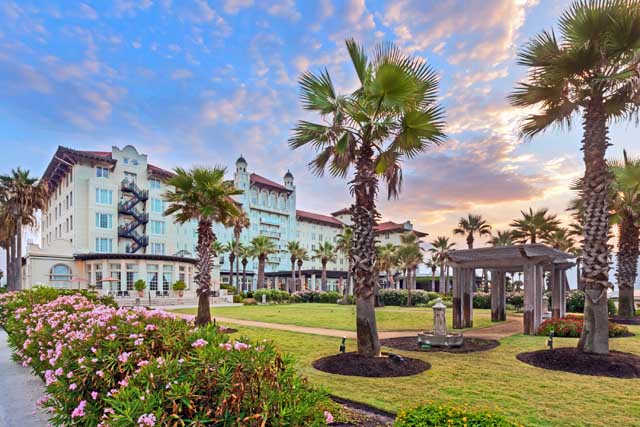 Drive down the narrow palm-tree lined driveway toward the stately entrance of the Hotel Galvez & Spa in Galveston and you just might feel as if you're back in the roaring 20's. The ornate facade perfectly defines the AAA Four-Diamond hotel, which offers a compelling combination of the past and the present.
Beautifully furnished guest rooms and a grand on-site restaurant reflect a bygone era of the more than 100-year-old Galveston hotel's history, while an extravagant swimming pool and an upscale spa provides a step back into the modern day.
With its location on Galveston's bustling Seawall Boulevard just steps away from a soft sand beach, Hotel Galvez & Spa, a Wyndham Grand Hotel, is a great place to stay if you're looking for a romantic resort retreat or a surf side holiday.
Hotel Galvez & Spa's elegant rooms immerse you in the luxurious comforts of the past and present. Each unit features one king or two double beds, high-end Gilchrist & Soames bath products, and Wolfgang Puck Coffee, along with complimentary wireless internet, an iPod docking station, and a high-definition television for your entertainment. While you're enjoying these in-room comforts, take a moment to glance out the window for stunning views of either the gulf or the city of Galveston. If you're looking to indulge, book one of the hotel's spa-inspired PURE rooms that come with a rain shower, spa robes, and a personal refrigerator.
For the ultimate getaway, stay in one of the Hotel Galvez & Spa's six beautifully appointed grand suites. Kick your feet up and relax in the separate living area with a sleeper sofa, take advantage of the wet bar and refrigerator, watch one of two 46-inch flat-screen televisions, and enjoy a restful night's sleep on the plush king-sized Simmons Healthsmart mattress. Regardless of the room you choose, you'll have everything you need for a remarkable vacation.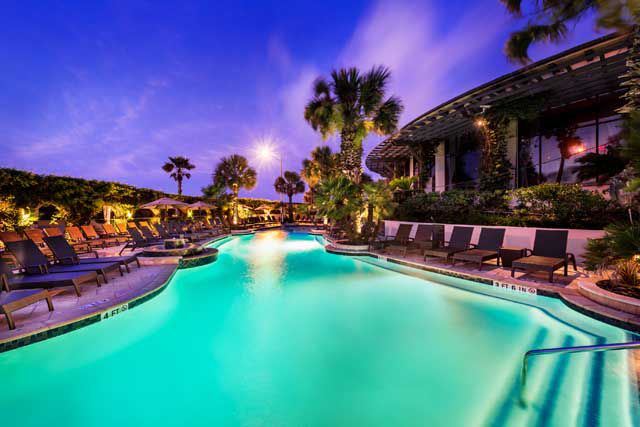 There are many great experiences to be had outside of your room, as well. Go for a dip or soak up the sun at the heated outdoor saline pool, where you can order up a cocktail at the swim-up bar. Then work up a sweat at the fully equipped fitness center, pamper yourself with a massage at the health spa, or walk across Seawall Boulevard to hang out on the beach. When you're ready to see Galveston's sights, use a courtesy bicycle or catch the complimentary shuttle to experience the dining and nightlife in the bustling Strand District and Pier 21.
If you'd rather dine on site, look no further than the Galvez Bar & Grill. This casual seafood restaurant serves up fresh catches from the Gulf Coast along with a wide variety of soups, salads, sandwiches, and entrees. Stop by for breakfast, lunch, or dinner, and don't miss the Sunday brunch that was named one of "Texas Best Brunches" by Southern Living Magazine.
Hotel Galvez & Spa History
To get the most out of your stay at Hotel Galvez & Spa, you need to know its history. The hotel traces its roots back to the 1900 Hurricane that devastated the up-and-coming town of Galveston. After the hurricane, some of the wealthiest Galvestonians pooled their resources together and built the Hotel Galvez & Spa as a symbol that the town had been restored to its pre-hurricane glory. It didn't take long for the hotel to become one of the most popular in the country with even the likes of Howard Hughes, Frank Sinatra, and Dean Martin having spent some time here. You can experience all of this in the hotel's Hall of History, where you can browse around while enjoying a free audio tour.
With so much history, it's no wonder the hotel is considered one of the most haunted places in Galveston. The most famous tale is of the infamous "ghost bride" in Room 501, who took her own life after hearing that her beloved fiancée's ship was lost at sea. It's said her spirit still haunts the hotel to this day. To experience Hotel Galvez & Spa's spooky side, sign up for a ghost tour provided by the hotel concierge. Special ghost tour dinners are also available monthly, providing the perfect way for you to chat with your fellow paranormal enthusiasts.
In addition to its lavish amenities, exceptional services, and convenient location steps away from the beach, Hotel Galvez & Spa has a combined 25,000 square feet of indoor and outdoor space ideal for weddings, conferences, and other events.
Book your next vacation at Hotel Galvez & Spa and experience the best of the Texas Gulf Coast.
---
---