---
7 of the Best Ways to Enjoy the Great Outdoors in Waco
Bask in the warm light of the summer sun as you float on a vast and scenic lake. Explore remote hiking trails that twist and turn through a lush forest. Paddle past impressive limestone bluffs and ride horseback to one of the best views around. Where can you go on all these adventures? Waco, the Heart of Texas. Nestled at the intersection of the Brazos and Bosque rivers among the rolling hills of Central Texas, Waco has plenty of scenic charm and many ways you can enjoy it. See just a few below and plan your next outdoor getaway here.
---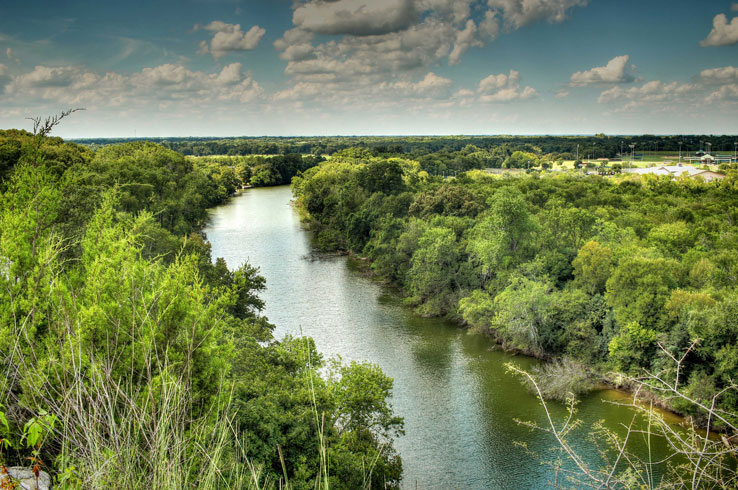 Explore Waco on the Brazos River
Cruise past magnificent limestone bluffs and blue herons wading on the shoreline as you listen to captivating stories about Waco's history and its people on one of two tours of the Brazos River. Get out on the water with Waco Tours' River Cruise Tour, a 2-hour and 15-minute peaceful, informative experience on the Brazos River. See beautiful landscape and wildlife and get a taste of Waco's history and its people.
Want to be the master of your own ship? Rent a canoe, paddleboard, or a single or double kayak from Pura Vida Paddle or Waco Paddle Company and explore the Brazos River on your own terms.
---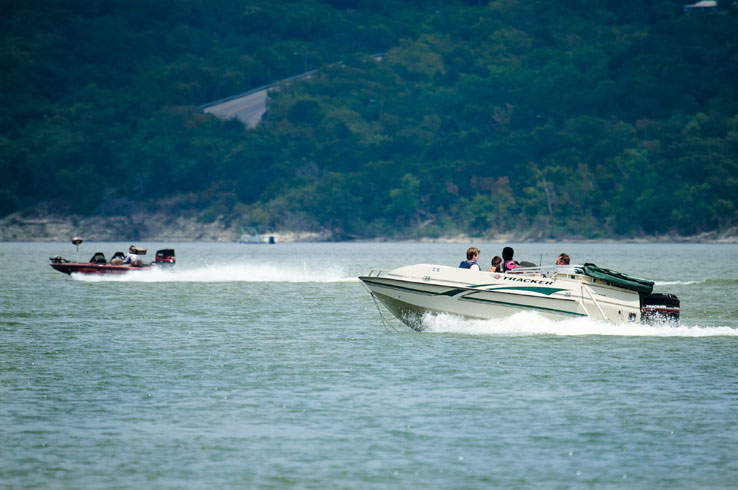 Cruise Beautiful Lake Waco
Breathe in all the fresh air, soak up the sun under a wide-open blue sky, and enjoy the quiet embrace of solitude as you float on Lake Waco. Covering nearly 80,000 acres, the sprawling lake is an easy-to-reach escape from the hustle and bustle of city life. One of the best ways to experience it for yourself is by renting (or bringing your own) boat or personal watercraft and exploring the vast, tree-lined coastline. You can rent a pontoon boat from Waco Lake Rentals.
Regardless of the kind of experience you're looking for, you'll discover that Lake Waco is about as quiet and uncrowded as it gets. Savor a day of rest, relaxation, and all the sunshine you can handle, and stick around for one of Lake Waco's spectacular sunsets. Although you could spend a full weekend here, there's much more to do and see outdoors in the Heart of Texas.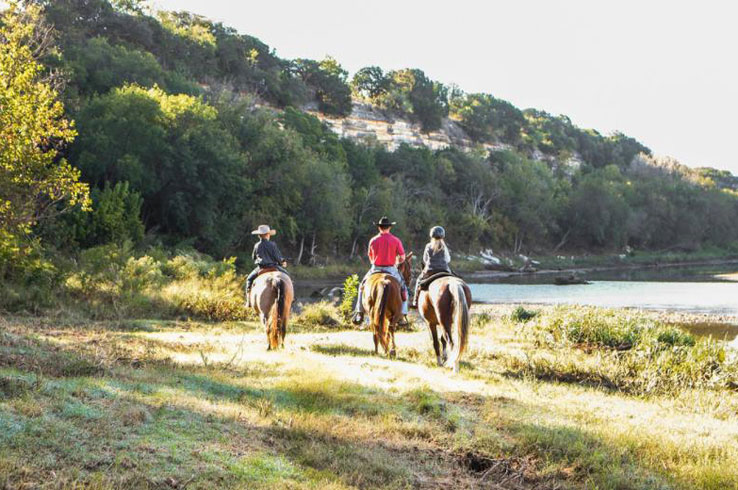 Ride Horseback Along the Brazos River
Unless you live on a ranch, it's not every day that you get to ride a horse. Add in Waco's abundant natural beauty and you've got an adventure you won't soon forget. For a truly unforgettable experience, try out a sunset horseback ride at Brazos Bluffs Stables. The ride is about 2 and a half hours, complete with drinks and snacks. You might prefer the 90-minute horseback journey, also available, that is suitable for all skill levels. Both tours meander through cedar woods and along cliff trails. Want the ultimate photo of you on the back of a horse? This memory is one you will want to preserve.
Regardless of which tour you choose, you'll have a rare opportunity to immerse yourself in the pastoral beauty of Central Texas. You may even make a new equine friend along the way.
---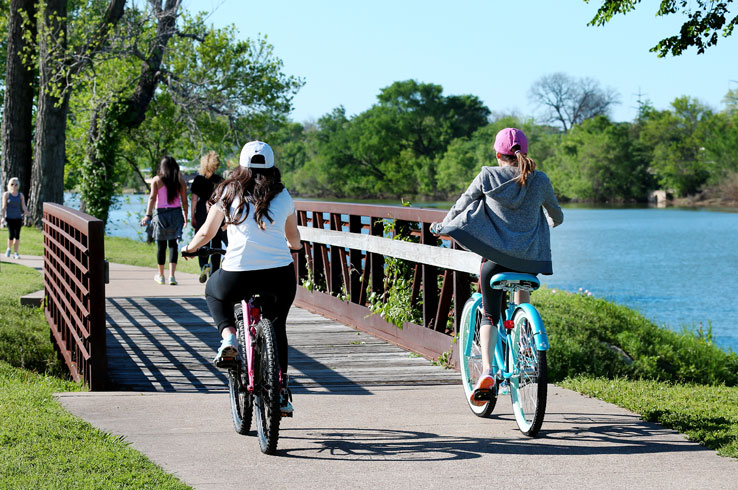 Escape to Cameron Park, an Urban Oasis
Wander along the peaceful hiking trails that twist between towering live oaks at Cameron Park, and you'll feel like you're a world away from just about everything. Yet you won't be, as this sprawling 416-acre oasis is just a mile from downtown Waco. Follow the scenic hiking, mountain biking, and equestrian trails, getting in some amazing birdwatching along the way. Take in a romantic view of the Bosque River and countless miles of Central Texas terrain from Lovers Leap, which sits atop a soaring 100-foot-tall limestone bluff. Fish from the shoreline or play a round on the disc golf course. No matter how you love spending your time outdoors, Cameron Park is the place to be.
---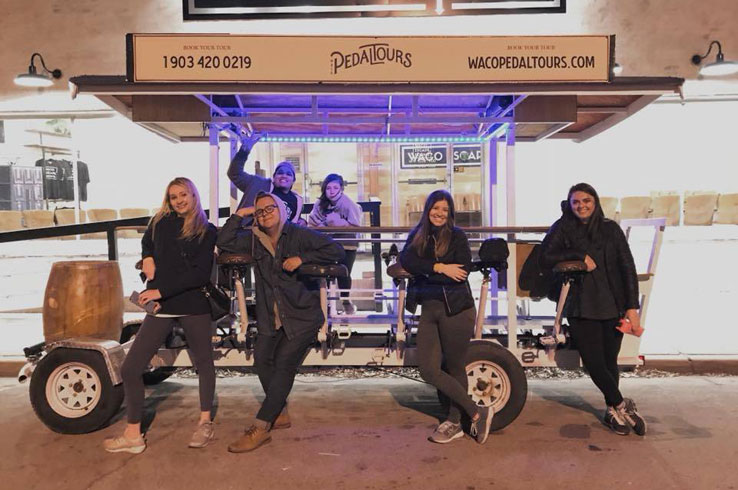 See the Sights with Waco Pedal Tours
There are many ways you can get around Waco, but there are none quite like what you'll get with Waco Pedal Tours. Climb aboard the 162-seat pedal bike party bus and get in some leg work as you tour the town's coolest spots. Opt for the Public Tour at 3, 6, or 9 o'clock p.m. and you'll enjoy 3-4 stops along the way at local bars and boutiques. Private and custom tours are also offered. All tours are BYOB, so load up a cooler and pedal your way to an awesome afternoon or evening out in Waco.
---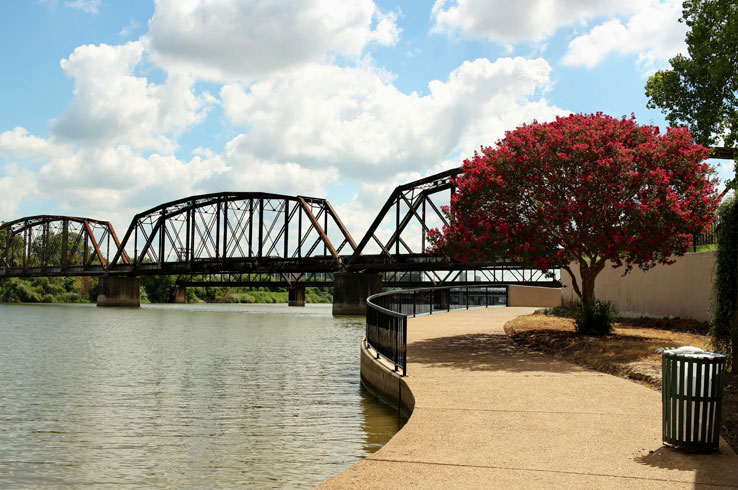 Run or Bike Along the River
When you want to work up a sweat, tie on your running shoes and head to the Waco Riverwalk. Starting in Cameron Park, the Riverwalk follows the bank of the Brazos River three miles down to Baylor Ballpark. Jog just steps away from the river and take in photo-worthy views of the iconic Waco Suspension Bridge and McLane Stadium as you pass through Indian Springs Park and by the Texas Ranger Hall of Fame and Museum. For some additional mileage, cross over the Waco Suspension Bridge and follow the trail north until you reach the bridge at Herring Ave, or head toward McLane Stadium, where the Riverwalk extends over the river itself.
Is biking more your thing? Bring your own or rent one from Bicycle World, Bear Mountain or OTB Cyclery. If you've got a mountain bike, you can also take in the trails of Cameron Park along the river.
With so much to see, you might just get distracted. Don't worry; there are plenty of helpful signs along the route. Just follow the river to stay on track.
---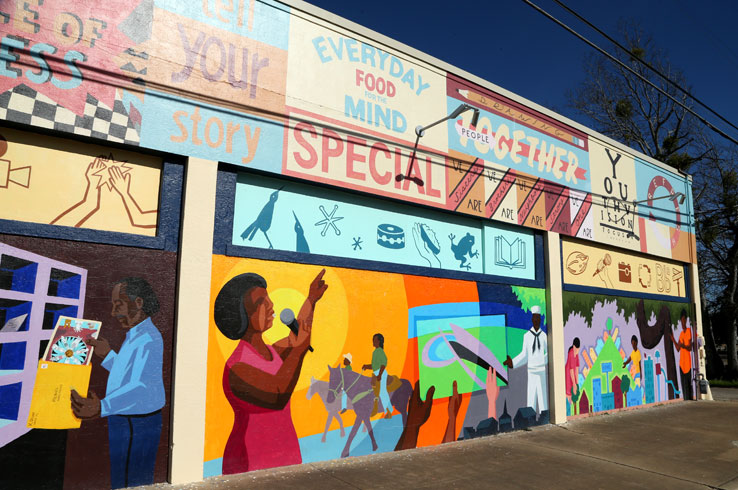 Go on a Treasure Hunt for Waco's Colorful Murals
If you're looking for an urban adventure, set out to find the multitude of murals spread throughout Waco. Start by seeking out the works of world-famous Parisian street artist Blek le Rat, who painted six small murals at Apex Coffee Roasters, the Art Center of Waco, and other spots in the Waco Downtown Cultural District.
Finding le Rat's art is only the beginning. Admire the giant and colorful origami cranes of 1,000 Hopes for Waco painted across the side of a building facing Jackson Ave. Cruise over to the East Waco Library at 9th and Elm to see some highlights of Waco's African-American history. Over at 1000 Columbus Ave., you'll see an enormous recreation of Vincent van Gogh's The Starry Night and the perfectly Instagrammable City With a Soul mural behind The Findery. In addition to the murals, you can enjoy the Waco Sculpture Zoo, a collection of 28 animal-themed artworks along the Brazos River. These are just a few of the many works of public art you can find in Waco. Check out this page to get started.
---
With all the ways you can enjoy the outdoors in Waco, it's easy to overlook everything else the Heart of Texas has to offer. Discover the many other reasons you should visit Waco here.
---
---