---
5 of the Coolest Ways to Savor Summer in Palestine
Make a vintage train ride part of an unforgettable date night, take part in one of Texas' most unique races, and immerse yourself in the breathtaking beauty of East Texas. When you're ready to hit the road this summer, look no farther than Palestine. Set about 100 miles southeast of Dallas, this inviting town is full of stunning Victorian architecture, more than 1,800 historic sites, and some of the Lone Star State's best ways to enjoy the season. Discover just a few of the possibilities below, then plan your next getaway to Palestine here.
Tour Texas Tip: Keep an eye out for the grand opening of TahWahKaro Distilling Company, an award-winning purveyor of fine grain-to-glass spirits that is making Palestine its home this summer.
---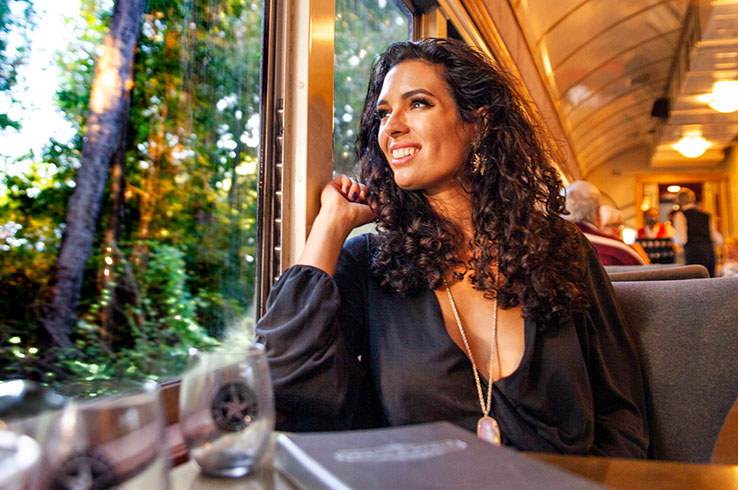 Enjoy Date Nights on the Rails
When's the last time you've ridden on a train? Standing on the platform as the locomotive rolls in, you hear a loud squeal of the brakes and the poof of steam as it stops. You climb up the stairs to your car—that first step is always the highest—and you find your seat. Both inviting and nostalgic, this is the kind of experience you'll have with the Texas State Railroad.
Although you can ride the rails throughout the year, summer is the season of romance. Starting in June, the Texas State Railroad offers two tours that make for truly one-of-a-kind date nights. If you and yours are craft beer enthusiasts, book your spot on Pints in the Pines. Savor local beer flights with appetizers on your way to Rusk, where you'll sit down for a moonlit dinner. Flights include a variety of beers, from a light, summery Kolsch and wheat-rich Hefeweizen to high-octane lagers, IPAs, coppery-red Scotch ales, and chocolate porters. On the way back, you'll get dessert and even more beer, as well as a Texas State Railroad pint glass to remember the occasion.
For you lovers of reds and whites out there, Wines in the Pines offers an indulgence for all your senses. Pair delectable fare with selections from Miranda Lambert's Red 55 Winery, all from the comfort of your seats in first class, the Upper Dome car, the luxe presidential cars, or the privately chartered Caboose. Like Pints in the Pines, you'll have a moonlight dinner next to the lake in Rusk. The return includes dessert and the final wine sampling's. You will take home a Texas State Railroad wine glass as a momento from your trip. It doesn't get more romantic than this; the rest is up to you.
---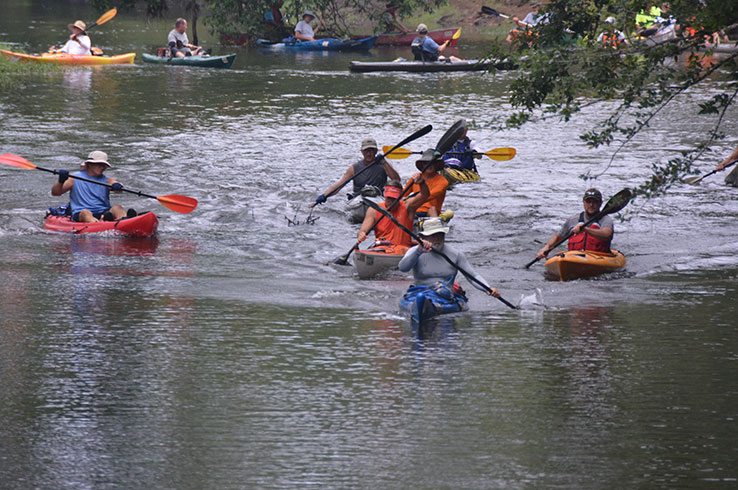 Take on One of Texas' Toughest Canoe Races
For more than 30 years, paddlers from across the country have made their way to Palestine for the Neches Wilderness Race (August 7). Traversing 22 miles of the Neches River, the adventure is known as the "toughest little race in Texas" for a reason. Slow moving and steamy from the heat, with wading herons and egrets and the sound of cicadas as a backdrop, the Neches River doesn't have raging rapids. Instead, you'll be dodging (or sometimes even dragging your canoe or kayak over) fallen tree branches, all while competing with your fellow good-spirited paddlers. Your journey ends with burgers, cold watermelon, and a t-shirt you can wear with pride.
Ready to get paddling? You can register as a leisure paddler or pro. No matter what category you sign up for, make sure you bring plenty of water and plan to be out for most of the day. See you on the Neches!
For a preview of what it's like to take on the Neches Wilderness Race, check out this video (or this one).
---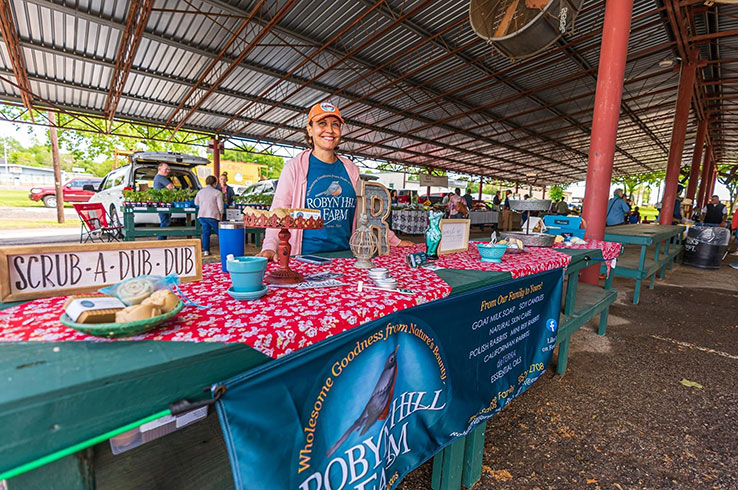 Savor the Picks of the Season
Summer in Palestine is harvest season—and an ideal time to head to the farmer's market. Get an authentic taste of East Texas as you browse all the fruits and vegetables grown in the area, from peaches and blueberries to tomatoes, watermelons, and onions. Stroll around and you'll find much more than that here, however. Fresh meat; eggs with hues of blue, green, brown, and cream; handmade soaps; honey; fresh bread; and even cupcakes if you're craving something sweet. You can even get in on growing your own fruits and vegetables, as some vendors even bring heirloom plants you can take home with you. No matter what you're in the market for, you'll find something to enjoy at the Palestine Farmers Market.
---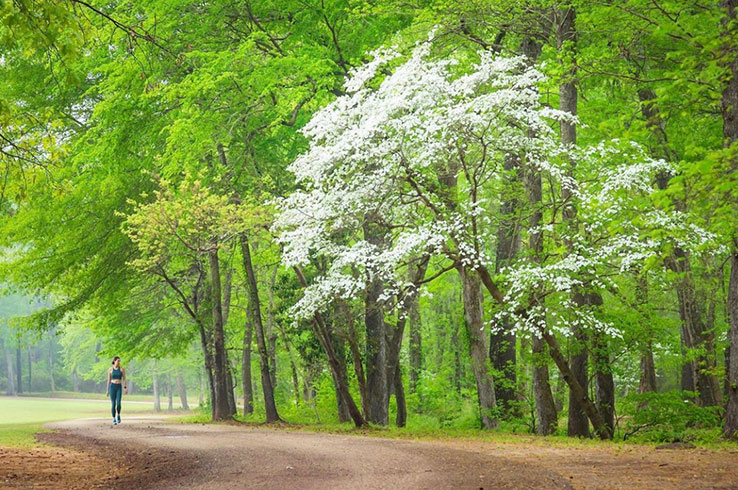 Hike, Bike & Explore Davey Dogwood Park
Beyond its majestic piney woods, Palestine is famous for its dogwood trees. Although they bloom in shades of pink and white in the spring, the dogwoods are no less magnificent in the summer. Immerse yourself in their natural splendor at Davey Dogwood Park, a 254-acre wonderland tucked away among towering pines just minutes from Downtown Palestine. Not only is this a scenic spot for a picnic, but the park is also a fantastic place for an outdoor escape. Grab your bicycle and pedal along the 5.5 miles of recently repaved roads (including a quad-burning hill at the entrance), traverse 4.5 miles of hiking and off-road biking trails, and play your way through a nine-basket, 18-tee disc golf course. Whether you're getting a workout our just taking some time to immerse yourself in nature, find your way to Davey Dogwood Park.
---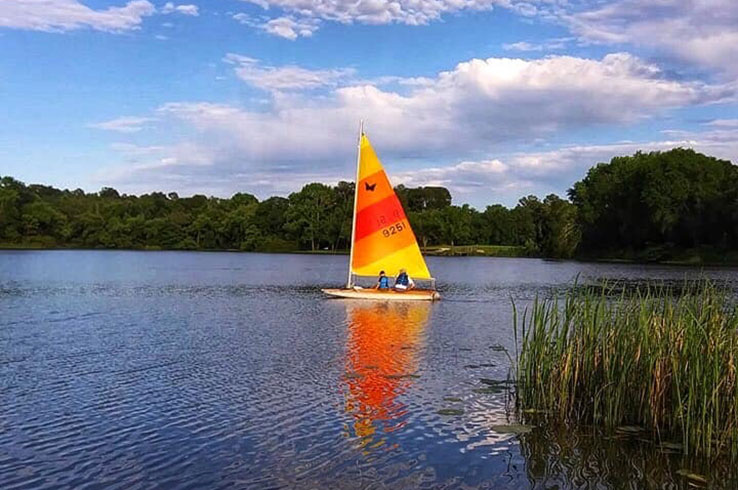 Escape to the Lake
Peek through the woods in and around Palestine and you may well get a glimpse of one of three nearby lakes. Both Lower City Lake and Upper City Lake offer a peaceful setting. There are no motorized boats; just quiet, bucolic surroundings. Black walnut, American basswood, black tupelo, and dogwood trees line both lakes, and an abundance of waterfowl and wading birds are a common sight. Don't forget your fishing poles, either! Folks have great luck here with pier and bank fishing. The same goes for Wolf Creek Lake, a city treasure just 10 minutes from the town square. Tucked away in 700 acres of the Palestine Community Forest, Wolf Creek makes for a beautiful day of fishing, swimming, hiking, and picnicking.
---
When you're looking for your next summer road trip, escape to Palestine and the pine forests of East Texas. Plan your visit here.
---
---