---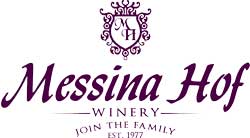 Messina Hof Winery
Walk through rows of tender grapevines bursting with purple and green fruit. Sip on dry whites, full-bodied reds, and sweet ports expertly paired with cheese and chocolate. Enjoy a perfectly executed dinner and stay at a bed-and-breakfast with lakeside views. More than a winery, Messina Hof Winery is a destination for oenophiles and seekers of romantic getaways. Visit any of its three locations in Texas to taste some of the Lone Star State's top wines for yourself.
---
Messina Hof Estate Winery & Resort (Bryan)
The green-leaved vines of a 20-acre vineyard creates a picturesque backdrop for Messina Hof's original location in Bryan. Located just outside of town, the winery feels as if it's a world away from it all. Step into the tasting room to sample the winery's reserve selection of wines, which includes everything from dry whites to balanced red-wine blends and flavorful ports. Combine your wine of choice with an appetizer in the Wine Bar or go behind the scenes on a one-hour tour to see how the award-winning winery produces its wares.
For a truly elevated fine dining experience, look no further than The Vintage House Restaurant. Dishes on the menu are crafted with herbs and vegetables harvested from the estate's garden and are made to be paired with Messina Hof's own wines. As the sun sets, retreat to one of the suites at the on-site The Villa Bed & Breakfast. Full of elegant touches, such as stained-glass windows from The Louvre in Paris and one of Texas original Spanish missions in the Great Room. The bed and breakfast features 11 spacious units with private patios, balconies, oversized tubs, and more.
Want to really indulge? Choose one of the all-inclusive packages that include everything from winery tours and tastings to welcome baskets and a chef's table for two at The Vintage House Restaurant. Whether you come for a tasting or a weekend, you'll relish the best of Texas wine here.
---
Messina Hof Hill Country Winery (Fredericksburg)
The Hill Country is widely considered Texas's wine country, and Messina Hof's Fredericksburg location is a major destination. Pass rows of grapevines that grow Lenoir grapes used in the winery's port wines before heading into the spacious and sunny tasting room, where you can try more than 50 of Messina Hof's reds and whites (including some only available at this location).
Don't miss the chance of going on a tour of the winery and vineyard. Not only does this include a select tasting of four wines, but also a crash course on tasting techniques and food pairing. You can even make Messina Hof your starting point to exploring this corner of the Hill Country, as The Manor Haus Bed & Breakfast has four romantic cottages you can choose from.
---
Messina Hof Grapevine Winery (Grapevine)
Located in a replica of a 19th-century hotel in the heart of Historic Downtown Grapevine, Messina Hof's North Texas winery pairs flavorful wines with a one-of-a-kind charm. Sample your favorite kinds of wine from a selection of more than 40 reds and whites and find a seat in the cozy tasting room that exudes the style of a bygone era. Order a hummus plate, cheese board, or anything else from the food menu, and follow that with a tour of the winery's cellar and production area. While you're there, check out all the fascinating historical pieces on display from the original hotel, which was built in 1891.
With its delicious wines, carefully curated cuisine, and inviting accommodations, it's no wonder Messina Hof Winery is considered one of the finest in Texas. Keep an eye out for its new location just outside Houston, coming in 2020.
---
---