---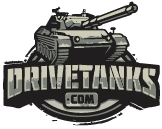 DriveTanks.com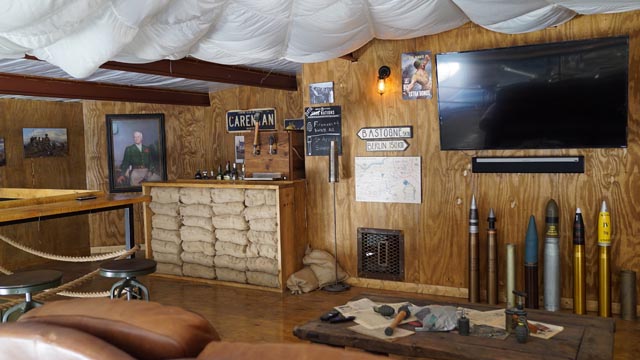 Experience all the best parts of being in the military without having to enlist! Whether it's a childhood dream or sheer curiosity, DriveTanks.com makes it possible for you to experience the fun, adventurous, and intriguing side of war without drill sergeants breathing down your neck and enemies lurking around every bend. Located in Uvalde, Texas, DriveTanks.com is a living military history museum offering a uniquely thrilling, once-in-a-lifetime experience you will not find anywhere else short of going to the battlefield!
Locked and Loaded
Featuring 14 fully equipped tanks, 7 artillery pieces, and over 60 firearms, get ready to be locked and loaded as you take your vivid imagination, and for some - video game play, from mere artificial fabrication into the real deal realm.
Feel free to let loose and give it all you got on their 18,000-acre exotic Ox Ranch. The spacious ranch offers all the room needed to shoot heavy-duty artillery and to ride fully restored armored vehicles around.
Experience driving a Sherman tank through their one-of-a-kind, rough terrain tank course as you fire off the 76mm main gun or blast the German PAK-40 Anti-Tank gun to feel the type of power tankers were up against during war times. You are also invited to detonate an actual shaped charge and block explosives, or shoot historic firearms, including both U.S. and German machine guns, assault rifles, and infantry weapons, in addition to your tank experience.
Climb on and explore all their many restored tanks, even the ones you're not there to drive!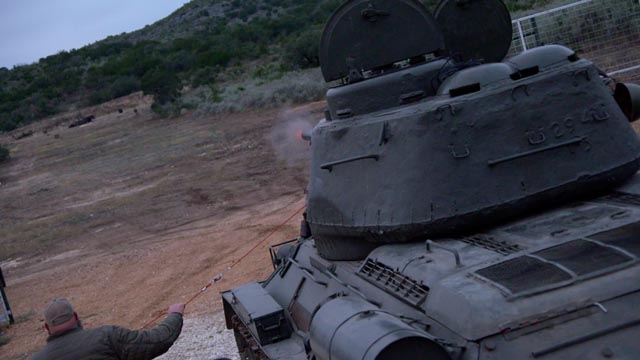 Explore Artifacts in World War II Museum
Rich with artifacts from Europe and the Pacific Islands, delve into their on-site World War II Museum. Numerous educational exhibits throughout the facility provide interesting and informative descriptions about the history of tank warfare. Of course, all beginning with the first military tank creation in the First World War.
A personal tour will be given at the start of your visit by one of their knowledgeable cadres. However, you are encouraged to continue perusing their many museum artifacts and historic resources after a day of riding tanks, shooting guns, and firing off heavy explosives!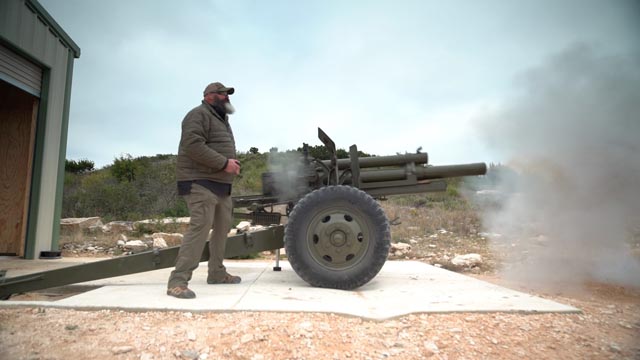 Experience a Night in the Barracks
If you're looking to enhance your military experience, you can stay the night in their exclusive "Barracks" lodging. This rare accommodation is designed to represent old officers' quarters from World War II with full modern amenities.
The one floor, ranch-style "Barracks" are flat roofed, long, and rectangular, as many military barracks were during the 1940s. Naturally, they are lined with heavy duty sandbags around their perimeter for cover from unexpected enemy fire. You can't miss their fully painted, dark military green color with one contrasted, vividly white "Invasion Star" boldly printed on each side.
Once indoors, old wooden shelves lined with all-inclusive hard spirits such as Crown Royal whiskey and Buffalo Trace bourbon will take the edge off those rough and chilly nights, especially after a long day at war. Strong wrought iron furnishings and warm wooden fixtures fill the room with a calmly subdued, yet ruggedly masculine ambiance.
Not every feature is customized to be an explicit replica of real military barracks, the most important modern feature – the bed – is nothing like the flimsy and thin beds found in real World War II barracks. DriveTank.com's barrack beds are lush, cozy, and every room comes with two queen sized beds, along with a roll-away bed, if needed. The Mess Wagon is available onsite for meals, 9 a.m. to 5 p.m. from Tuesday through Saturday, or feel free to make your own grub on one of the outdoor grills. Warm your bones at night for a little campfire reprieve as you gather round the stocked fire pits.
Other gnarly amenities include the Hunting Lodge, stocked lakes for fishing and swimming, tennis courts, basketball courts, a 9-hole miniature putt-putt golf course, swimming pool, hot tub, and a playground for the kids.
Lodging in the Barracks is the perfect way to extend your adventure and to explore more of the many activities Ox Ranch has to offer.
If you're ready to have the experience of a lifetime at the world's only ranch offering driving and shooting tanks, artillery, and machine guns all-in-one location, reserve your experience here.
---
---