---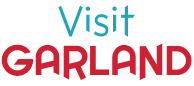 Garland Landmark Museum at Heritage Crossing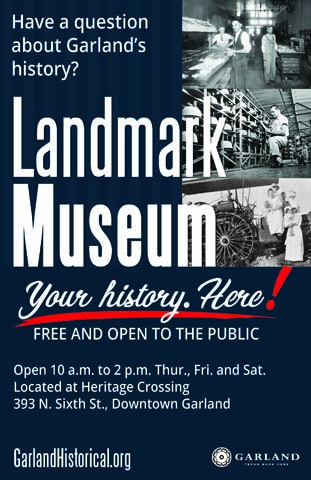 Heritage Crossing is four quadrants of land at the intersection of Sixth and Walnut Streets in Downtown Garland. Currently, the southwest quadrant consists of the Landmark Museum located in Garland's 1901 Santa Fe Depot, a refurbished 1910 Pullman Coach Car and the 19th Century Tinsley-Lyles House.
The remaining three quadrants contain walking paths with interpretive signage describing Garland's history.
Heritage Crossing is a significant representation of the importance of history and heritage to the City of Garland.
The Landmark Museum, which has resided in Garland's former Santa Fe Depot since 1974, displays local artifacts from early settlers, old newspapers, farm tools, quilts, clothing and more. The museum is located at 393 N. Sixth Street and is open Thursdays, Fridays and Saturdays from 10 a.m. to 2 p.m. Arrangements for private group tours are available.
The museum is housed in the vintage 1901 Santa Fe depot, owned and maintained by the City of Garland. Inside it are Garland-specific historical artifacts and documents, all donated to and maintained by the Landmark Society. This collection, representing decades of diligent solicitation effort, focuses on the period between 1850 and the present.
Donated to the City of Garland in 1976 by the Santa Fe Railroad, the 1910 Pullman Coach Car #582 transported passengers on the main line steam trains of the Santa Fe railroad system from 1910 to about 1930, playing a vital role in troop transportation during World War I. From 1930 to 1949, it connected small towns in Texas, Oklahoma, and Kansas, linking Santa Fe's branch lines like Garland's to their main line. Finally, in 1949, it was taken out of service and became living quarters for a Santa Fe employee, saving it from the demolition many similar railroad cars faced.
Established in 1972, the Garland Landmark Society collects, preserves, exhibits and interprets historical elements of our community's unique heritage. The mission supports an educational effort to enlighten and entertain the public. Garland is a special place to live and work, and it is important to understand what made it that way. Learn more about Garland and the Landmark Society at GarlandHistorical.org.
---
---