---

Heritage Village Museum
Located one mile west of Woodville on Highway 190, Heritage Village Museum is a replica village of the pioneer days with a collection of buildings and artifacts depicting a small farm and timber community of the mid-1800s to about 1920.
Not to be missed is the world-famous Pickett House Restaurant serving its famous Chicken & Dumplings, Fried Chicken, and homestyle cookin' served boarding-house style. Located inside Heritage Village.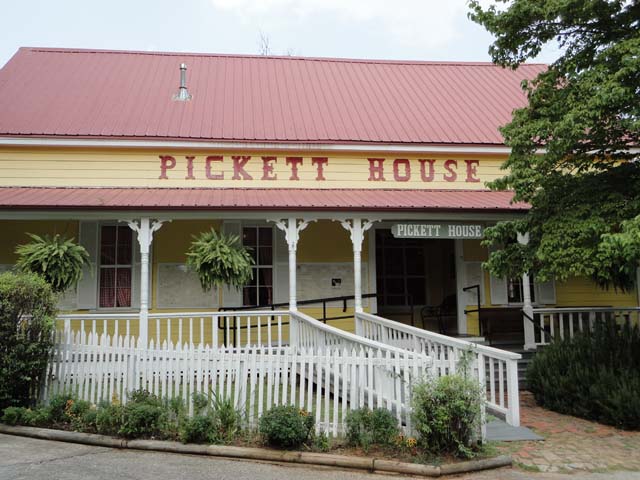 The Pickett House Story
In 1908 several citizens of Polk County donated 2 1/2 acres of ground near the old Midway Church to the Common School District #I0. On this site in 1909 was built a two room schoolhouse appropriately named Midway School. Work on the school was done by the W.T. Carter Sawmill in Camden.
The school was located about 50 yards to the rear of the church, near a spring of cool drinking water. During the earliest period of its operation the "sanitary facilities" for females was in the woods to the north of the building and the facility for the males was in the woods to the south of the building.
According to Claude Adams, a former student, the first teacher was Laura Vickery. She was followed by Bertie Neal, Worthy Cruthers, Fayette Lewis, Mattie Walker, Alfred and Mary Matthews, Mr. And Mrs. Carl Dickens and Nora Holder who was the last teacher in 1945.
In the fall of 1945 school officials transferred the students of Midway and other small schools in the area to the Big Sandy School District, thus ending the building's use as a schoolhouse.
Mr. Charles E. Dickens purchased the old school building and moved it to Highway 190, where he operated it as The County Line Grocery Store for several years.
Mr. Clyde Gray, owner and operator of Heritage Gardens in Woodville, heard that the building was for sale. He purchased it and had everything ready to move the old building to Heritage Gardens, but due to some difficulty in obtaining the necessary permit the move was made under somewhat secretive circumstances. Little did the Texas Highway Patrolmen know as they sat down to lunch at the Woodville Inn that the old Midway school was moving slowly east on Highway 190 to its new home at Heritage Gardens.
Mr. Gray used the building for a while as an entrance to the museum. Finally, in 1965 "Old Midway" made its last move to its current location. With some refurbishing and redesigning the old schoolhouse became THE PICKETT HOUSE RESTAURANT featuring quality country cooking serving boarding house style. It was managed by Clyde Gray's wife "Bill".
In the early days of operation different entrees were offered but everyone's favorite seemed to be fried chicken, chicken and dumplings, greens and various other vegetables in season. Bill also began serving coleslaw and watermelon rind preserves with fruit cobbler for dessert. The meal was always accompanied by fluffy biscuits and cornbread. This menu has remained much the same throughout the years.
The most often asked question is about the name "PICKETT HOUSE". The name came from a dear friend of Mr. Gray who was instrumental in helping him secure loans through the Small Business Administration. Mr. C. A. Pickett was also a mayor of Houston in the early 1940s.
The second most asked question is about the Circus Posters on the walls. They were bought from another friend of Mr. Gray. Mr. Rudolph H. "Bubba" Voss of Orange. He was a circus expediter with over 22 years of playing trumpet in circus bands, traveling all over the United States. He retired in 1970. They are NOT FOR SALE! THE PICKETT HOUSE would not be the same without them.
---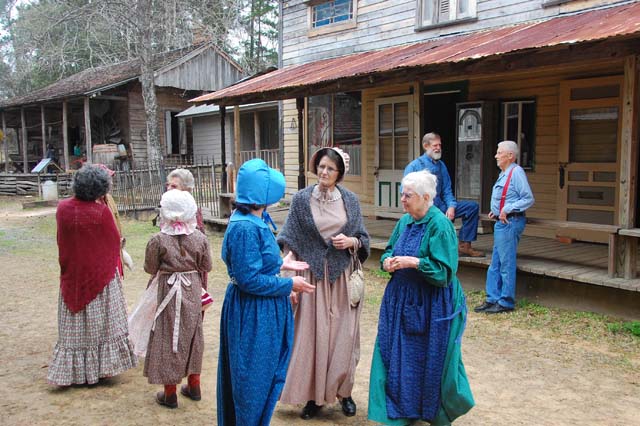 The Clyde Gray Story
Clyde Edward Gray, the founder of Heritage Village Museum, was born August 20, 1907, in Antioch, Hot Spring County, Arkansas, to Stephen Edward and Nancy Jane McDaniel Gray. His father was employed as a farmer in Hot Spring County. After high school, Clyde moved to Chicago to study art. He made his living as an illustrator and cartoonist, which field he continued onboard ship in a tour of duty in the United States Navy and then on merchant ships. Clyde moved to Beaumont, Texas in the later 1930s or early 1940s where he worked for Sabine Towing, a marine towing company. Clyde married the daughter of one of the shipping lines owners, Lillian Virginia (Bill) Rice, while living in Beaumont.
About 1950, the couple moved to Tyler County, Texas, near Woodville. They bought the old Rainey Strawberry Farm, the current site of Heritage Village, and began raising Nubian goats. After some time, Clyde's interest in art was apparently revived, and he started painting in oils and watercolors. Clyde's wife, Bill, planted a little garden behind their house. She put out fliers that read: "Heritage Garden - view it while Clyde paints your picture". With his flair for showmanship, he soon brought public attention to his paintings. Clyde's gallery was full of his paintings of old houses and pine trees and scenes of country life that were fast disappearing. In order to bring attention to his place and sell more paintings, Clyde started putting a few old things around on the property. He called the place Heritage Gardens. This might have been confusing since people usually associated gardens with flowers and plants, but that name stuck because he was making a real garden of history.
The beginning of this rich historical collection was a Civil War-era anchor dredged up in Port Arthur by the company owned by the Gray family. In February of 1964, the donation of the 19th-century vintage Tolar Cabin kitchen marked the first acquisition of real importance for the Grays. This was the beginning of Heritage Garden Village. Soon after, the old Midway School was added, which since the early 1970s has housed the world-famous Pickett House Restaurant. From that time on, Clyde Gray painted for his Heritage Garden Village. He painted and painted and painted. He would paint until he got enough money to buy materials or old relics, and then he would build what it took to house and exhibit them.
The art medium that Clyde Gray is most famous for came about when he was approached by a local businessman who had started a tile factory and wanted Clyde's assistance in making colored tiles. As a result, Clyde developed a unique under-glazing process for copying images and making paintings on tile. This became a source of income for the Grays, and many homes in East Texas are graced by these tiles, as are several public buildings. Clyde said, "The beauty of painting on tile is that fire can't destroy it. A fire may blacken the tile, but all you need is steel wool and a good cleanser to clean it." Because tile work is indestructible, Gray thought putting history on tiles would be ideal. In his 70s, he completed "The Walls of Texas History" for the 1986 Sesquicentennial Celebration. Clyde Gray is the first Texas artist to be awarded the National Liberty Medal of the Texas Heritage Foundation for "Distinguished Art and Ceramics".
Clyde Gray sold his beloved Heritage Garden Village to the Tyler County Heritage Society in 1987. Clyde Gray died on November 7, 1989. The name has changed to Heritage Village Museum, but his dream lives on as thousands of people come from all over the world to tour the Village, dine at the Pickett House, and relive those days of yesteryear.
Clyde Gray House at Heritage Village Museum
157 Private Road 6000
Woodville, Texas 75979
(409) 283-2272
1-800-323-0389
Clyde Gray House is available for tours by appointment.
---
---