---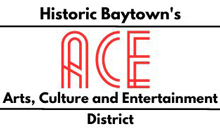 Historic Baytown's Arts, Culture, and Entertainment Council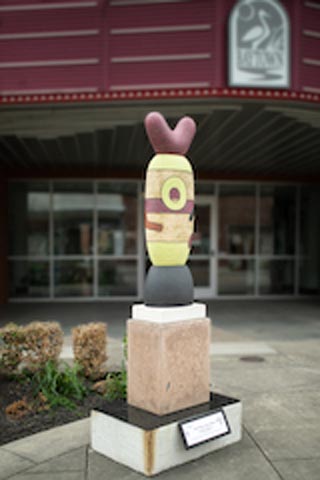 Baytown, a coastal destination 30 miles east of downtown Houston and 40 miles north of Galveston, is steeped in history and loaded with opportunities to appreciate the great outdoors. If you enjoy the arts, prepare to be wowed! You'll find the Baytown has an ACE up its sleeve — the Arts, Culture, and Entertainment or ACE District in its historic downtown.
The 10-block ACE District showcases outdoor art, hosts cultural events, and is a venue for live entertainment. Baytown Little Theater, the Art Center of Baytown, and the Baytown Symphony Orchestra make their home in the Downtown Arts District, as well as restaurants and boutiques. The city's historic downtown is truly an arts and entertainment destination!
"A" is for Arts
You'll know you've arrived in the Baytown ACE Downtown Arts District when you spot the Howdy mural. It's just one of many public art offerings you'll find in the historic downtown. In addition to the city's vibrant murals, a curated collection of outdoor sculptures in the ACE District creates a free open-air museum you can enjoy anytime.
Historic Baytown's Arts, Culture, and Entertainment Council hosts a new yearlong exhibit of 25 sculptures by local, national, and international artists each March. Texas sculptors are strongly represented. Stroll the Baytown Sculpture Trail, along West Texas Avenue and around Town Square (213 West Texas Avenue), to appreciate artwork of different genres, materials, and themes.
Do you favor abstract or realistic art? Playful or contemplative pieces? Grab a ballot from one of the red ballot boxes in Town Square and vote for your favorite. The city purchases and permanently displays the winning People's Choice sculpture.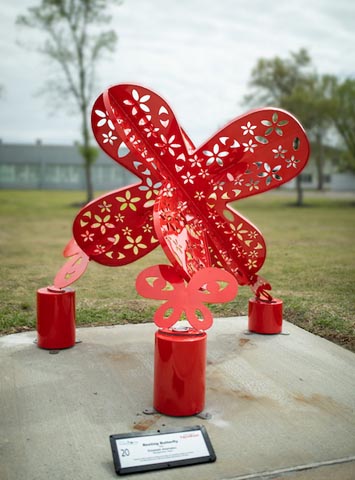 While you're in the Arts District, visit Art Alley. This outdoor gallery near Town Square showcases playful murals painted by regional artists. Their work is perfect for a selfie with family or friends.
"C" is for Culture
The ACE District is also the setting for cultural experiences as varied as Black History Month celebrations, Halloween Trunk or Treat, and the annual Christmas on Texas Avenue festivities, to name a few.
In addition to these events, the Downtown Arts District throws parties with an international flair. Enjoy traditional music and dance, food truck fare, and refreshments at Caribbean Vibes, the Latin Festival, and Oktoberfest.
"E" is for Entertainment
The ACE District hosts vibrant live entertainment. The Summer Music Festival in June brings an evening of dinner, drinks, and live bands. Whether you stay on the sidelines or dance like nobody's watching, you're sure to enjoy the night out at Town Square.
In addition to the Summer Music Festival, the ACE District organizes open mic night for local musicians and vocalists to show off their talent.
Check out upcoming events and concerts on Historic Baytown's Arts, Culture, and Entertainment Council's official website or ACE District on Facebook , so you don't miss a beat!
---
---