---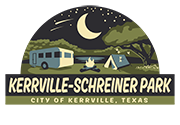 Kerrville Park Hours, Fees, and Amenities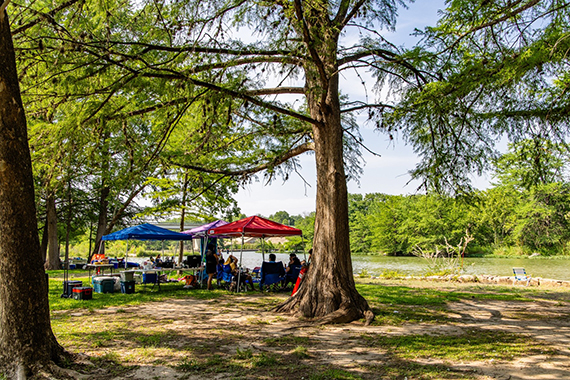 Kerrville-Schreiner Park is a year-round destination in the heart of Texas Hill Country. Spring's wildflowers and brilliantly feathered birds give way to the lazy days of summer, when the Guadalupe River lures you into the refreshing water to swim, kayak, or canoe. As days shorten and nights cool, fall foliage weaves a tapestry of colors for you to behold. In winter, relish the solitude and spot wildlife along the park's 13 miles of trails. At the day's end, look to the heavens. "The stars in the sky are big and bright," Gene Autry sings, "Deep in the heart of Texas."
Here is some information to help you plan your trip to this four-season Hill Country getaway:
Kerrville-Schreiner Park Location
Kerrville-Schreiner Park is located at 2385 Bandera Highway (State Highway 173 North), about 3 miles south of downtown Kerrville, Texas.
You'll find the park headquarters on the "River Side" or east side of the highway. The "Hill Side" of the park extends to the west of Bandera Highway.
Kerrville-Schreiner Park Hours
The park is open all year. The office opens daily from 8 a.m. to 5 p.m. Check-in time for overnight guests is 3 p.m. and checkout time is 12 noon. The park closes at 10 p.m. for day visitors.
Kerrville-Schreiner Park Fees
Day use pass fees:
Adults (13 to 64 years) $6
Seniors (65 +) and children 3 to 12 years $2
Children under 3 years $0
Veterans and active-duty military with I.D. $0
Annual day use pass $50
The maximum fee per car is $15.
Nightly camping site fees and cabins vary by location and amenities:
Tent sites start at $25
RV sites start at $35
Mini cabins start at $60
Full cabins start at $120
The recreation hall, outdoor dining hall, amphitheater, and pollinator garden are available for rent for your special occasions and larger group gatherings. Both halls have kitchens.
To make campsite, cabin, or venue reservations, please visit the City of Kerrville's Parks and Recreation official reservation webpage or call (830) 257-7300.
Kerrville-Schreiner Park Amenities
Shaded picnic areas on both the Hill Side and River Side
A children's playground on the River Side
Basketball and sand volleyball courts
A refreshing swimming hole, designated fishing areas, and boat launch
Recreation equipment rental that's open daily in the summer and on weekends in the spring and fall
Thirteen miles of walking, hiking, and mountain biking trails
Water and electricity at all RV sites with sewer hookups at many sites
Mini and full cabins that sleep six to eight people on both the River Side and Hill Side of the park
Clean restrooms and shower facilities
A pedestrian and bike trail that connects Kerrville-Schreiner Park with the eateries, shoppes, live music venues, and festivals in Kerrville's historic downtown
Natural beauty in a fantastic location!
Please visit Kerrville Convention and Visitor Bureau's official website for up-to-date park information and to explore Kerrville's offerings and event calendar.
---
---