---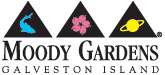 Moody Gardens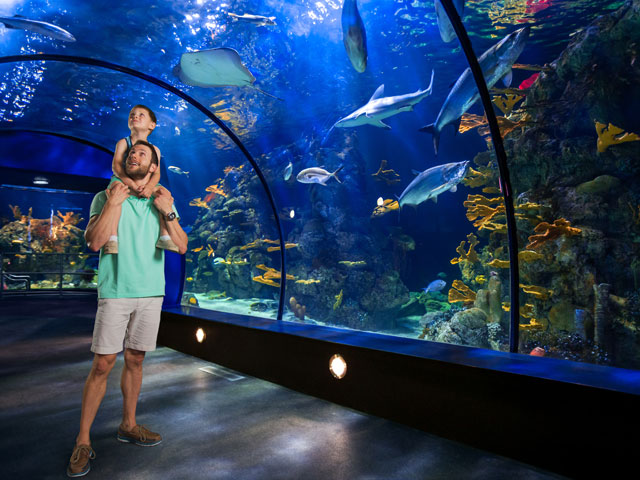 Explore the world's oceans and rainforests, play an unforgettable round of golf steps from the Gulf of Mexico, and challenge your agility on a ropes course high above a sandy beach. There's only one place where you can have all these experiences, Moody Gardens in Galveston. Consistently ranked as one of the top family attractions in Texas, Moody Gardens features world-class attractions that inspire wonder and an appreciation for nature.
Marvel at Mother Earth's flora and fauna in the Aquarium Pyramid and Rainforest Pyramid. Head to the Discovery Pyramid to spark your imagination. Conquer the Sky Trail Ropes Course and Zip Line.

Don't miss regional attractions like Palm Beach in the summer and Ice Land, and Festival of Lights in the winter. Need a place to stay after your full day of adventure? Rest easy at the luxurious Moody Gardens Hotel, Spa and Convention Center. Fine dining, bay cruises, and a ride aboard the old-fashioned Colonel Paddlewheel Boat round out the other things you can do at Moody Gardens, a spectacular family-friendly getaway on Galveston Island.
---
Aquarium Pyramid
Twelve stories of blue glass contain the massive pools and tanks that represent four of the earth's major oceans. Travel on an awe-inspiring journey from the Gulf of Mexico to the Caribbean, South Atlantic, and Pacific oceans as you get an up-close view at marine sanctuaries across the globe. Each exhibit in the Aquarium Pyramid inspires a sense of wonder and empathy as they emphasize the importance of conserving our oceans. Get an up-close look at different marine sanctuaries and the aquatic life that calls them home, such as new additions like jellyfish and the Humboldt penguins, a Mangrove Exhibit, a new Flower Garden Banks Exhibit, and more.
---
Rainforest Pyramid
Enter an exotic place where parrots, monkeys, sloths, bats, otters, alligators and hundreds of other animals, birds, reptiles, insects and plant life replicate an actual 10-story tall rainforest. Immerse yourself in the varied environments of Asia, Africa, and South America, including waterfalls, caves, forest canopies, rivers, and ponds. Stroll through the canopy on a walkway and enjoy an up-close interactive experience with endangered plants and animals, including giant Amazon River otters and Saki monkeys. Visit the Rainforest Pyramid and you'll also witness training and husbandry activities between keepers and animals. See it all in one of the truest replicas of a real rainforest.
---
Discovery Pyramid
The pink pyramid is host to a number of rotating exhibits that delve into the world of science. It also houses two permanent exhibits, including the Ridefilm Theater, an exciting motion-simulation movie experience with a seamless, 180° wrap-around screen that immerses you in the action.
---
MG 3D Theater
Slip on your 3D glasses and view larger-than-life movies on the world's first giant-screen 4K 6-Primary Laser Projection System. The state-of-the-art, ground-shaking sound system surrounds your senses as the 3D images jump off the screen, giving you the best viewing experience in the world.
---
4D Special FX Theater
Feel the wind in your hair or the ocean's spray on your skin as you experience films with all of your senses. See, hear, feel, and smell the action in this unique and high-impact theater experience that combines 3D technology, digital surround sound, and lighting with special effects like wind, smoke, snow, mist, scent, seat buzzers, leg ticklers, and water splashes to create a fully-immersive sensory experience.
---
Sky Trail Ropes Course and Zip Line
Get your adrenaline pumping! Test your strength and agility 80 feet above the ground and soar through the sky at thrilling speeds. Take on 48 obstacles on the Ropes Course, stepping through loops, climbing suspended steps, and many more challenges as you ascend the five-story course that is the tallest Steel Ropes Course on the Gulf Coast. Soar on the zip line takes you 50 feet over Palm Beach as you look down over the pyramids and treetops. Heart-pounding action and unforgettable views makes this a can't-miss experience at Moody Gardens. For younger adventurers out there, the "SkyTykes" Ropes Course provides plenty of fun for toddlers and kids shorter than 42 inches.
---
Colonel Paddlewheel Boat
Come aboard The Colonel and step back in time to an age of elegant style and old-world charm. This authentic replica of an 1800's-era paddlewheel boat leaves from Moody Gardens and takes you on a leisurely hour-long cruise of Offatts Bay. The triple-decker boat offers panoramic views of the bayou's beautiful scenery from the enclosed, climate-controlled dining room or the outdoor promenade and wraparound decks. Sightseeing cruises are offered daily. Dinner cruises are also available on the second Saturday of each month. Reserve your spot for a delicious dinner buffet and dance to live music as you cruise the bayou.
---
Moody Gardens Golf Course
Gulf breezes and stunning ocean views make this Galveston's premier golf course and one of the best public courses in Texas. This seaside par-72 course offers 18 holes of uniquely challenging golf, set in a striking wetlands environment. Lush paspalum fairways lined by palm trees reside near Sydnor Bayou and a shorebird habitat. Five tee boxes make the course accessible to all players. Brush up on your skills at the large practice range and pick up new gear in the newly remodeled clubhouse and pro shop. At the end of your round, stop by The Pelican Grille for something delicious from the diverse menu. Tee times can be booked on the golf course's website.
---
Summertime Only:
Palm Beach
Enjoy a sunny summer day at Galveston's only white-sand beach that is surrounded by palm trees and lush plant life, blue lagoons, and waterfalls. Cool off in a gentle wave pool, relax on a 650-foot lazy river, or take a plunge on the tower slides. Comfortable lounge chairs and beach umbrellas are available and cabanas can be rented in advance. Palm Beach is the place to be for Bands on the Sand, a summer concert series held every Friday and Saturday evening in June and July.
---
---