---
Spanish Governor's Palace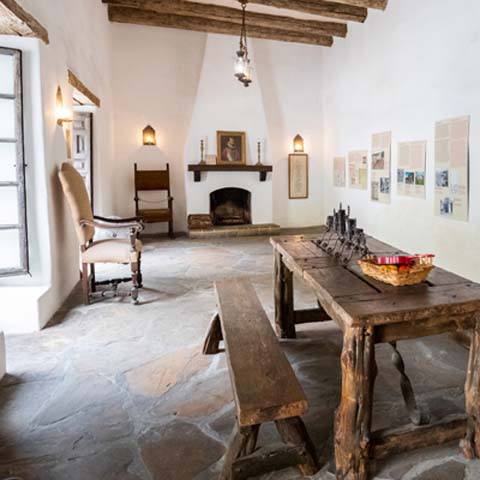 The gleaming white walls of San Antonio's Spanish Governor's Palace evoke an era long before the Battle of the Alamo. Established to protect the nearby Mission San Antonio de Valero in 1722, the palace was part of a presidio that housed the local military garrison. Today, it preserves many of the stories of the Lone Star State's formative age, in the earliest days of European colonization. Uncover its secrets when you visit the Spanish Governor's Palace, located just a few blocks away from the San Antonio River Walk and near historic San Fernando Cathedral.
At the beginning of the 18th century, present-day San Antonio sat at the edge of the Texas frontier. Danger from Native American raids and the looming threat of the French led to the establishment of the five missions that make up the San Antonio Missions National Historical Park, as well as the Presidio San Antonio de Bejar. Once it was up and running, a long line of presidio captains lived in the home that is the palace today. The comandancia, the captains' residence and office, grew to six rooms by 1804 when the last captain and interim governor purchased it; and through the latter part of the 19th century, it housed a variety of businesses. It eventually came under the care of the City of San Antonio in 1929, and a restoration that made the original structure larger than it was originally finished in 1930.
Immerse yourself in the palace's history as you explore lush courtyards with a large fountain and a wishing well, along with 10 rooms filled with antique period pieces. Admire the grand doors carved in 1930 by Swiss woodcarver Peter Mansbendel, the same craftsmen who produced the doors at Mission San Jose. On the doors, you'll see three seashells, dragons, a medicine man mask, and the face of a baby, all symbolizing the story of the Spanish conquistadors' conquest of the New World. Step inside and you'll wander through a living room, dining room, and captain's office and home that date back to the 1700's, as well as a kitchen and a children's bedroom added in 1930. Throughout your tour, you'll come across exhibits that share information about the palace's construction, life on the frontier of New Spain, and more.
Along with its historical significance, the Spanish Governor's Palace's colonial architecture makes it a charming (and popular) setting for weddings, receptions, farmers markets, and more. An essential stop on any historic tour of San Antonio, the Spanish Governor's Palace is open Tuesday through Sunday throughout the year. Plan your visit here.
---
---