Page Archived
You have reached an archived page on TourTexas.com. Please use the search bar above to view other Texas content or reach out directly to the destination, attraction, accommodation or event shown on this page for up to date information.
---
Tomb Rider 3D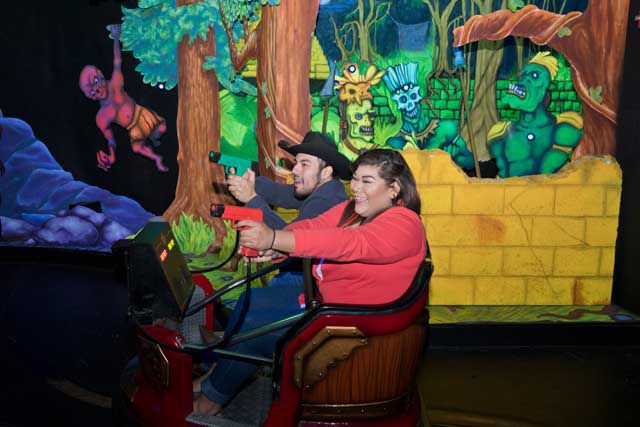 It's not every day you can take on Anubis, the Egyptian god of death and the afterlife. At Tomb Rider 3D in San Antonio, it's all part of the fun. As the only ride in the Alamo Plaza, Tomb Rider 3D offers an interactive experience unlike anything else. Journey into Anubis' ancient tomb and break the curse. Aim for the 3D targets and compete with your partner for the highest score.
With plenty of thrills, Tomb Rider 3D is ideal for adventurers of all ages. With an ideal location across the street from the historic Alamo and just steps away from the Riverwalk, Tomb Rider 3D is one of the top attractions in downtown San Antonio.
Your adventure begins with the chattering of two wisecracking skeletons who greet you before you descend into Anubis' tomb. Ride past the acerbic duo in your two-seat railcar, don your 3D glasses, grab your laser pistol, and focus because it's time to get to work. Roll from one darkened ghoul-filled chamber to another and aim for the multitude of small targets therein. The more you hit, the better your score is. Speaking of which, your tally is displayed on the dashboard of your railcar, so you can see how you're doing compared to your comrade.
Reach the end of this real-life shoot 'em up and you'll have a difficult choice to make. If you want another shot at beating your friend's score, you can ride again for a small fee. Or you can play your heart out at the free arcade full of classic first-person shooters, side-scrolling fighting games, and more. Stay as long as you want (or your fingers will allow). After all, breaking Anubis' curse isn't all the fun and games Tomb Rider 3D has to offer.
THIS IS AN ARCHIVED PAGE AND MAY HAVE OUTDATED INFORMATION. PLEASE VISIT THEIR WEBSITE DIRECTLY.
---
---