---
Dallas
Big Things Happen Here.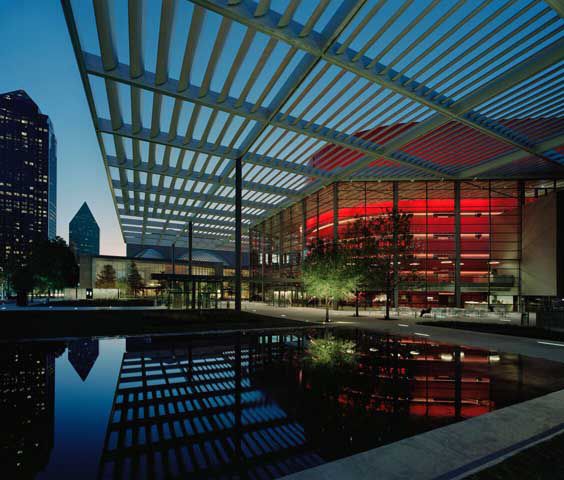 Dallas is the city where Southern hospitality meets a Texas twist for a unique experience in culture, history and food – and we're full of surprises.
Only in Dallas can you see the home of the most famous football team in the world. Only in Dallas will you get caviar on deviled eggs alongside crispy, delicious fried chicken. And only in Dallas will you experience the namesake library and museum of the 43rd president who led the U.S. through some of the most impactful events in recent history.
Whether you're a history buff, an architect-aficionado, a foodie, an art lover, a sports fan, a cowboy at heart, or love to shop-til-you-drop, Dallas has something for everyone.
With two major airports and 2,200+ daily flights, most U.S. cities are an easy 3.5 hour flight. Ride the DART light rail for a mere $2.50 from either airport to Downtown and once you're there, D-Link, M-Line trolley, Dallas Streetcar or e-frogs are convenient and free transportation options serving the popular downtown districts.
Main Street is where shopping enthusiasts will find an experience unlike any other. Start at Neiman Marcus, the flagship store of the luxury retailer, which includes the Zodiac room, a popular lunch spot on the sixth floor. Then pop in next door to TenOverSix, Traffic LA and Forty Five Ten, each offering a unique shopping experience in Downtown Dallas. Situated in the old Woolworth five-and-dime is a sleek downtown drinking spot, aptly named The Woolworth, where you will find perfectly crafted cocktails and gastro gems. Don't forget the photo op at The Eyeball by the boutique The Joule hotel - you'll have to see it to believe it.
Located in the northwest corridor of Downtown Dallas, the West End Historic District is where you'll find attractions like Sixth Floor Museum at the Dealey Plaza – the site of President John F. Kennedy's assassination and one of the most visited spots in Downtown Dallas. West End is also where you will find authentic shops like Wild Bill's Western Store, while the several blocks of rehabbed brick warehouses host a selection of restaurants and bars.
Due north is the 68-acre, 19-block Dallas Arts District, the largest contiguous urban arts district in the nation, boasts world-class museums, theaters and other venues hosting star-studded performances in music, dance, theater and more. Have a moment of serenity among celebrated sculpture at the Nasher Sculpture Center, or admire art for free at the Dallas Museum of Art or Crow Collection of Asian Art. From performing arts at the AT&T Performance Arts Center, striking beauty in sight and sound at the Winspear Opera House or a magnificent performance from Dallas Black Dance Theatre, there's no shortage of visual and performing arts to enjoy.
Klyde Warren Park, a 5.2-acre urban green space in the middle of the bustling downtown district is the perfect place to enjoy the nearly year-round warm weather. Try one of the rotating food trucks, stop by for a custom cocktail at Savor Gastropub, or on the other side of the park is Stampede 66, an ideal place to taste a haute-creative version of Texas cuisine.
For a little quiet reflection in the heart of the big city you'll enjoy Main Street Garden, Belo Garden and Sammons Park, the enchanting local favorites to enjoy on a sunny afternoon.
See Dallas from a bird's eye view at Reunion Tower GeO-Deck. The observation deck – 460 feet in the sky – includes an outdoor walkway and Halo, a hands-on digital screen system that gives you the inside scoop on Dallas' most famous landmarks and events. Savor a meal with a magnificent view at Chef Wolfgang Puck's Five Sixty restaurant or the more casual Cloud Nine Café.
To enjoy the local artisanal scene, head east towards Dallas Farmers Market. Here you will find a food hall and vendor market containing restaurants, a mixture of local specialty foods, and artisanal food vendors. Bullzerk and Lone Chimney offer one-of-a-kind Dallas trinkets and treasures for your souvenir shopping.
Looking for free things to do? Check out our list of 50 Free Things to Do in Dallas.
---
---