---
Things To Do in The City of Farmers Branch
Tour the birthplace of Farmers Branch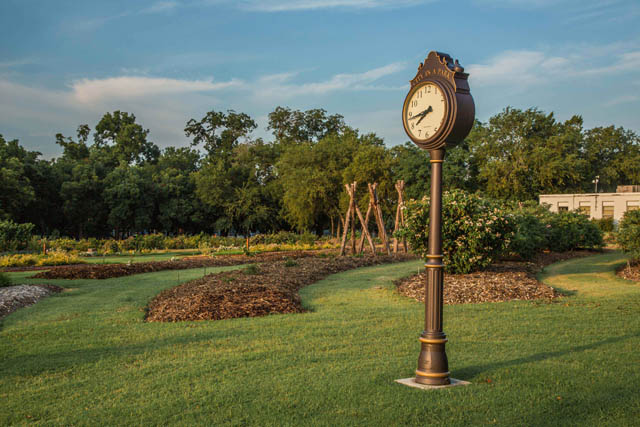 Take a walk back to the days of old at the Farmers Branch Historical Park. The 27-acre park touts the proud history of the city and North Texas, sharing and preserving our heritage for future generations.
Welcoming more than 100,000 visitors each year, the park is an open-air museum offering many opportunities for tours, educational programs and special events. On the beautifully maintained grounds, guests can explore 13 historic structures dating from the 1840s to the 1940s. From the Gilbert House, which is the oldest structure still standing on its original foundation in Dallas County, to the old schoolhouse which dates to 1900, visitors can experience what life was really like in North Texas. Guests can also pay a visit to the park's latest addition, the General Store, an authentic replica of a 1927 store with interactive activities, giving "shoppers" a fun way to learn about commerce in the days of early Texas.
Also on the grounds are a church, train depot with caboose, service station, three log structures and a Queen Anne Victorian Cottage with a beautiful antique rose garden, most of which are original structures that have been moved to the park and lovingly restored for our guests' enjoyment.
The Historical Park is also home to a vintage base ball team which plays host to several games and tournaments, allowing visitors to enjoy the sights and sounds of a 19th century base ball game and to see how America's game has changed throughout the years.
---
See a show at the Firehouse Theatre
The Firehouse Theatre presents award winning live theatre, located in the city's historic 50-year old fire station that has been transformed into a charming performing arts venue. The theatre features 8 MainStage shows, 3 Youth Education Initiative shows, and other Special Engagements throughout the year. For more information, call 972.620.3747.
---
Visit the Dallas Stars History of Hockey Museum and Alumni Center
This dynamic facility offers over 95,000 square feet of space for family entertainment, meetings and special events. The venue features two (2) NHL regulation sheets of ice, a concession stand, hockey supply shop, and full conference center.
The Dr. Pepper StarCenter, Farmers Branch is a perfect place for family-fun or for combining business with pleasure. Conveniently located less than 15 minutes from Dallas/Fort-Worth International Airport and in close proximity to the DART Light Rail Station, DPSC Farmers Branch is the perfect venue for family fun and any type of event.
---
Surround yourself with nature at one of the many beautiful parks
Trails & Parks
It's little wonder why Farmers Branch is nicknamed 'The City in a Park.' With more than 30 award-winning parks, a faithfully cared for community garden, and a variety of rose gardens with walking trails, this vibrant, growing town is teeming with life. Nature lovers find themselves at home with beautiful parks, like the pristine 104-acre John F. Burke Nature Preserve that boasts a blend of two different ecosystems; one part wetlands and one part upland forest. Visitors are welcome from dawn 'til dusk to come explore the walking trails and relax in the wonder of barely touched wilderness –but if you're one who enjoys a combination of history and nature, then maybe you'd be interested in checking out the Farmers Branch Historical Park.
Gardens
Home to more than 1,500 rose bushes planted throughout the city, Farmers Branch is in full bloom! Visitors can garden-hop the enchanting rose gardens from Gussie Field Watterworth Park to the Historical Park. Along the scenic trail, guests will be dazzled by fragrant, rambling roses of every kind and color– from traditional garden roses to modern hybrid teas. The gardens make the perfect venue for hosting any outdoor event or an ideal place to just stop and smell the roses!
John F. Burke Nature Preserve
Revel in the beauty of untouched native lands right in the middle of the big city. The city of Farmers Branch, in cooperation with the North Texas Tollway Authority and the Valwood Improvement Authority, present the John F. Burke Nature Preserve, a 104-acre retreat for those who love to take a walk on the wild side! The Preserve is the perfect place to study the great outdoors and is ideal for Boy Scout troops and other organized groups looking to take advantage of the park's educational opportunities. Groups can take guided walks through the scenic grounds or opt to explore the nightlife on an overnight adventure.
Located only 10 miles from DFW Airport, the preserve offers visitors the chance to experience seasonal wetlands and upland forests, as well as the creatures that thrive in both habitats. From native and migratory birds to indigenous plants, wildflowers and other wildlife, this urban oasis lets you enjoy them all without leaving the city.
Whether taking a leisurely stroll while enjoying the views or jogging along the trails, the John F. Burke Nature Preserve is the perfect place to relax, unwind and let nature take its course.
Guided Nature Walks
Join the Dallas County Master Naturalists for guided walks in the John F. Burke Nature Preserve. Walks last about an hour and are suitable for all. Bring binoculars, water and wear suitable clothing. Please note that trails are natural surface and not suitable for strollers. Nature Walks are usually on the 3rd Thursdays in the fall months. Take advantage Call 972.919.2625 for dates and more information.
---
Frog Pond Water Park – at the Farmers Branch Aquatics Center
Frog Pond Waterpark
Make a splash while you're here and visit the Farmers Branch Frog Pond Waterpark and take advantage of our special rates for hotel guests.
Frog Pond Waterpark – $5 with Hotel Key
Margaret Young Natatorium – $3 with Hotel Key
FEATURES INCLUDE:
Indoor & Outdoor Pools, Activity Pool, 30 ft Slide Tower, Lazy River, Lagoon Pool with Tanning Ledge, Pavilions, Lap Pool, Therapy Pool, Locker Rooms, Party Room
---
Dining & Shopping
DINING IN FARMERS BRANCH
The Dallas Metroplex is home to one of the most diverse and exciting scenes in the country. The area plays host to an eclectic epicurean mix, from unique bistros and casual cafes to trendy offerings from some of the world's most renowned chefs. For some of the best BBQ in the state, head to Cattleack BBQ, a recipient of Texas Monthly's Top 25 New & Improved BBQ Joints in Texas. Tempted by Thai? Mad for Mexican food? Serious about steak? Farmers Branch puts you right in the middle of the culinary action.
Enjoy local favorite eateries in the heart of Farmers Branch at the Four Corners, or explore the array of dining choices from downtown to Cowtown. No matter where your dining journey takes you, there is something sure to please every palate. With so many tasty options at your fingertips, the only problem you'll have is deciding where to go!
SHOPPING IN FARMERS BRANCH
If shopping is your bag, come and see what Farmers Branch has in store for you. Our convenient location puts you in the middle of one of the premier shopping destinations in the country. Whether you are seeking upscale offerings from some of the world's foremost designers or are interested in treasure hunting in one of the many one-of-a-kind boutiques or "never pay retail" outlets, Farmers Branch puts you within striking distance of an array of world-class shopping venues sure to please the most discriminating shopper!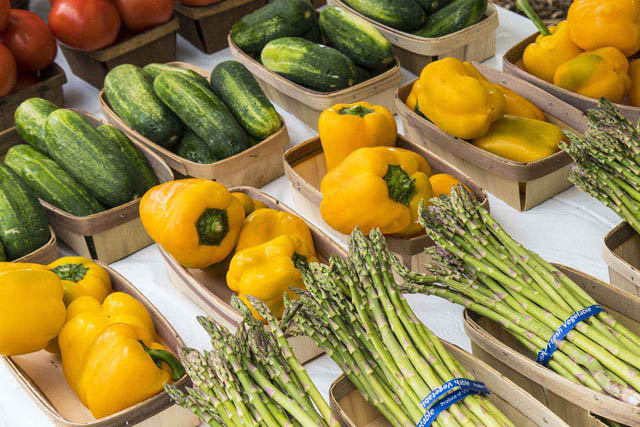 Farmers Market
May through September
Every Saturday from 5 - 8 pm
The Grove @ Mustang Crossing – 12700 Denton Drive
Shop for the finest-quality local products at the Farmers Branch Market! With a wide array of vendors offering seasonal favorites including produce, meats, eggs, baked goods, artisan foods, and handmade arts and crafts, this market is sure to have something for everyone. The Farmers Branch Market is located at the Grove at Mustang Crossing nestled under large post oak trees that provide shade for shoppers and vendors. And throughout the season there is a variety of activities including education opportunities, live music and kid's activities.

Discover the Top 10 Things To Do in Farmers Branch here
---
---