---

Marfa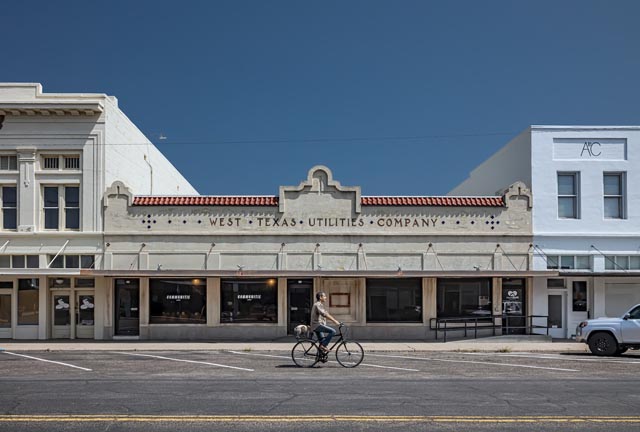 Texas is well known for its distinct towns and cities, but Marfa stands out as a unique hamlet full of history, art and mystery. Wild and rugged, yet refined, this enigmatic West Texas desert border town began as a railroad water and freight stop and evolved into a county seat, a center of ranch country, the location of iconic films like Giant and No Country for Old Men, and an internationally known hub for contemporary fine arts.
A magnet for both artists and art enthusiasts, Marfa holds nearly two dozen galleries, hosts numerous arts and culture festivals, and is the kind of place where outdoor works are, quite literally, part of the local landscape. That famous Prada Marfa storefront on U.S. Route 90? It's actually a work of art.
Marfa's art scene took off after the late minimalist artist Donald Judd settled in the area in the 1970s. Judd was drawn to the high desert plains' raw, untainted beauty and saw the area as the perfect place to create and situate his work. Judd bought a 340-acre decommissioned Army fort, turning its buildings into his residence and studio. Today, that site is home to the Chinati Foundation, a contemporary museum that is open to visitors.
Judd's embrace of the area prompted Marfa to eventually become a global contemporary art hub that now draws thousands of artists and art appreciators each year. It's not unusual to hear several different international languages spoken among visitors as they stroll through downtown.
The thriving art scene has also fostered the growth of many visitor amenities. Marfa is home to independent shops, inventive restaurants, and accommodations that reflect the region's eclectic authenticity. Explore Marfa's walkable downtown, grab a bite or enjoy a craft cocktail at one of its numerous locally owned cafes, many of which offer patio dining.
Many of downtown Marfa's buildings were initially commissioned by local cattle barons after the towns' founding in the late 1880s. Start with a visit to the Marfa and Presidio County Museum to learn about the area's fascinating history. Stroll by the Presidio County Courthouse, an 1886 Second Empire style courthouse with Italianate details. Enjoy the dramatic mix of Mexican and West Texas architectural influences as you get to know the area.
Marfa's main street scene is balanced with unlimited outdoor adventure throughout the region, including hiking, biking, and even soaking in the Chinati Hot Springs. Start with the Marfa Lights, an unexplained natural light phenomenon in which light patterns dance across the sky for no particular reason. When the sun goes down, head to the viewing area located nine miles east of town and try your luck at spotting them. Spend the day at local Marfa Maid Dairy and see how goat cheese is made or take a ride in an FAA-certified glider for views over the beautiful Davis Mountains.
Accommodations in Marfa are not just comfortable and convenient, they're wildly attractive. Take your pick from options that include guest cottages, restful suites, rooms at one of the largest ranches in Texas, camping and RV hook-ups, and even tepees! Stay in downtown Marfa at the historic Hotel Paisano, the gathering place for the cast and crew of the 1956 movie Giant, where suites and rooms are named for Elizabeth Taylor, James Dean, and the movie's other A-list stars. Or head to El Cosmico, a kitschy cluster of renovated trailers, safari tents, tepees, yurts, and primitive campsites. The bohemian-style hotel also hosts yoga classes, concerts, and community events.
Marfa is part of the Big Bend Region, making it a great place to plan a road trip to a state or national park. Hop on one of Texas' most beautiful scenic drives to reach Big Bend National Park and Big Bend Ranch State Park. Northwest of Marfa, enjoy Guadalupe Mountains National Park, where you can hike to Guadalupe Peak, the tallest point in Texas. This route also leads you to Carlsbad Caverns National Park and its famous cave formations. Enjoy stargazing through one of the world's largest telescopes at McDonald Observatory. And even though you're in the desert, enjoy a refreshing dip in the world's largest spring-fed swimming pool at Balmorhea State Park.
---
---