---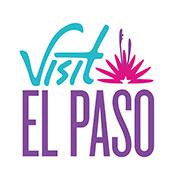 Events in El Paso
A rock climbing competition, summer concerts and cultural festivals are among the diverse list of annual events in El Paso. Thanks to year-round sunshine, there's always something going on. Start the year with a mountain bike race in the Franklin Mountains and then make sure to catch the First Thanksgiving Celebration in April. You definitely won't want to miss El Paso's summer music events, as well as the Plaza Classic Film Festival. Every year ends with the Sun Bowl, the second-oldest college football bowl game in the country, which has included top teams like Washington State and UCLA.
---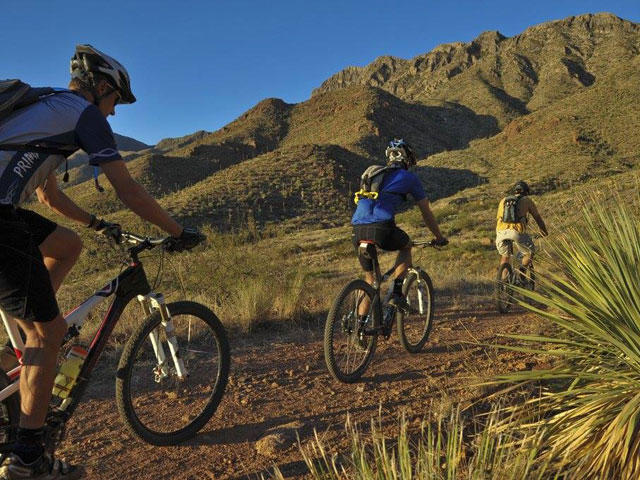 January
El Paso Puzzler
Brush up on your mountain-biking skills to prepare for this one-of-a-kind race that takes place in El Paso's Franklin Mountains State Park. Race courses of 13, 35, and 50 miles make the event accessible to riders of all endurance levels.
1331 McKelligon Canyon Road
El Paso, TX 79930
---
February
Hueco Rock Rodeo
Take on fellow climbers from all over the world in this rock-climbing competition in El Paso, hosted by the American Alpine Association. Head to Hueco Tanks State Park and Historic Site for this weekend-long event that includes live music, a paintball shoot-out, and climbing clinics.
6900 Hueco Tanks Road No. 1
El Paso, TX 79938
Lone Star 100
Get ready for one of the most challenging races in the South. Race up the trails of Franklin Mountains to an altitude of 7,192 feet to see an astounding view from North Franklin Peak. Choose from three events, a 100-mile race, a 100K, and a relay.
1331 McKelligon Canyon Road
El Paso, TX 77930
Springfoot Marathon
This scenic marathon, half marathon and 5K gives runners a taste of the city's different neighborhoods, from new upscale developments to urban Victorian homes that date to the 19th century. The course lets runners enjoy sunrise over the Hueco Mountain and miles of rugged desert as far as the eye can see.
3280 Joe Battle Boulevard
El Paso, TX 79938
---
March
Sunland Derby
Horse-racing enthusiasts can't miss the Sunland Derby, an official prep race for the Kentucky Derby. Racers compete for $900,000 in prize money at this annual event held at the Sunland Park Racetrack and Casino.
1200 Futurity Drive
Sunland Park, NM 88063
Franklin Mountains Poppies Celebration
Each spring brings fields of vibrant blooming poppies, celebrated by this annual event at the El Paso Museum of Archaeology, Franklin Mountains State Park, and the Franklin Mountains Wilderness Coalition. Marvel at all the colorful flowers and check out the wildlife demonstrations and educational exhibits during this free event.
4301 Transmountain Road
El Paso, TX 79924
---
April
First Thanksgiving Celebration
Experience what may have been America's first Thanksgiving celebration on the El Paso Mission Trail in April. The celebration commemorates the arrival of the first Spanish settlers in 1589.
1500 Main Street (Veteran's Memorial Plaza)
San Elizario, TX 79849
La Viña Wine Festival
Check out the amazing wines of our region at the annual La Viña Spring Wine Festival. Live music, arts and crafts, food and more than 20 award-winning New Mexico wines make this event one you won't want to miss.
4201 S. NM Highway 28
La Union, N.M.
Mighty Mujer Triathalon
In 2012, the first Mighty Mujer Triathlon hosted 350 participants. Since then, the event has grown, introducing thousands of women to triathlon. For many, the race has become a rite of passage. Longtime triathletes return each year to experience the Mighty Mujer Triathlon spirit, race a challenging course, and cheer for others along the way. Participants span all backgrounds, ages, and athletic abilities.
Sun City Craft Beer Festival
The Sun City Craft Beer Festival is working with local and national breweries to put together the biggest craft beer festival in West Texas. Along with more than 60 different breweries, there are two stages with live music, merchandise, art, and food trucks that will pair the right food with the perfect beer.
One Civic Center Plaza
El Paso, TX 79901
Sun City CRIT
The USA CRITS Series is the premier cycling series in the United States, and El Paso hosts its own stop on the circuit every March. Catch the lighting-fast professional cyclers as they speed through historic Downtown El Paso!
Texas Country Music
The Texas Country Music Fest is El Paso's foremost opportunity to breathe the excitement and quality that Texas Country artists bring to the country music genre.
---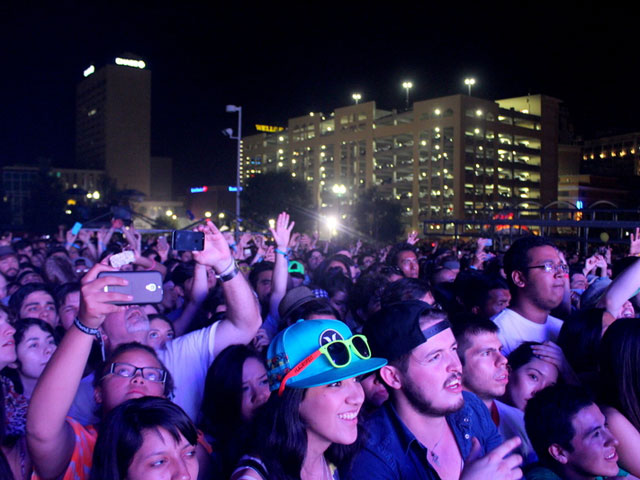 May
Neon Desert Music Festival
Works from local and regional artists combine with a diverse music lineup to create this lively Memorial Day weekend event in downtown El Paso. Multiple outdoor stages provide venues for artists performing everything from alternative rock to hip-hop.
Downtown Area
El Paso, TX 79901
---
June
Viva! El Paso
Native American, Spanish, Mexican, and Western American cultures and histories come to life during this spectacular outdoor musical featuring a cast of more than 50 performers. The show runs from the middle of June through early August. Tickets are available on the event's website.
McKelligon Canyon Amphitheatre & Pavilion
El Paso, TX 79930
Sun City Pride Festival
What began as a small parade in 2007 has now grown into a nationally and internationally recognized monthlong pride celebration showcasing the LGBTQ+ community of El Paso and its surrounding areas.
---
July
Yselta Mission Festival
Traditional dances, a delicious variety of food, game booths, and carnival rides offer plenty of things for the whole family to enjoy at this long-running annual event.
131 South Zaragoza Street
El Paso, TX 79907
El Paso Ice Cream Fest
El Paso's "coolest" event brings ice cream, paletas, floats, sundaes, popsicles and more from national and local vendors to Downtown El Paso.
Downtown El Paso
---
August
Plaza Classic Film Festival
Film buffs and movie lovers can't miss the Plaza Classic Film Festival, the world's largest film festival dedicated to classic cinema. More than 80 feature and 60 short films are screened at the historic Plaza Theatre, and the event includes talks with celebrities, concerts, and showings of work by local and regional filmmakers.
1 Pioneer Plaza
El Paso, TX 79901
---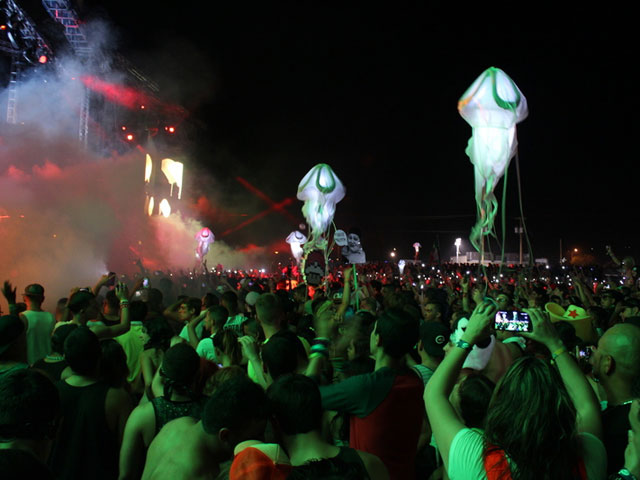 September
Eagle in the Sun Triathlon
Join hundreds of El Pasoans on a 400-yard swim, 12-mile bike loop and 5K run during the always-challenging Eagle in the Sun Triathlon. As the Sun City's premier multisport event, this is a local favorite for both new and experienced athletes.
1257 Southview Drive
El Paso, TX 79928
---
October
Chalk the Block
Perfect for everyone from serious art junkies to the casual admirer, this is El Paso's premier event dedicated to celebrating the power of the arts. Each year, about 200 artists working in all disciplines come together to transform Downtown and change the way you think about art. It's definitely not an event to miss!
Downtown El Paso
El Paso, TX 79901
Way Out West Fest
The Way Out West Festival features a chili challenge, the quest for the best margarita contest, an outdoor dance floor, retail vendors, food vendors and more. Gates open at 5 p.m. with top country music artists performing live during the festival. The event producers will announce the headlining band the first week in April and the opening acts throughout the summer.
WinterFest
Downtown Arts Festival Plaza and its surrounding areas come to life with lights, food, holiday shopping, festivities and an outdoor ice skating rink. WinterFest is a month-long festival that is open every day and has something for all ages. Skate to holiday hits, enjoy charity and promotional nights and much more.
---
November
A Christmas Fair
Shop for that perfectly unique gift you've been searching for at the traditional Christmas Fair in El Paso. Browse the stalls of more than 200 vendors selling one-of-a-kind holiday-themed items at the market, which attracts an average of 15,000 shoppers each year.
1 Civic Center Plaza
El Paso, TX 79901
Dia De Los Muertos
Celebrated artist collective from Mexico City, Colectivo Ultima Hora, will transform downtown El Paso once again with fantastical splendor and color. Experience calaveras, ofrendas, catrinas, music, art-making and so much more. Desfile de Alebrijes parade will kick-off at the El Paso Musuem of Art with mariachis, dancers, marching bands, catrinas and calavera masks, as marionettes and alebrijes, created by Colectivo Ultima Hora, come to life with a final celebratory concert.
Flying Horse Half Marathon
With three distance options, Anthony Flying Horse Half Marathon, 10K & 5K is a fun and memorable event for runners of all levels. The race begins and ends in Anthony, Texas, the "Gateway to Texas," crossing into New Mexico and taking runners through two states in one race!
Franklin Mountains Trail Run
This 50K Ultra-Trail du Mont-Blanc®–qualifying race is not for the faint of heart. This race to the top of the Franklin Mountains takes you off the trails and through the cliffs of the area. All runners should be aware that there are inherent risks involved in this race. A 13.1 half, King/Queen of the Mountain, 10K and 5K races also available.
1331 McKelligon Canyon Road
El Paso, TX 79930
---
December
Hyundai Sun Bowl and Fan Fiesta
Watch the stars of college football compete in the Sun Bowl, the second-oldest bowl game in the country. Along with the game, the event includes an invitational basketball tournament, a regional soccer competition, a parade, and a fan fiesta with live music and entertainment.
2701 Sun Bowl Drive
El Paso, TX 79902
---
---