---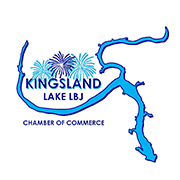 Kingsland/Lake LBJ, Texas
Deep in the heart of Texas, centrally located Kingsland welcomes visitors eager for a natural escape on the crystal clear waters of Lake LBJ. With plenty of waterfront fun, along with restaurants, shops, live music, parks, and hiking trails, you'll find endless ways and a multitude of attractions to forget your troubles and step away from stress.
Life in Kingsland is centered around Lake LBJ, a reservoir created in 1950 that's fed by the Colorado River. With a consistent year-round water level, the lake entices visitors with a wide variety of family friendly fun. From boating and fishing to waterboarding and skiing, the lake's abundant activities draw visitors of all ages. Numerous waterfront cabins and vacation rentals provide ranging from cozy to luxurious accommodations.
Visitors can't help but notice Kingsland's relaxed and friendly vibe. Lively annual events include the Winter Texans Dinner & Dance, held monthly from January to March. The gatherings welcome the many Winter Texans, who call Kingsland home in the wintertime. Summer brings Kingsland's famed AquaBoom, a world-class Fourth of July celebration complete with three parades, arts and crafts, delicious local food, and of course, fireworks—except here in Kingsland, these colorful pyrotechnics are best seen from the comfort of a boat on the lake. It's the perfect vantage point for the night sky illuminated in patriotic style.
Live music is a big part of the Kingsland scene. Catch a local band or a well-known regional act in one of several waterfront bars, local coffee shops, cafes, and music halls. Whether you prefer blues, country, or rock 'n roll, there's a band playing nearly every night.
Feeling hungry? Local restaurants prepare delectable Texas cuisine, complete with Texas Hill Country wines and local craft beer. As for shopping, local gift shops, clothing boutiques, and antique stores have lots of stylish goods to deliver much needed retail therapy.
Along with lakeside vacation rentals, accommodations include the lush villas at Legends Golf Course and Villas, where you can hit the links on a challenging par 72 championship golf course. The legendary Antlers Inn is a fabulous place to stay, complete with rustic rooms and cabins that deliver old Texas lore. While you're there, don't miss a hearty breakfast or a sumptuous lunch or dinner at Hooper's Restaurant, immediately across the street. The eatery is housed in the same structure where the iconic 1974 horror movie, The Texas Chainsaw Massacre, was filmed.
Warm, welcoming, and full of fun, Kingsland/Lake LBJ is filled with memory-making adventures. Plan your visit today and you'll see why it's one of the Lone Star State's favorite getaways.
---
---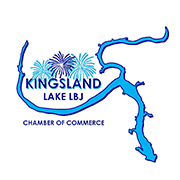 Kingsland/Lake LBJ Chamber of Commerce
1309 RR 1431 P.O. Box 465
Kingsland, TX 78639
325-388-6211
www.kingslandchamber.org