---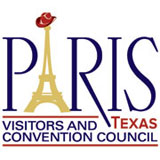 Attractions in Paris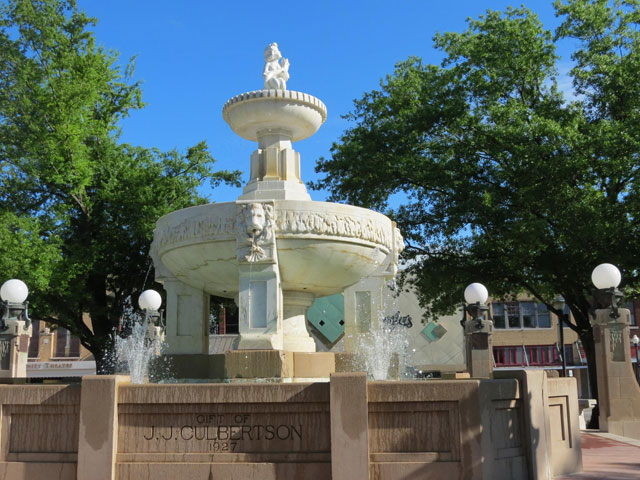 As a mid-sized town, Paris has all the amenities and comforts you need while you're traveling, from national retailers to franchise restaurants. But to really get a feel for the town, you'll want to seek out the one-of-a-kind spots.
Whether it's the museums with their rare artifacts or mom-and-pop stores with handmade items, Paris has plenty of unique things to see and experience.
Use our list of attractions in Paris so you don't miss out when you visit this quaint town.
---
Evergreen Cemetery
While you may or may not be able to corroborate the ghost stories that have emanated from this cemetery over the years, you will find the graves of more than 40,000 departed souls dating back to the mid-1800's. The most famous marker is near the center, where local businessman Willet Babcock is memorialized with a large statue of Jesus in cowboy boots.
560 Evergreen
Paris, TX 75460
(903) 784-6750
---
Green Boutique
If buying fair trade items is of interest to you, Green Boutique is your paradise. All items stocked here, such as jewelry, handbags, and wall art, are either made from recycled material or qualifies as a fair trade product. Stock up on gifts or let owner Kari Daniel ship them home for you.
111 Lamar Avenue
Paris, TX 75460
(903) 785-2397
---
Jaxx Gourmet Burgers
Though the interior may be humble, there's nothing lacking with either the quality or quantity of Jaxx's hearty offerings. Huge, hand-formed beef patties and heaps of salty fries are par for the course here, from the "Dr. Kevorkian" double-patty burger wedged between two grilled cheese sandwiches, to the "Jaxx Attack" with its pulled pork and fried onions.
10 Clarksville Street
Paris, TX 75460-5809
(903) 739-2955
---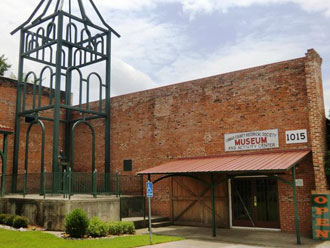 Lamar County Historical Museum
Explore Paris' colorful history, from the 1916 fire to Bonnie and Clyde, inside this diverse local museum, along with the historic structures in the attached Rural Life Museum. There is no admission fee but donations are welcomed.
1015 West Kaufman Street
Paris, TX 75460
(903) 783-0064
---
Paris Bakery
Local and organic ingredients are used to make delicious treats at this artisan bakery. In addition to the fresh-baked breads and pastries, you can enjoy sandwiches, soups, salads, or the much-raved-about pizza on Saturday nights.
120 North Main Street
Paris, TX 75460
(903) 784-1331
---
Paris, Texas Eiffel Tower
Sure, the famous French edifice may be over 1,000 feet tall, but it isn't wearing a huge cowboy hat. Paris' 65-foot-tall version of the tower features a 4.5-foot high, 10-foot wide, red 10-gallon hat, and LED lights that mark different joyous occasions, from holidays to birth announcements.
2025 Jefferson Road
Paris, TX 75460
---
Plaza Art Gallery - Lamar County Chamber of Commerce and Paris Visitor Center
Paintings, sculptures, and photographs created by local artists and selected by their peers are on display at the Plaza Art Gallery, located in downtown Paris. Pick up a refined piece for your office, or grab an Eiffel Tower "bobblehead" for your dashboard as well as other Paris souvenirs. Open Monday through Saturday.
8 West Plaza
Paris, TX 75460
(903) 737-9699
---
Sam Bell Maxey House State Historic Site
This Victorian-style house was built in 1868 as the home of Mexican War veteran, Confederate general, and U.S. senator Sam Bell Maxey. Take a tour and view the architecture, furnishings, and belongings of the Maxey family, or catch a special event like Family Game Night on the grounds. The state historic site is open Tuesday through Sunday.
812 South Church Street
Paris, TX 75460
(903) 7855716
---
Scholl Bros. Bar-B-Que
The secret is out on this Paris barbecue joint, and folks are lining up for the award-winning ribs, fantastic pulled pork sandwiches, and even gluten-free sauce. In addition to catering, Scholl does "custom smoking and cooking" for any occasion, and it even has a drive-through. This favorite local eatery was voted one of the 50 best places to eat Bar-B-Que in a past publication of Texas Monthly.
1528 Lamar Avenue
Paris, TX 75460
(903) 739-8080
---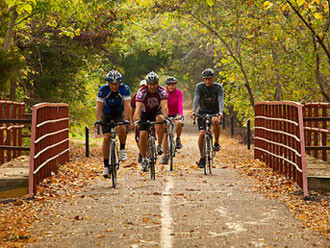 Trail de Paris
This more than 14-mile trail runs from near the center of town eastward, giving runners, dog-walkers, and cyclists a place to stretch their legs. Benches, viewing platforms, and mile markers lie along the way, with parks and a butterfly garden accessible from the route. The trail hooks up with the Reno Rail Trail and Blossom Trail at its eastern end, giving you another five miles to explore. These trails are part of the North East Texas Trail that, when completed, will travel 130 miles from Farmersville to New Boston.
8th Street
Paris, TX 75460
(903) 517-9778
---
---