---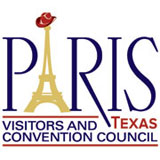 Things to Do in Paris
Snap a selfie with a cowboy hat wearing Eiffel Tower, explore one-of-a-kind shops in a captivating downtown square (or anywhere else in Paris and across Lamar County), and take in all the fascinating local history. These are just a few of the adventures you just might have in the small town of Paris, Texas. Located about 110 miles northeast of Dallas near the Texas-Oklahoma border, Paris is an ideal destination for those looking for a tranquil retreat from the hustle and bustle of the big city. With a downtown square full of interesting architecture, local shops and restaurants, as well as a variety of museums and historic sites, there's no shortage of things to do in Paris. So what are you waiting for? Continue reading to discover what this quaint North Texas town has to offer and plan your next road trip here today.
---
Visit the (Other) Eiffel Tower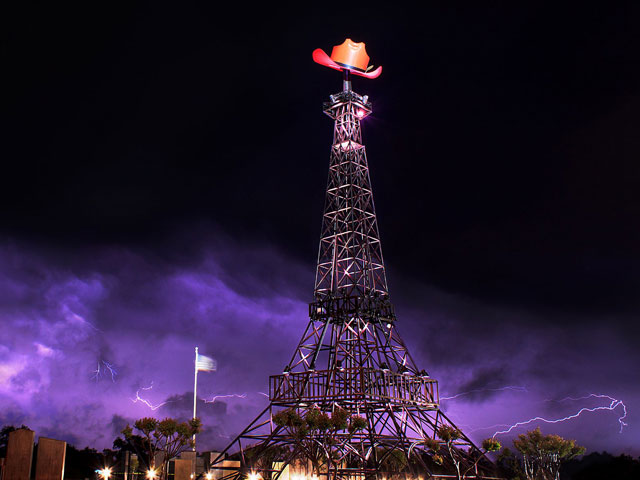 France's iconic landmark is a spectacular work of art and without question worthy of a trip halfway around the world. Yet you don't need a passport to see Texas' version of the Eiffel Tower, located right here in Paris next to the Love Civic Center.
One of the most notable Texas tourist attractions, the tower measures in at 65 feet tall once you've factored in the big, red cowboy hat that it's wearing.
Stop by during daylight hours for a forced-perspective photo of you "leaning" on the tower, or come by after dark to view it lit up by LED lights.
---
Take in the Local History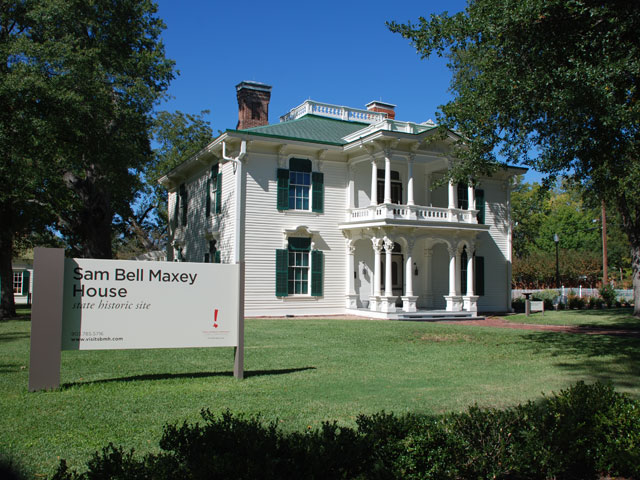 Paris has seen two major fires and a devastating tornado in its time, but the town has persevered through it all and even preserved much of its unique history. At the Lamar County Historical Museum you can experience the city before and after the fire of 1916, from its notable people to reconstructed 19th-century cabins, rooms, and workshops. Meanwhile, the Sam Bell Maxey House State Historic Site serves as a showcase of what life in the 19th century was like for a prominent local family. The High Victorian Italianate house, built in 1868, was once home to Sam Bell Maxey, a Mexican War veteran, Confederate general, and two-term U.S. senator.
When he died, Mr. Maxey was laid to rest in Evergreen Cemetery. The cemetery is a popular spot for both history buffs and lovers of kitsch, as it's the site of a 12-foot-tall statue of Jesus in cowboy boots. Other notable residents include a saloon owner who perished in a gunfight and cotton kingpin John J. Culbertson, for whom the downtown fountain is named.
---
Tour Paris' Historic Downtown Square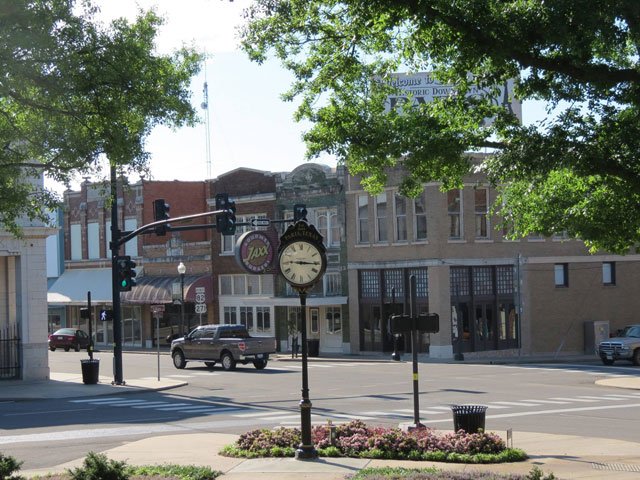 Paris' historic downtown square is the heart of this charming city. One-of-a-kind shops and restaurants reside within eye-catching historic storefronts, exuding an easy going small-town charm while also offering plenty to see and do.
Get your antiquing pleasures at stores like Remember When and Priest Emporium, or browse the chic offerings of one-of-a-kind shops like those at Green Boutique and Olive Paris. To pick up a beautiful painting or sculpture by a local artist, stop into the Plaza Art Gallery any day but Sunday. Finally, head over to the center of the square to see the Culbertson Fountain, a breathtaking Italian marble memorial to a local businessman.
No doubt all this shopping and strolling will give you an appetite, and you don't have to go far to find a great meal. Paris Bakery boasts baked goods and lighter fare, while Jaxx Gourmet Burgers serves up a unique range of burgers that you can pair with one of the many craft beers on tap. To experience dining at its finest, plan an evening dinner at Perry's Off the Square to savor the creations of Master Chef Michael Perry. You could spend a full day experiencing all downtown Paris has to offer, and no two visits will ever be the same.
---
Attend One of Paris' Annual Events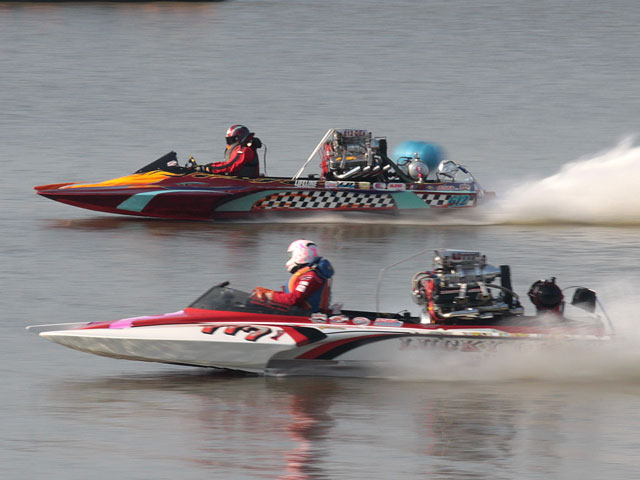 One of the best ways you can enjoy a vacation to Paris is by checking out one of the city's exciting annual events. If you're a cycling enthusiast, it's hard to beat the Tour de Paris, when more than 1000 cyclists converge on Paris to ride on one of six routes of varying length through the stunning North Texas countryside. The Tour now happens the same weekend in July as the Balloon and Music Festival, a live music and hot air balloon extravaganza. Although they take place at the same time, it's possible for you to enjoy both events.
Although the bike rally and balloon festival are must-visit events in Paris, they're by no means all that's going on in town throughout the year. Some of the town's annual events include the Wings Over Paris Air Show, Southern Drag Boat Race Association's Paris Powerboat Grand Prix at Lake Crook, Paris Rodeo, Uncle Jesse Fishing Tournament, and the Chaparral Square Dancing on Labor Day Weekend. Also in September, the Paris Fair & Exposition includes a livestock show, plus carnival rides and food, live music, and more.
---
---