---
Things To Do in San Marcos
San Marcos is an eclectic town located between San Antonio and Austin that embodies the many things that make the Texas Hill Country great. Swimming, fishing, or paddling in the gorgeous San Marcos River; exploring the depths of a cave; and hunting for bargains at the largest outlet shopping mall in America are just some of the things to do in San Marcos. If you're going to visit this delightful place, check out our list of some of the can't-miss experiences to plan your perfect vacation to San Marcos.
Hike Scenic Trails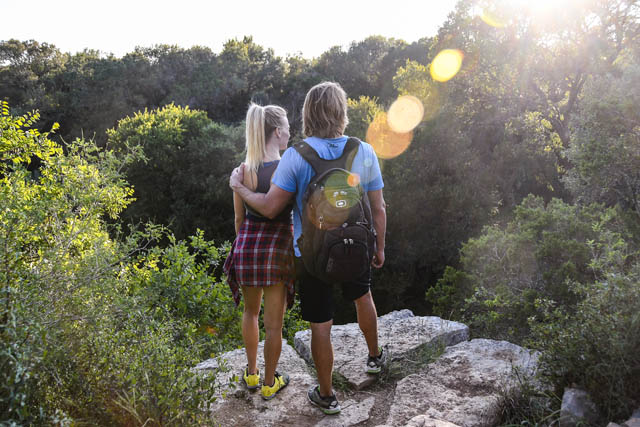 Fully immersed in all the abundant beauty of the Hill Country, San Marcos offers an idyllic escape for anyone who wants to spend some time in nature.
Whether you're searching for a quite stroll or training for a marathon, the town's 22 miles of trails spread among 1,200 of park land gives you plenty of room to do what you love.
Spring Lake Natural Area and Purgatory Creek are great for birdwatching or simply getting away from it all.

---
Experience the San Marcos River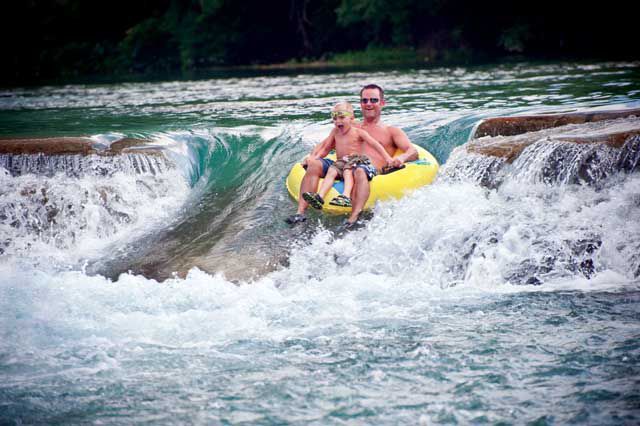 The pristine San Marcos River is a crystal-clear spring-fed waterway that remains at a pleasant 72 degrees throughout the year, a quality that has made it a popular recreational spot for tourists and locals alike. A series of parks, such as Rio Vista Park, follow the river through town, providing a scenic environment for a wide variety of fun. Hop into the river for a refreshing swim, explore its length on a stand-up paddle board or kayak, or cast a fishing line and take in the view.
The river's people-friendly environment is just as welcoming to the native animal life, making it a great place to go birding and wildlife watching. If you're looking to appreciate the beauty of the Texas Hill County, and have a great time in the process, then find your way to the San Marcos River.
---
Go on a Glass-Bottom Boat Tour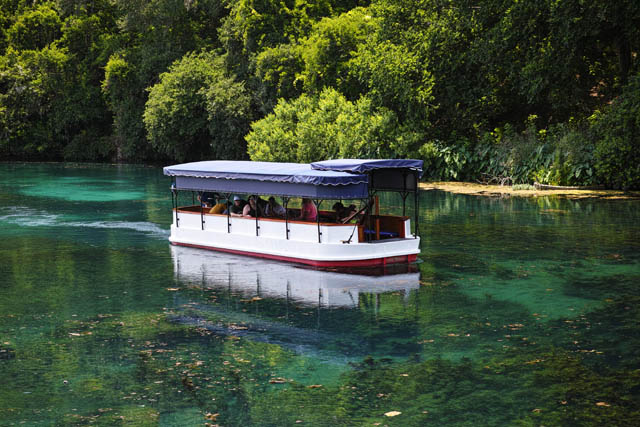 It's not every day that you can see the headwaters of a river, yet that's exactly what you can do on a glass-bottom boat tour at The Meadows Center.
The 30-minute tour of Spring Lake takes you to hundreds of bubbling underwater springs that you can see along with lots of local flora and fauna.
Want to dip your toes in the lake? Dive in on one of the snorkeling tours that include a background on the lake's wildlife and all necessary equipment.

---
Discover Wonder World Park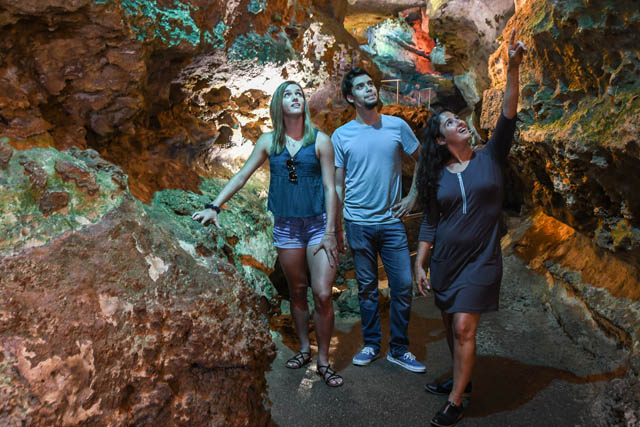 Along with its charming towns, the Hill Country region is known for its vast cave systems that you can explore. The oldest of these caves resides within Wonder World Cave & Adventure Park in San Marcos, a one-of-a-kind theme park that features a number of unique attractions. Its cave was formed by an earthquake along the Balcones Fault Line, and the formations within stand as a testament to the devastating power of Mother Nature. During your 1.5-hour guided tour of the cave, you'll see fossilized prehistoric creatures enrobed in extraordinary formations, the likes of which will be pointed out to you by a knowledgeable guide.
Although there's plenty to see within the cave, Wonder World Park has much more to offer than its mesmerizing subterranean depths. Ascend a 110-foot-tall observation tower and take in a breathtaking panoramic view of the surrounding tree-covered countryside. Climb aboard a train and ride through a deluging waterfall on your way to the wildlife park, where you can pet and feed deer and interact with other animals. Finally, step inside the mind-bending world of the anti-gravity house, where water runs uphill and everything is backwards.
Whether you're looking for a cave-diving adventure or a fun day out with the family, you'll find it at Wonder World Cave & Adventure Park, a top attraction in San Marcos.
---
Shop Until You Drop at San Marcos' Outlet Malls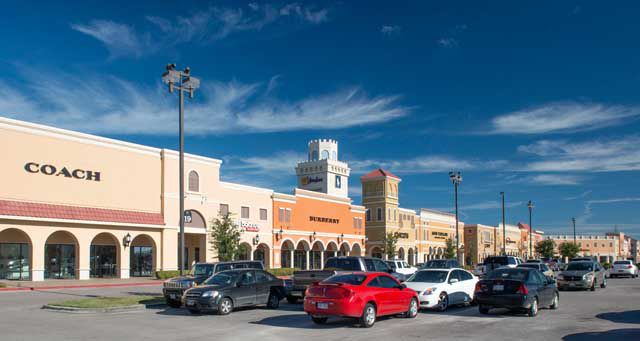 Do you enjoy hunting for bargains? Then San Marcos is the place for you.
The town's two outlet malls that have more than 240 name brand and luxury stores and 1.2 million square feet of retail space, making it a shopper's paradise.
In fact, San Marcos' two outlet malls, San Marcos Premium Outlets and the Tanger Outlets, combine to form the largest outlet shopping center in the United States.
At the San Marcos Outlets, you'll encounter luxury stores like Gucci, Jimmy Choo, Versace, and West Elm, amongst other popular brands.
Most stores sell their products at a discount, so be prepared to leave with hefty shopping bags. With so many stores to browse, you'll probably work up quite the appetite. Don't worry; both malls have an extensive selection of fast-food and sit-down restaurants that are sure to have whatever you're craving.
---
Sample the Local Spirits
The Texas Hill Country is famous for its craft beverages and San Marcos is no exception. This charming town is home to four craft breweries, each of which offers its own take on some of today's most popular styles. Situated in the heart of Downtown San Marcos you'll find AquaBrew and Sean Patrick's.
Or cruise on out on Ranch Road 12 to visit Middleton Brewing and Roughhouse Brewing. Each brewery has a unique atmosphere and flavor, so you'll want to visit them all!
And the fun doesn't' end when the sun goes down. In fact, we would say you are just getting started. Looking for a quiet courtyard with a tasty margarita? Maybe a quaint coffee shop with local vibes and live music? A historic honky tonk where the next big star is getting their start? Or a high-energy nightlife spot to party? Whatever vibe you're feeling, you'll find just the right spot in San Marcos.
---
Enjoy Local Live Music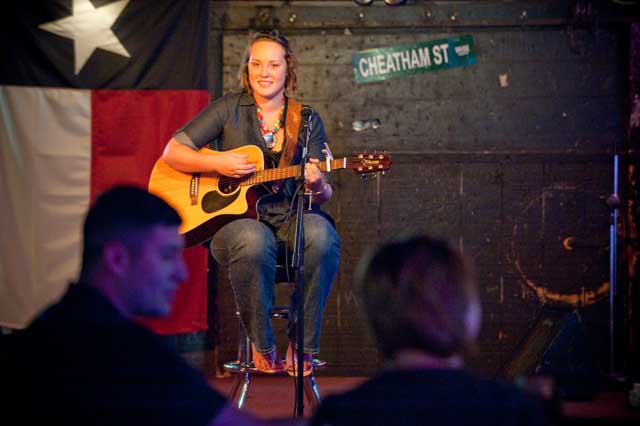 No matter what kind of music you're into, you'll most likely find it in San Marcos.
This Hill Country destination is full of all kinds of venues, from career-launching stages to hole-in-the-wall bars.
These spots host live music every night of the week. You can find a show just about anywhere in San Marcos, including at Cheatham Street Warehouse, The Coffee Bar, and The Marc.
Click here to see a list of upcoming shows.
---
Uncover San Marcos' Magnificent Murals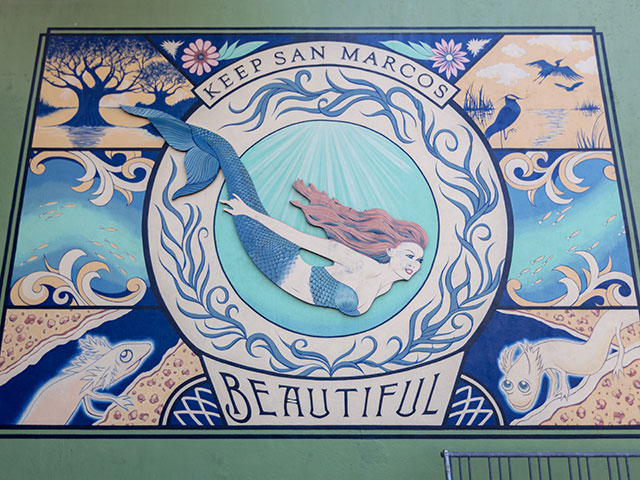 From vibrant wall-spanning works to small tongue-in-cheek paintings, San Marcos is full of all kinds of murals. See them all for yourself as you explore San Marcos.
Start at Cupig, a quirky mini mural of cupid as a pig in San Marcos' aptly named Kissing Alley. Go on to other works, like Heron With Bottle on the east side of Rio Vista Falls, before making your way to sprawling murals like Dive Into The Divine and Colors of Texas.
Stop for a second to take a one-of-a-kind selfie, then continue on to other adventures here in San Marcos.
---
---