---

Events in Sonora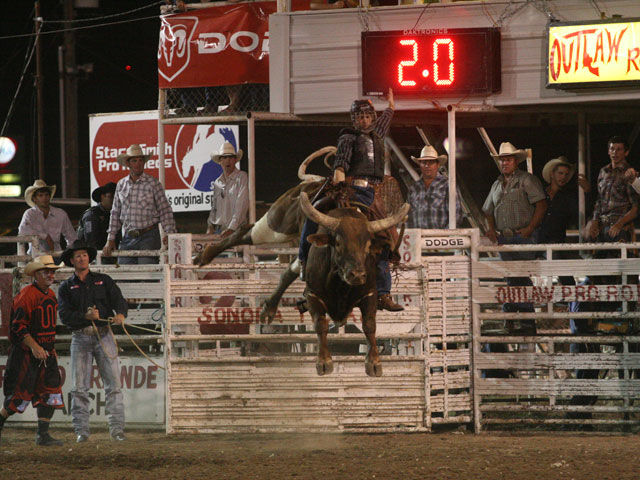 Sonora is perhaps best known for its incredible caverns and stunning Hill Country scenery, but neither tells the whole story.
Along with its Western heritage and unique shops and restaurants, Sonora has a full calendar's worth of events worth traveling for. Catch some of the Western fun at a rodeo and enjoy a full day of first-class Country music at a one-day musical event.
Continue reading to see some of the top annual events in Sonora.
---
August
Sutton County Days & Outlaw Rodeo
Take part in a true Texas tradition when the Sutton County Days returns to Sonora every August. A full weekend's worth of Western-style fun, it all kicks off with a parade and continues with food vendors, rodeo performances, horseless goat roping, and the Miss Sutton County contest.
North Crockett Avenue
Sonora, TX 76950
---
October
Dry Devils River Music Flood
Some of the hottest acts in the Texas Country music scene travel to Sonora every year for the Dry Devils River Music Flood. Held the first Saturday in October, this one-day event includes a catfish cook-off, golf scramble, and the 5K Hell or High Water Fun Run.
Sutton County Park
Sonora, TX 76950
---
November
Sutton County Game Dinner
Sonora, and Sutton County, is a mecca of white-tailed deer, wild turkey, and exotic hunting in the Lone Star State. To kick off the fall hunting season, hunters are welcomed to the Sutton County Civic Center on the second Saturday in November for the annual game dinner. Featuring delicious food and lots of prizes, it's a great way to start your time hunting in the Hill Country.
North Crockett Avenue
Sonora, TX 76950
---
December
More the Merrier Christmas Bazaar
Shop for special holiday knickknacks and one-of-a-kind gifts at Sonora's annual one-day Christmas market. Musical performances and refreshments are all part of the fun.
1600 Crockett Avenue
Sonora, TX 76950
---
---