---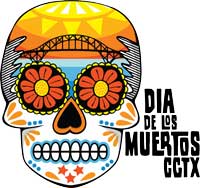 Dia de los Muertos Festival
---
Due to the continuing rise of COVID-19 cases, festival founders K Space Contemporary and AXIS Tattoo announce the cancelation of the street festival portion of the 2021 Dia De Los Muertos Celebration scheduled for October 30 in downtown Corpus Christi. The safety of the general public, artisans and vendors, festival volunteers, performers and every individual involved in the festival remains the prominent factor in the committee decision. This is the second year the street festival has been canceled due to the ongoing global pandemic.
The following aspects of the Dia de Los Muertos Celebration will continue as planned inside K Space Gallery and throughout downtown Corpus Christi:
K Space Contemporary
623 N. Chaparral St.
October 1 – November 12
Tienditas de Dia de los Muertos Shopping event and art fair featuring hand-made jewelry, art, ceramics, clothing, decorative items, masks, etc. by selected artisans inside K Space Contemporary
Tribute to Frida and Diego By David Ramirez at K Space Contemporary
Dia de los Muertos Art Collection Exhibition at K Space Contemporary
Mil Milagros Fine Art Exhibition at K Space Contemporary featuring local artists age 18+
Lowrider Pick-Up by Maclovio Cantu IV

October 16 – November 12:
Extravagancia de Piñatas Contest for K-12 groups
Ofrenda and Miniature Cemetary – window display
Downtown Corpus Christi October 28 – November 12, 2021
Oct. 29 – November 5, 2021.
Walk of Remembrance Ofrenda Display Open special hours
Ritz Theater
715 N. Chaparral
Downtown Altar Tour Self-guided walking tour of altars and Dia de los Muertos decorations in downtown businesses, see map for locations
Youth Art Exhibition – Mil Milagros: works by students in grades 6-12 at Fresco Restaurant.
619 N. Chaparral St.
La Palmera Mall
5488 SPID
Ofrenda – at Concierge
LP Gallery – Dia de los Muertos Through the Lens, Festival Photography by Debbie Noble.

Virtual Programming
Virtual and social media programming will complement in-person events. As Corpus Christi's most anticipated event of the fall, the Dia de los Muertos Festival has brought life, music, and culture into the downtown community since 2008. While things look a little different, the festival's goals remain the same: to celebrate and honor the rich cultural heritage of Mexico and South Texas, unite our community and promote our city.
---
The Dia de los Muertos Festival is the primary fundraiser for operating funds for K Space Contemporary, a 501c3 non-profit arts organization. For those who are interested in becoming a sponsor or donating, please visit www.diadelosmuertoscc.com.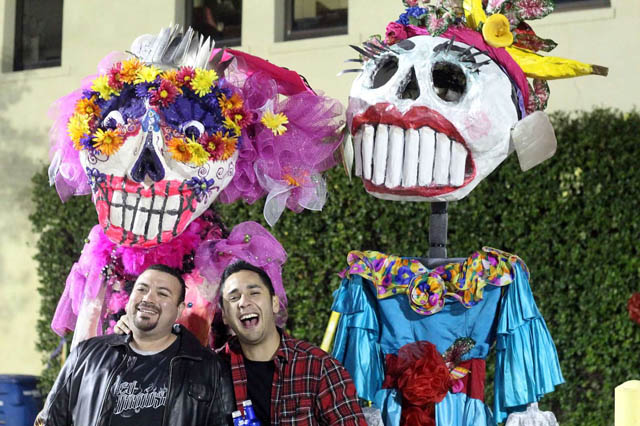 October 30, 2021 - (Canceled due to the continuing rise of COVID-19 cases)
Now in its 14th year, the Dia de los Muertos Festival has become one of Corpus Christi's most popular events. It has been nationally recognized in multiple lists as a top Dia de los Muertos Celebration in Texas and the U.S., and voted Best Festival in The Bend Magazine's Locals List five years running (2016-2020).
The Dia de Los Muertos Festival (Day of the Dead) is one of the most exciting events in Corpus Christi, thanks to all there is to see and do. Free concerts by Latin-influenced musicians and up-and-coming Texas bands, as well as cultural performances, are held on three stages. Entertainment includes Native American, Folklorico and contemporary dance, Mariachis, and bands that play Cumbia, Tejano, Conjunto, Salsa, Latin Pop and Rock.
A favorite past-time at the festival is the Hecho-a-Mano Arts and Crafts Expo. Browse the more than 60 vendors selling arts and crafts, jewelry, and other handmade items, or have your face painted in classic Dia de los Muertos style. Art students from Texas A&M Corpus Christi will perform sculpture and printmaking demonstrations and also serve as puppet masters for our famous over-sized Calaveras.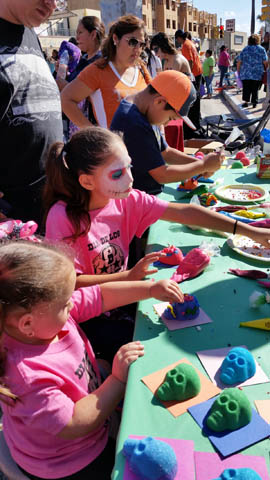 An important part of the day for most festival-goers is stopping by the Walk of Remembrance Altar Display. Here, you'll find moving ofrendas created by children, families, organizations, businesses, and other members of the community to honor departed family members, soldiers, celebrities, community leaders, and others. The ofrenda, a sacred Mexican tradition, holds the deceased's favorite foods, personal possessions, flowers, candles, incense and other symbolic items to represent the life of the departed. Visitors are invited to leave written memorials and/or photos of their own deceased loved ones on the tribute wall and community altar at the center of the display.
Be sure to check out the art exhibitions at K Space Contemporary! This year, we unveil new large-scale paintings by local artists in our new Dia de los Muertos Art Collection, and Arte Inmersivo an interactive, immersive, selfie-worthy art display with a life-size piñata donkey, marigold room and giant sugar skull made of plastic bottles.
We also get the kids involved in the fun! The Kids Corner has lots of activities to keep the children busy, from the rock-climbing wall, crafts and games, to decorating sugar skulls while young performers dance and sing. The Youth Art Exhibition features works of art by area students in grades 6 – 12. Extravagancia de Piñatas is a contest in which area K-12 school groups compete for bragging rights (and classroom funds). To determine winners, we ask visitors to vote for their favorite piñatas!
Experience one of our region's most distinctive festivals! You'll have a great time eating, drinking, dancing, and shopping, all while learning about one of the richest and most ancient traditions in the world.
The Dia de los Muertos Festival is organized by K Space Contemporary in partnership with Electra Art*Axis Tattoo. Proceeds benefit K Space Contemporary, a 501c3 non-profit organization dedicated to presenting and promoting contemporary art in South Texas.
---
---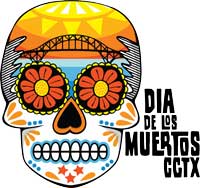 Dia de los Muertos Festival in Corpus Christi
623 N. Chaparral St.,
Corpus Christi, TX 78401
(361) 887-6834
www.diadelosmuertoscc.com