---
North Texas Fair & Rodeo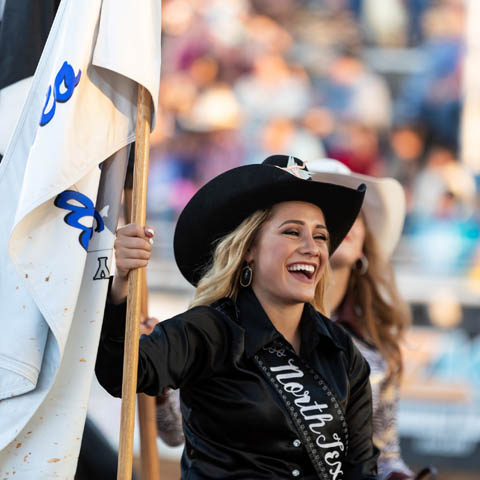 Put on your finest wide-brimmed hat and cowboy boots and two-step on over to Denton for the North Texas Fair & Rodeo. A celebration of western heritage and culture for more than 90 years, this North Texas event features nine days full of livestock shows, concerts, contests, games, and your favorite carnival rides. Gather up your friends and family and catch all the action at Denton's rodeo, held at the North Texas Fairgrounds in late August.
Each day holds something new at the North Texas Fair & Rodeo, but there is always one constant: the carnival. Bathed in a kaleidoscope of bright neon lights, the midway is home to high-tech thrill rides and traditional games of skill and chance that will keep you entertained throughout the afternoon and evening. There are even rides just for kids and families, including the impressive Ferris wheel that you can see from just about everywhere in the fairgrounds.
When your appetite catches up with you, follow the enticing aromas of tacos and funnel cakes to the abundance of food vendors. Then stop by the Kids Zone, where your youngsters can make new friends in a petting zoo, climb a rock wall, and more.
While the carnival has plenty of entertainment, it is only one of the fair's main attractions. Denton is known for its live music scene, and the North Texas Fair & Rodeo's concerts bring some of the biggest names in the business to town. Head to the Budweiser Stage for each night's headliner, with artists the likes of Pat Green, Flatland Cavalry, and Radney Foster having performed here in the past. Catch the other acts on the Bud Light Stage, or head on over to the Miller Lite Rodeo Arena to watch professional cowboys showcasing their skills in Professional Rodeo Cowboys Association-sanctioned events. Don't miss the mutton bustin', as that's always a hoot.
Rounding out all the fair fun is the goings-on at the Livestock Pavilion, where young farmers and ranchers show their prized animals. Whether you're a rodeo fan, looking for a fun day out with your family, or wanting to listen to first-rate country music, get your tickets today for the North Texas Fair & Rodeo, one of the biggest events in Denton.
---
---