---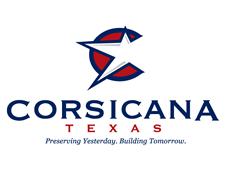 5 of the Best Ways to Feel the Warmth of the Holidays in Corsicana
As 16th-century English poet Thomas Tusser once wrote: "At Christmas, play and make good cheer, for Christmas comes but once a year." Fill your holiday season with an abundance of yuletide cheer when you visit Corsicana, a welcoming town located among rolling pastoral farmlands just an hour from Dallas and Waco. Explore one-of-a-kind shops in a historic downtown area home to a magnificent Christmas tree, take in all the fun at a lively Christmas parade, and taste one of Texas' most iconic holiday desserts. Ring in the most joyful season of all in Corsicana. Here are a few of the best ways for you to do just that.
Tour Texas Tip: Every great getaway starts with where you stay. Check out Corsicana's many hotels, then book your stay today.
---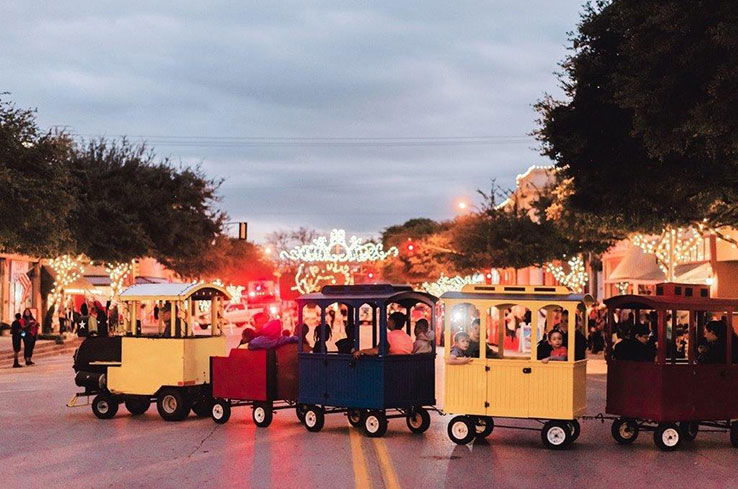 Celebrate the Holidays in Style
The holiday season is a magical time of year, and you don't even need to wait until Thanksgiving to kick it off. Start the most wonderful time of the year with the Holiday Tree Lighting celebration (Nov. 19) in Downtown Corsicana. Watch as the three-story tree is illuminated by more than 10,000 lights, then embark on a horse and carriage ride, cruise along a trackless train, or go iceless skating before settling in to listen to a live band. The downtown area's stores stay open late, giving you the perfect opportunity to get in some early Christmas shopping. All the fun concludes with a magnificent fireworks display that Santa himself would approve of.
All the holiday fun continues with the Festival of Lights Parade (Dec. 4), a festive procession that winds its way through Downtown Corsicana. The parade coincides with the Fun Town RV Heritage Bowl, a clash of two Division II football teams that plays out at Corsicana ISD's 10,001-seat Tiger Stadium. To tie up your last bit of Christmas shopping, be here for Mimosas at the Market (Dec. 11). Browse the wares of dozens of the downtown area's finest shops as you try each establishment's own take on the classic brunch beverage.
These events offer plenty of festive charm, but there's much more to see and do here during the holiday season.
---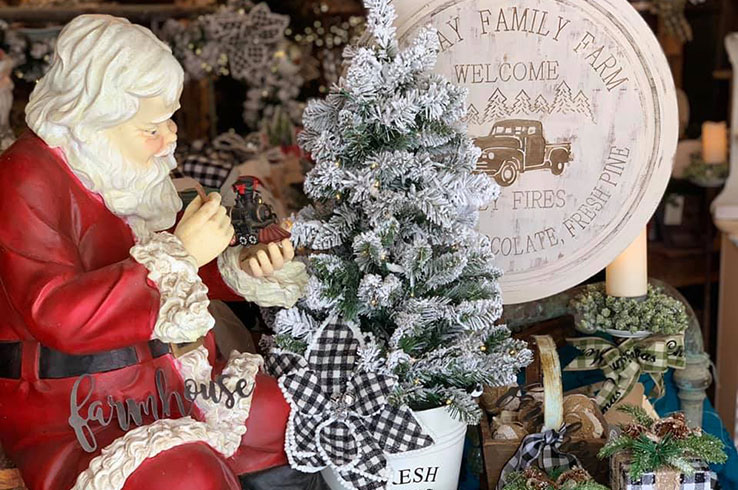 Shop for Everyone on Your List in Downtown Corsicana
Giving is an essential part of the holidays, and here in Corsicana it couldn't be easier. Revel in all the Christmas cheer as you wander from one store to another in Downtown Corsicana, where lights adorn all the trees and buildings, windows are decorated for the season, and a three-story tree towers above it all. Start at Vintage Farmhouse, a home décor shop that stocks rustic furniture, signs, and other goods large and small. For fashionable clothes, shoes, bags, gifts, men's products, and first-class customer service, look no further than Merle Norman.
Looking for eye-catching gifts, bags, jewelry, and other goodies? Check out Sweet Tangerine, an authorized Kendra Scott and Brighton realtor that has some of the best gift wrap you'll find anywhere. If you're looking for a new statement piece for your home, nowhere beats Canterbury Court. The shop's keen-eyed owners curate the best art and antiques from Europe and around the country. Downtown Corsicana is even home to Oiltown Comics, a comic book and collectibles shop with an impressive selection to choose from for those Batman and Spider-Man fans on your list.
Although you can shop Downtown Corsicana at any time, you won't want to miss Small Business Saturday (Nov. 27). Visit the area's many stores and you'll have the chance to win one of several giveaways of gift carts to local merchants. Regardless of when you're here, take some time to follow the Bronze Tour. A collection of 16 bronze statues scattered across the downtown area, the tour provides a great way to get to know Corsicana's most influential people. Hear the explanation online or via a QR code at each statue.
Tour Texas Tip: Don't limit your gift hunting to just the downtown area. Cruise along Highway 31 or I-45 and you'll come across big-name apparel, home goods, and other retailers.
---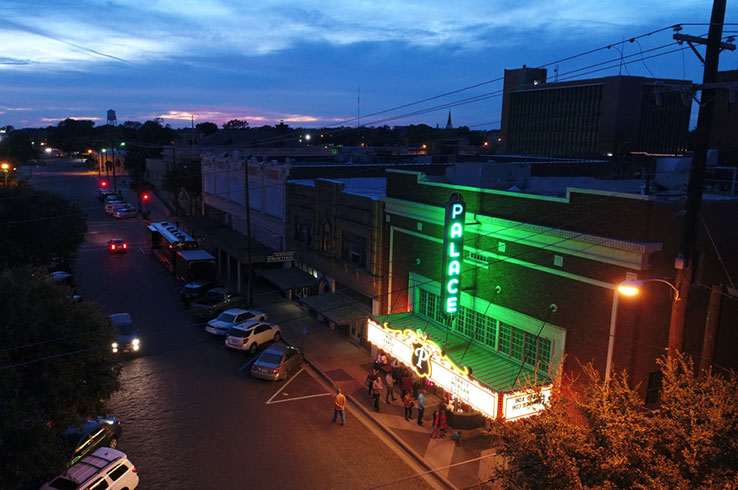 Catch a Show at the Palace Theatre
Built in 1921, the vaudeville-era Palace Theatre is much more than just a historic building in Downtown Corsicana. Instead, the lively 100-year-old, 550-seat venue that has some of the best holiday shows around. Listen to stories told by writers of some of TV's funniest shows, including Seinfeld, at The Good Humor Hour (Dec. 2). Then come back to listen to Grammy Award-winning artist Crystal Gayle (Dec. 3) or a performance of The Nutcracker (Dec. 11).
A few days later, enjoy some of your favorite Chicago hits at Brass Transit Presents: A Rockin' Christmas (Dec. 16), then catch a performance by the legendary Asleep at The Wheel (Dec. 17). Tickets for these, and the Palace Theatre's other shows, are available on the venue's website.
---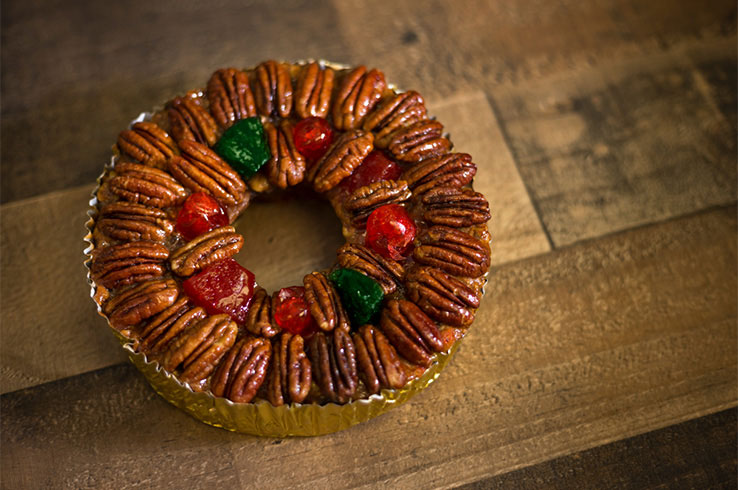 Visit Fruitcake Mecca
Texas pecans, fresh pineapples from Costa Rica, and pure clover honey. Sweet and delicate, Collin Street Bakery's DeLuxe Fruitcakes are famous around the world. Founded in Corsicana in 1896 by a German immigrant and entrepreneur, the bakery prepares 30,000 of its iconic cakes every day from October through mid-December, shipping them to more than 190 countries. You can get your hands on one of your own at Collin Street Bakery's two Corsicana locations, where you'll also find chocolate-covered strawberries, cheesecakes, pies, the popular cherry icebox cookies, and many other mouthwatering goodies. Take home as much as you like. After all, 'tis the season to treat yourself.
---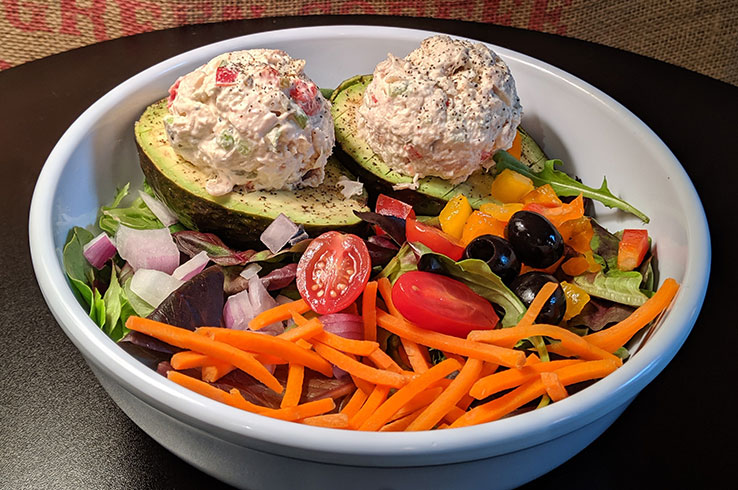 Enjoy a Tasting Tour of Local Eateries in Downtown Corsicana
Amazing food is an essential part of the holidays, and Corsicana's local eateries serve up plenty to savor. Tuck into healthy eats at Simply Fresh Coffee + Kitchen, purveyors of non-GMO and keto-friendly fare like carne guisada soup and a gluten-free California melt. Warm up with a Brevicano coffee made with a hint of sugar-free salted caramel that pairs beautifully with a few gluten-free mini chocolate chip cookies.
Stepping into Across the Street Diner is like finding yourself back in a bygone era. What once started as a saloon is now one of Texas' oldest soda fountains. Today, it's the kind of place where you can find a seat at the bar, tuck into a turkey melt or a cheeseburger with a side of hand-cut fries or mashed potatoes and top it off with a flavored soda or an ice-cream float. For date night, head next door to the Bistro for steaks, tapas, pastas, and an international selection of wine. Both eateries are on the same street corner where 12-year-old Lyman Davis sold his family's chili back in 1895. The recipe for Davis' chili would go on to create Wolf Brand Chili, something you may have seen in the store before.
Craving Italian cuisine that'll make you feel right at home? Napoli's Italian serves a tantalizing selection of pastas, pizzas, and entrees like eggplant parmesan and chicken rollotini. The restaurant is set in what was once a hotel built in 1860, adding a bit of local history to your night out. Of course, there are far more restaurants to refuel at in Corsicana, including outside the downtown area and along I-45. See the full menu here.
Thirsty? Then find yourself at Brick Streets Brewery, Corsicana's very own nano brewery. Take in all the rustic charm, from the aged brick walls to the rugged wood bar countertop, as you relish one of the unique ales that switch out every week. Brick Streets also has a thoughtfully curated selection of Texas wine on tap as well, if you're more in a merlot kind of mood.
---
Located just an hour from Dallas and Waco along Interstate 45 and Highway 31, Corsicana is a fun and festive destination for anyone seeking holiday cheer. Find out more about the town's events and attractions here.
About the Author: James Waterson is the head writer and content specialist for Tour Texas. When he isn't writing about the many great places in the state of Texas, he's planning his next epic adventure in the Lone Star State.
---
---
Corsicana, Texas
301 S. Beaton St. Corsicana, TX 75110
Corsicana, TX 75110
(903) 654-4850
www.VisitCorsicana.com