---

5 of the Best Ways to Enjoy Fall in Baytown
Nothing beats hitting the road in the fall when the season's cooler temperatures and festive holidays set the stage for the ideal getaway. Whether you're looking for some time away to relax and reconnect with your family or to immerse yourself in the beauty of the Texas Gulf Coast, find your way to Baytown. Located about 25 miles east of Houston on the eastern shores of multiple bays, Baytown is full of experiences that will help you get the most out of autumn. Read on to discover all the possibilities, then plan your visit here.
---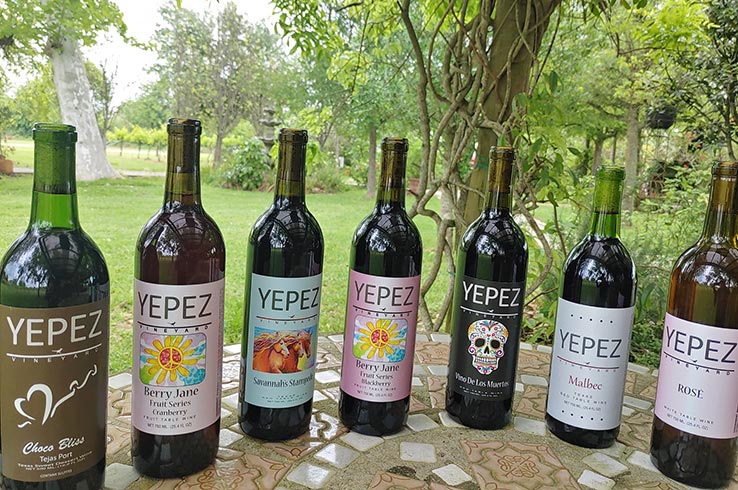 Stomp Grapes & Taste Delicious Wine
With its adobe walls, abundant shade, and rows of lush grapevines within view, Yepez Vineyard is just the place to tip back a glass of wine. If you're a lover of reds or whites, you owe your palate a visit to this authentically Texan winery near Baytown. Relax on the courtyard and you'll relish the tasting profiles of hand-crafted wines made using Texas-grown grapes as you savor all the Southwestern charm. The tasting room is open Friday, Saturday, and Sunday from September through May, so make sure you stop by to experience all the winery has to offer.
Beyond weekend visits, the winery's scenic charm makes it a popular spot for private tastings, weddings, and even baby showers. It also hosts special events throughout the year that you won't want to miss, such as the Grape Stomp Fest (Nov. 6), when you can sip wine as you shop the wares of arts and crafts vendors.
While the winery is a must-visit when you're here in Baytown, fall is particularly enjoyable because of autumn's more inviting daytime temperatures. So, fill your glass and savor life's finer pleasures at Yepez Vineyards.
---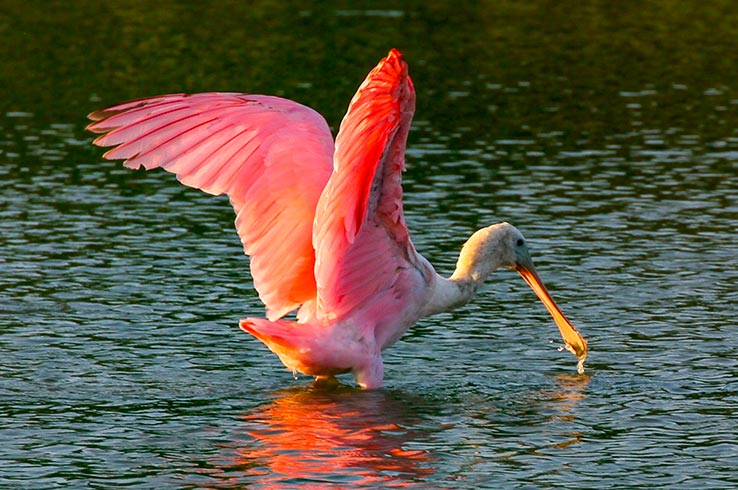 Explore a Coastal Oasis
Watch wading herons and egrets, explore remote trails through hardwood uplands and freshwater wetlands, and enjoy the simple pleasures of casting a fishing line off a quiet pier. Set on a 500-acre peninsula less than five miles from downtown Baytown, Baytown Nature Center is a coastal oasis in its truest definition. Not only does it offer an escape for nature lovers, but it's also a nationally important birding area designated by the American Bird Conservancy. Nearly 320 species have been spotted here throughout the year, with the peninsula's array of habitats providing an important shelter for neo-tropical migrant birds. Bring your binoculars and hike along the seven miles of pathways or catch one of the nature center's Full Moon Hikes, which gives you the chance to listen to owls and see wildlife that emerges at night.
When you aren't spotting birds or exploring the trails, try your luck from one of the nature center's four fishing piers, stop by the Crystal Bay Butterfly Garden, and let your little ones play in the Children's Nature Discovery Area. Want to get out on the water? Bring your kayak or stand-up paddleboard and explore Crystal Bay, where you can see the towering San Jacinto Monument off in the distance.
With first-rate birding and a multitude of ways to enjoy the outdoors, Baytown Nature Center is the place to be for your next escape to nature.
---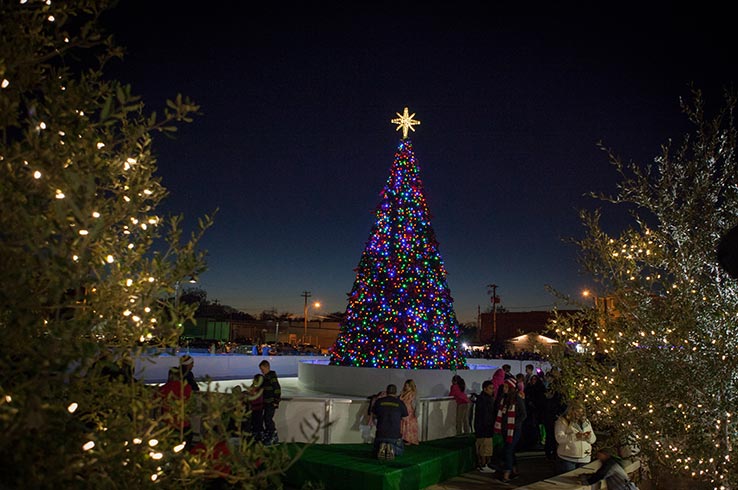 Go Ice Skating … Outdoors
The Texas Gulf Coast may not be the first place you think of when it comes to outdoor ice skating, yet that's exactly what you can do here in Baytown. Bundle up and head to the downtown area for the Town Square Ice Rink. Rent a pair of skates and glide on the ice around a towering Christmas tree festooned in colorful lights and topped with a shining star. Open seven days a week from Nov. 26 through the rest of the holidays, the ice rink is one of Baytown's coolest attractions during the most wonderful time of the year.
---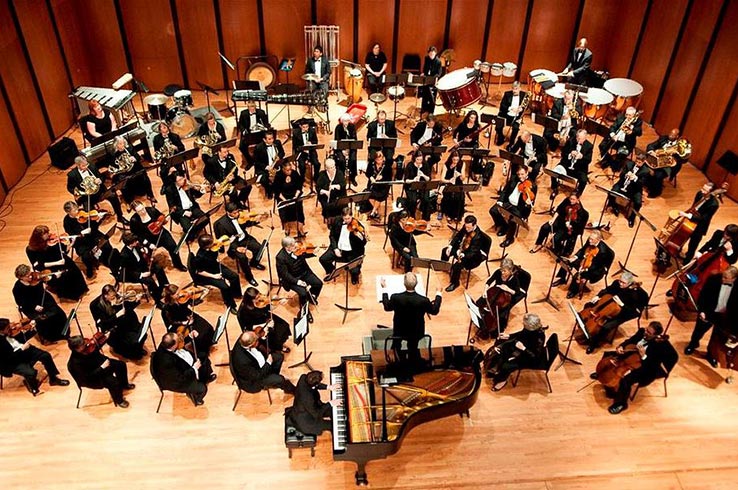 Savor the Many Joys of the Holiday Season
There are many ways you can find your yuletide cheer, especially if you're in Baytown. As we all know, it's not the holiday season unless you watch A Christmas Story. Here, you can see the timeless story of Ralphie's pining for a Red Ryder Carbine Action Air Rifle as a Christmas present on stage at a performance by the Baytown Little Theater (Dec. 3 – 12). Meanwhile, the Baytown Symphony Orchestra (BSO) celebrates the festive season with swelling violins and breathtaking harmonies with Christmas in Baytown (Dec. 4), featuring music from Tchaikovsky's The Nutcracker, the movie Frozen, and more.
Finally, take in all the festive fun of Christmas on Texas Avenue (Dec. 4 – 5), the perfect time for you to shop for handmade goods as you relish tasty fare and live music. You may even see Jolly Old Saint Nick himself.
---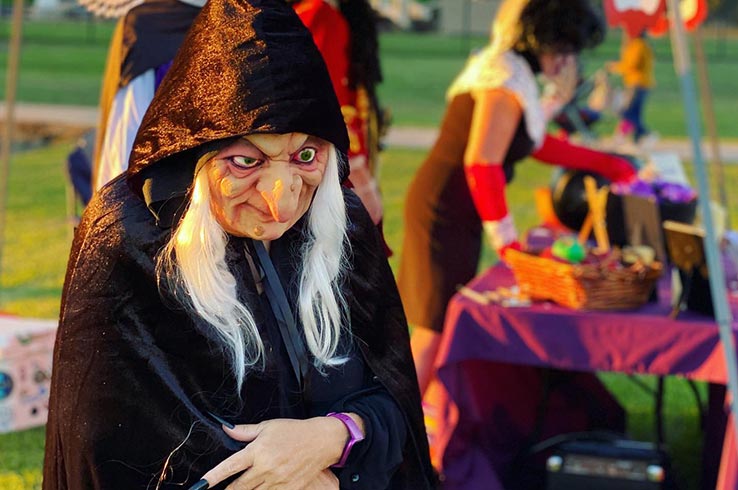 Enjoy Thrills & Chills
No matter where you are, fall is known for its mouthwatering Thanksgiving dinners, cooler weather, and the season when things go bump in the night. When Halloween is upon us, make sure you're here in Baytown. Start at the Republic of Texas Plaza Park for Heritage Scaritage (late October), when you can browse arts and crafts vendors and dig into something tasty as your kids enjoy activities like pumpkin decorating.
In the evening, put on your costume and come out to the Wayne Gray Sports Complex for Treats on the Trail, a family-friendly event with plenty of things to do and free treat bags for your youngsters. There's even more Halloween fun to be had at Trunk or Treat (late October), which offers a safe place for trick or treating, while the Baytown Little Theater's haunted house serves up all the scares throughout the weekend.
Want to keep up to date on all of Baytown's Halloween happenings? See all the destination's upcoming events here.
---
When you're looking for your next fall Gulf Coast getaway or somewhere to enjoy all the delights of the holidays, Baytown is just the place to be. Plan your visit here.
About the Author: James Waterson is the head writer and content specialist for Tour Texas. When he isn't writing about the many great places in the state of Texas, he's planning his next epic adventure in the Lone Star State.
---
---