---
Attractions in Glen Rose
From ancient history to modern recreation, Glen Rose has it all. Hunt for footprints left by dinosaurs millions of years ago; play a round at Squaw Valley Golf Club, one of the best municipal golf courses in Texas; and tour Fossil Rim Wildlife Center, a wildlife safari park in Texas. Regardless of what you enjoy, you'll find something to love at one of the attractions in Glen Rose. Continue reading to learn more about what this charming town has to offer.
---
Barnard's Mill and Art Museum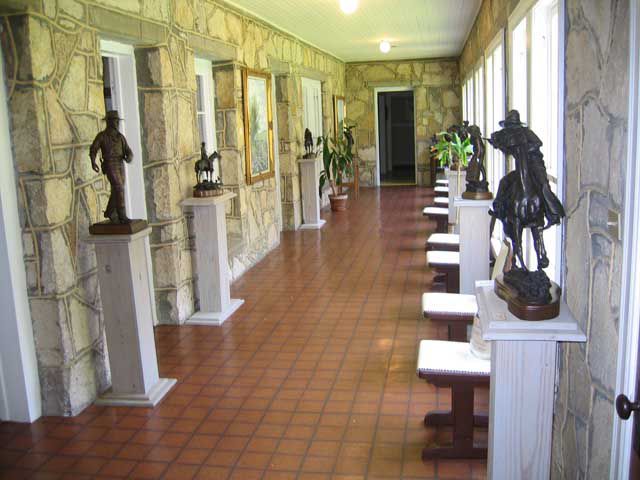 Barnard's Mill is a true historic treasure in Glen Rose. The structure was built as a water-powered gristmill in 1860, and over the years has been used as a burr mill, cotton gin, health spa, and even a hospital and clinic. Today, it's a Texas Historic Landmark that is both a museum and an art gallery that contains Asian and Native American artifacts and works by nationally-renowned artists such as Robert Summers, Jewell Miears Fielder, and Morris Henry Hobbs. Barnard's Mill and Art Museum is open Saturday and Sunday throughout the year.
307 Southwest Barnard Street
Glen Rose, TX 76043
(254) 897-7494
---
Big Rocks Park
Take a gander at a vast collection of unusually large rocks at the aptly named Big Rocks Park in Glen Rose, a scenic public space on the north shore of the Paluxy River. The park is an ideal place for children to explore and play and families to enjoy a picnic or go for a swim in the cool river.
1014 Southwest Barnard Street
Glen Rose, TX 76043
---
Creation Evidence Museum of Texas
The Creation Evidence Museum in Glen Rose was founded in 1984 to educate visitors on the scientific evidence of Biblical creation. Various exhibits displaying artifacts, fossils, and documents that support creation and educate visitors about the scientific and Biblical principles of earth comprise the museum, situated just a few miles west of town.
3102 FM 205
Glen Rose, TX 76043
(254) 897-3200
---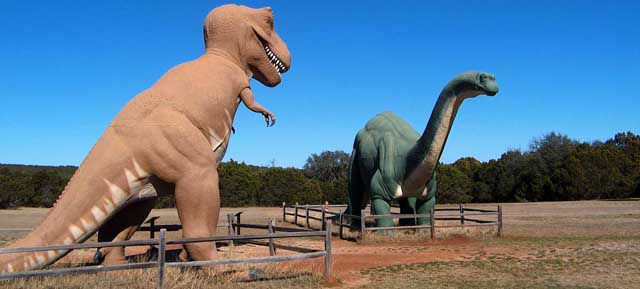 Dinosaur Valley State Park
Traverse 20 miles of scenic hiking trails, swim in the refreshing waters of the Paluxy River, and discover some of the finest examples of dinosaur tracks in Texas at Dinosaur Valley State Park. Camping, geocaching, horseback riding, and fishing are some of the other things you can do at the park, situated within a stone's throw of Glen Rose.
1629 Park Road 59
Glen Rose, TX 76043
(254) 897-4588
---
Dinosaur World Texas
At Dinosaur World in Glen Rose, you'll step back into a time when these larger-than-life animals walked the earth. Dig for fossils, tour a museum full of prehistoric fossils, and wander among animatronic versions of a tyrannosaurus rex, velociraptor, stegosaurus, triceratops, and more.
1058 Park Road 59
Glen Rose, TX 76043
(254) 898-1526
---
Eagle Eye Ranch Carriage Company is delighted to offer horse experiences in the wonderful dinosaur capital of Texas, partnering with Texas Parks and Wildlife to share our beautiful horses with their guests. EERCC livery is located in Dinosaur Valley State Park. EERCC takes pride in merging guest and horse personality. Your trail ride with Eagle Eye Carriage Company will keep you coming back for more. They are champing at the bit to meet ya'll..
---
Fossil Rim Wildlife Center
Embark on an unforgettable wildlife safari in Texas at the Fossil Rim Wildlife Center. Your 2.5 to 3-hour driving tour takes you on a 9.5-mile trail over rolling hills and past live oak thickets. Along the way, you may see such rare animals as ostriches, zebras, white rhinoceros, giraffes, and cheetahs. A children's animal center allows direct interaction with various goats, pigs, and birds, and a cafe midway through the trial offers a tasty meal and some refreshment. Guided tours and on-site lodging are available but must be reserved in advance.
1789 County Road 2009
Glen Rose, TX 76043
(254) 897-2960
---
Historic Walking Tour
Uncover the fascinating tales of Glen Rose's most historic places, from the courthouse and the county jail to the Inn on the River (formerly the Glen Rose Hotel), a hotel that has offered rooms to travelers since it opened in 1928, as you follow this in-depth walking tour.
Glen Rose, TX 76043
---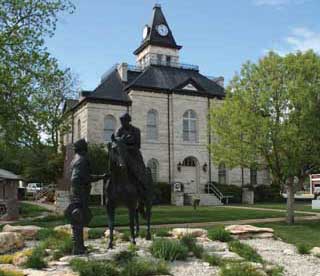 Glen Rose Historic Courthouse Square
The historic courthouse square in Glen Rose is the heart of the town.
Its anchor, the Somervell County Courthouse, is a limestone-walled civic building constructed in the Richardsonian-Romanesque style.
The courthouse is surrounded by specialty shops, cafes, restaurants, an art gallery, and a museum.
101 Northeast Barnard Street
Glen Rose, TX 76043
(254) 897-3081
---
Paluxy River Walk
Take in the many scenic charms of North Texas as you stroll along the Paluxy River Walk in Glen Rose. Running from Big Rocks Park to Heritage Park, the path provides an abundance of river views.
Glen Rose, TX 76043
---
Somervell County Expo Center
Located just 45 minutes southwest of Fort Worth, Somervell County's expo center is the place to go to see rodeo professionals competing in a variety of events throughout the year. Check the expo center's website for a look at what's coming soon.
202 Bo Gibbs Boulevard
Glen Rose, TX 76043
(254) 897-4509
---
Somervell County Museum
Learn about the history of Glen Rose and all of Somervell County at the Somervell County Museum, located on the southwestern side of the courthouse square. The museum has exhibits from all time periods, such as dinosaur track castings and a moonshiner's still. Visitors are welcomed to the museum Tuesday through Saturday and admission is free.
101 Vernon Street
Glen Rose, TX 76043
(254) 898-0640
---
Squaw Valley Golf Club
Squaw Valley Golf Club is a well-renowned 36-hole championship golf course nestled among century-old oak trees. Beautiful views of the scenic landscape and a challenging round of golf define Squaw Valley Golf Club, which was ranked as one of the top 50 public courses in Texas by the Dallas Morning News. Tee times can be purchased online and the course is open throughout the year.
2439 East Highway 67
Glen Rose, TX 76043
(254) 897-7956
---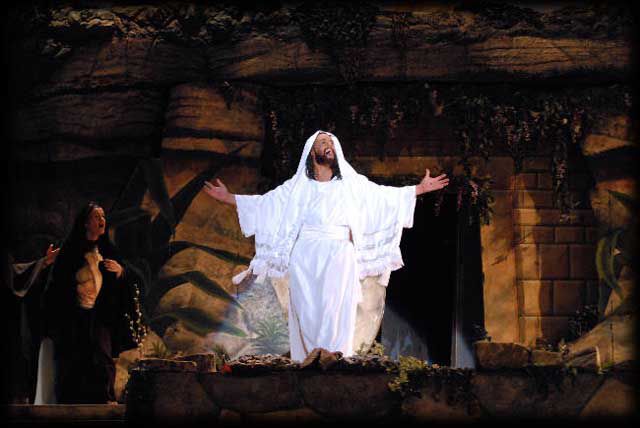 The Promise
Experience the life of Jesus Christ in a new way at The Promise, a stunning outdoor musical production that has a 150-person cast and crew, live animals, period costumes, and fantastic special effects. Shows are held at the 3,200-seat Texas Amphitheater, the largest permanent amphitheater in the state, from April to May and September through October. Tickets are available on The Promise's website.
5000 Texas Avenue
Glen Rose, TX 76043
(254) 897-3926
---
Wheeler Branch Park
Escape the summer heat at Wheeler Branch Park, located on the shore of the Wheeler Branch Reservoir just north of town. Swim in the inviting waters, cast a fishing line into the water and relax on the shore, or simply bring a picnic and enjoy the scenery. The park is open all year from 7 a.m. until sunset.
2099 County Road 301
Glen Rose, TX 76043
(254) 898-2805
---
---