---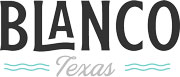 Things to Do in Blanco
Swim in a cool river on a sweltering summer afternoon. Sip a glass of merlot while gazing at gently rolling hills blanketed by rows of grape trees. Amble through a wide-open field and inhale the fresh scent of lavender. These are just some of the things to do in Blanco, an inviting hamlet nestled in the heart of the Texas Hill Country. With its ideal location within 50 miles of San Antonio and Austin, this quiet community is an easily accessed escape from hectic big city life that puts you within a stone's throw of everything that makes the Hill Country great. Continue reading for a closer look at the experiences you can have in Blanco.
---

Visit the Old Blanco County Courthouse Square
Like many small towns in Texas, Blanco has a beautiful and historic courthouse square that serves as the community's center for commerce. The Old Blanco County Courthouse, with its limestone brick façade and arched doorways, is one of the most attractive buildings you'll find anywhere in the Hill Country. Although the courthouse is photogenic, what's around it may be just as interesting. Unique eateries, an antique store, a boutique clothing shop, a more than 100-year-old pharmacy, and a quaint shop featuring the work of local artisans makes it a great place to eat and explore. No matter what you're looking to see or do, you'll likely find it in Blanco's courthouse square.
---
Enjoy a Pint at Real Ale Brewing Company
Do you fancy the taste of the bitter hops of an India pale ale or the chocolatey sweetness of a classic brown ale? If so, you should visit Blanco's own Real Ale Brewing Company, one of the largest and oldest craft breweries in Texas. Real Ale Brewing Company got its start in 1996 with its Rio Blanco Pale Ale, Brewhouse Brown, and Full Moon Rye IPA. Since then, it has developed its flagship brew, the Fireman's No. 4, and it offers an impressive range of special seasonal brews, including a coffee porter and a Russian imperial stout. You can sample any of Real Ale's available brews on Thursday, Friday, and Saturday afternoons at its tap room located on the north side of Blanco. If you're the type of beer enthusiast who wants to learn about the brewing process, make sure to go on one of Real Ale's free tours, typically held Friday and Saturday at 1 p.m. and 3 p.m.
---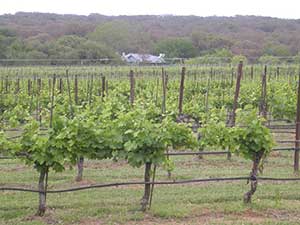 Explore Texas Wine Country
Blanco sits in the heart of the Hill Country, the Napa Valley of Texas. There are more than 40 wineries throughout the region, and with five million visitors per year, it's one of the fastest growing wine-producing areas of the country. Visit any of these wineries and you'll be able to stroll through the rolling fields full of rows of waist-high grape trees, sample a range of wines in a tasting room, or simply sit and enjoy a scenic view. Many of these wineries sit just off Highway 290 between Johnson City and Fredericksburg, all of which are within an hour of Blanco.
There are also numerous wineries east of Blanco near Wimberley, Driftwood, and Dripping Springs, including Fall Creek Vineyards, the oldest winery in the Hill Country. Although it's easy to reach these wineries by car, we suggest you bring a designated driver if you plan on enjoying any wine. If you want more of a guided experience, numerous companies offer guided tours of the region's wineries, so you can just sit back and enjoy all the enchanting sights, tastes, and smells of the Texas Wine Country.
---
Tour a Lavender Farm
Meandering through Blanco's lavender fields is a treat for the senses. The sweet aroma of the lavender and the vibrant purple of its flowers augments the already stunning scenic beauty of the Hill Country. Blanco is, after all, the Lavender Capital of Texas. You can savor this for yourself at one of the lavender farms near Blanco, Hill Country Lavender and Imagine Lavender. Both farms welcome guests during lavender blooming season, which begins in late May and ends in the middle of July. While you're at either farm, you can purchase various lavender-based products, including soap, shampoo, tea, and sugar. For the ultimate lavender experience, check out the Blanco Lavender Festival, an annual event held the second weekend of June on the courthouse square that includes a market, live music, regional wineries and area breweries, farm tours and a speaker's pavilion.
---
Relax at Blanco State Park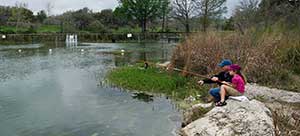 One of the best experiences you can have in Blanco is swimming in the inviting water of the Blanco River, which meanders through the more than 100-acre Blanco State Park on the south side of town. The state park has been a long-time traveler favorite for its natural beauty and wealth of recreational opportunities. In addition to going for a swim, you can fish, ride a bicycle, rent a canoe or inner tube, or simply enjoy a barbecue next to the river. You can do all of this while being just across the street from town, so you can savor the gorgeous Hill County scenery while also being near many of Blanco's shops and restaurants.
---
---