---
Events in Grapevine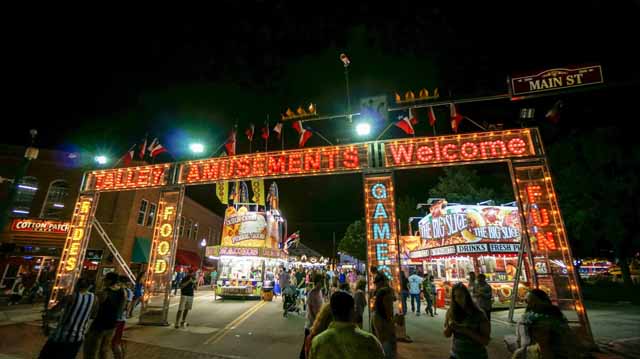 Grapevine's abundance of wineries and upscale shops and restaurants makes it a destination for all seasons, but there are some times of the year that can't be missed. Throughout the year, Grapevine hosts numerous annual events that revere the finer things in life.
This, of course, includes annual events such as the GrapeFest wine festival and the Main Street Fest, a craft beer event. Once the holiday season rolls around, there's no better place to be than Grapevine, the Christmas Capital of Texas.
Before you start packing your bags, make sure to check out our list of the main annual events in Grapevine so you can get the most out of your time here.
---
April
ChocolateFest
Get your sweet tooth ready for two days of chocolate-filled fun during Grapevine's ChocolateFest, a two-day festival held in mid-April. Bundt cakes, barks, bars, and truffles are among the many sweet treats you can sample. Wine and chocolate tastings, live music, and art presentations are just some of the ways you can experience ChocolateFest.
Grapevine, TX 76051
Spring Into Nash
Get outdoors and take your youngsters to Nash Farm for a fun afternoon of outdoor activities, including cotton planting, jump rope making, and tractor-drawn wagon rides. See the farm animals, check out the carving and wood-burning stove cooking demonstrations, and get your hands dirty doing some kitchen gardening; there's something for everyone to enjoy. Admission to this one-day event is free.
626 Ball Street
Grapevine, TX 76051
---
May
Main Street Fest: A Craft Brew Experience
Carnival games, live music, and a wide variety of tasty craft beers to taste: what better way to kick off American Craft Beer Week than Grapevine's Main Street Fest? Craft brew dinners, live music, and amusement park-style rides are part of the festival. Yet the main event is the Craft Brew Experience, where you can sample beers from across the country.
Downtown Grapevine
Grapevine, TX 76051
---
July
July 4th Fireworks Extravaganza
Find a spot at one of Lake Grapevine's parks or atop the Gaylord Texan parking garage and watch the explosion of color known as Grapevine's July 4th Fireworks Extravaganza. The fireworks show occurs rain or shine, but if there is heavy rain it will start after the weather has passed.
Grapevine, TX 76051
---
September
GrapeFest
If you're a wine lover, you can't afford to miss out on all the action at GrapeFest. Known as the Largest Wine Festival in the Southwest, GrapeFest is a four-day celebration of Texas-made reds and whites held in downtown Grapevine. Participate in The People's Choice Wine Tasting Classic, compete in the Grape Stomp, or sign up for either the GrapeFest Golf Classic or the GrapeFest Tennis Classic. These events are paired with plenty of live music, and there's a special kid's area so the youngsters can go play.
Downtown Grapevine
Grapevine, TX 76051
---
October
Butterfly Flutterby
A butterfly costume parade, crafts, interactive games and exhibits, and a scavenger hunt are among the many activities at Grapevine's annual Butterfly Flutterby event. This one-day event observes the migration of monarch butterflies as they travel Canada to Mexico by way of Grapevine.
411 Ball Street
Grapevine, TX 76051
Fall Round-Up
Experience farm life and appreciate the autumn season with a visit to Nash Farm for the annual Fall Round-Up. Held in the middle of October, this one-day event features all sorts of farm activities, such as gardening, cotton picking, and watching blacksmithing and wood carving demonstrations. There's also a petting zoo and old-fashioned games for the youngsters, making this an event fun for the whole family. 626 Ball Street
Grapevine, TX 76051
---
November – January
Christmas Capital of Texas
From mid-November to early January, Grapevine is transformed into a breathtaking winter wonderland. Millions of bright lights illuminate the historic downtown area, and there are more than 1,400 events happening throughout the festival. These include the North Pole Express at the Grapevine Vintage Railroad, Christmas on Main, Carol of Lights, and live music at the Historic Palace Theatre.
Grapevine, TX 76051
Candlelight Tour of Homes
Tour Grapevine's historic neighborhoods and see its spectacular 19th-century homes and buildings during the annual Candlelight Tour of Homes. Walk the streets on a self-guided tour, meet the property owners, and learn about the people who used to call Grapevine home.
Grapevine, TX 76051
---
---