---

Marble Falls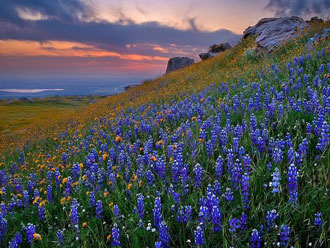 Scenic Hill Country beauty, a gorgeous lake, down-home cooking at one of the best restaurants in Texas, and world-class wineries can all be enjoyed during any visit to Marble Falls. This inviting town, nestled among gently-sloping hills blanketed in vibrant wildflowers and forests of oak and pecan trees, provides an arresting backdrop for those who enjoy being outdoors.
Yet it also has plenty to offer travelers who enjoy more urban pursuits. Dine at unique restaurants, peruse private art galleries, and browse boutique shops in Marble Falls' Main Street District. This fusion of outdoor adventure and urban elegance, set in a charming small town just 50 miles west of Austin, makes Marble Falls a great place to visit for active travelers looking to escape the rush of the big city.
Marble Falls sits within 30 miles of vast parks and recreational areas, lakes, and rivers, making it a great launching point for exploring some of the best scenery in the Hill Country. One such example of this is the Balcones Canyonlands National Wildlife Refuge, a hiker's paradise with several miles of nature trails that meander through wooded forests past clear-water creeks and to the tops of hills and plateaus. In addition to viewing all the scenery, you'll be in the best spot to see the refuge's wide variety of wildlife, including two endangered species of bird, the black-capped vireo and the golden-cheeked warbler.
Although there's much to see and do in the wildlife refuge, it's not the only option. Follow the Colorado River east of Marble Falls and you'll reach several sprawling recreational areas full of hiking, biking, and equestrian trails; river access points for swimming and boating; and primitive campsites for those who enjoy sleeping under the stars. Speaking of swimming and boating, Marble Falls sits on the northern bank of Lake Marble Falls, a popular recreational area accessible from Lakeside Park and Johnson Park. Lake LBJ, just to the west, offers a bit more space if you're looking to go jet skiing, sailing, fishing, all of which can be done year-round.
Marble Falls is the place to be for wine lovers, as well. The town is just a short drive from six award-winning Hill Country wineries, such as Torr Na Lochs Vineyard & Winery, Spicewood Vineyards, and Flat Creek Estate. Each winery produces hand-crafted reds and whites that can be sampled at its tasting rooms, and tours if you want to see the winemaking process first-hand. If you're more into beer, find your way to the tap room at Save The World Brewing Company, a local craft brewer that makes everything from malty pale ales to creamy stouts.
If you are looking to buy a one-of-a-kind souvenir or for a delicious meal, the Main Street District in Marble Falls is the place for you. In the district, you'll come across everything from boutique jewelry and candle stores to locally-owned restaurants and intimate bars and live music venues. A few blocks east of the district, you'll find the Blue Bonnet Cafe, a historic and well-regarded eatery that has been feeding tasty breakfasts and succulent pies to locals and visitors for more than 80 years.
With its beautiful landscapes, opportunities for unforgettable outdoor adventures, and one-of-a-kind shops and restaurants, Marble Falls is a true must-visit Hill Country destination. Plan your trip today!
---
---