---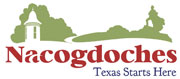 Things to Do in Nacogdoches
Life can be stressful, and that's no joke. A visit to Nacogdoches is the perfect remedy. Good times are just around the corner here in East Texas!
---
See Why Nacogdoches is Always Blooming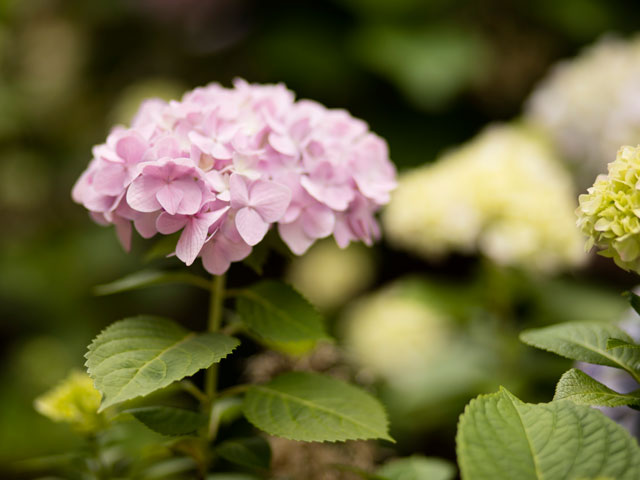 Welcome to flower heaven! Nicknamed the "Garden Capital of Texas," Nacogdoches is always in full bloom with four nature centers that showcase the region's stunning natural beauty.
Lose yourself in an explosion of color at the Ruby M. Mize Azalea Garden. With more than 8,500 plants and shrubs, the garden's 11 acres area burst with springtime magenta, pink, and white azaleas. It's not just spring, though. The attraction blooms nearly year-round thanks to camellias, Japanese maples, and numerous wildflowers. The fun continues for flower fans just across University Drive with another breathtaking experience, the Gayla Mize Garden, a tranquil spot for a nature walk amid native plants, shrubs, and trees. The garden includes part of the 68-acre SFA Recreational Trails, a wondrous place for hiking, biking, running, or walking.
Families won't want to miss the SFA Mast Arboretum, a 10-acre site that holds more than 7,500 plant species as well as meticulous display gardens. It also includes the Kingham Children's Garden, which welcomes young folks with bright seasonal plantings, water features, and educational areas.
Nacogdoches' gardens aren't just about beauty. See the varied landscapes of East Texas, including endangered plant species, at the Pineywoods Native Plant Center, a 42-acre conservation complex on the Stephen F. Austin State University campus. Enjoy its winding trails, interpretative signage, and more. It's a great place to stop and appreciate the majesty of the natural world.
---
Go Back in Time to the Oldest Town in Texas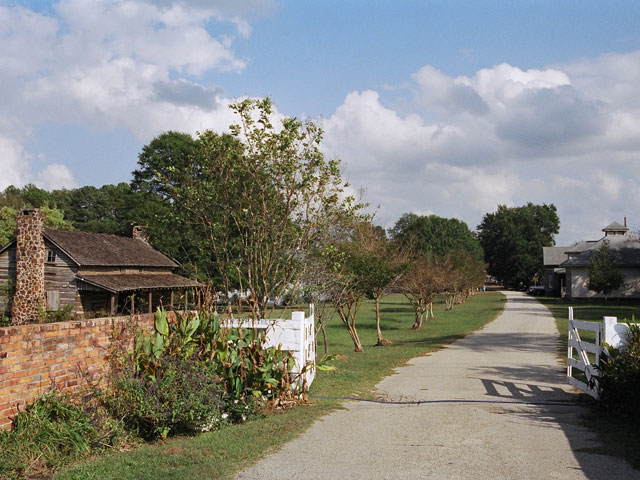 Yep, that's right—Nacogdoches is the oldest town in the Lone Star State, with a founding date of 1779 and a documented history that dates back 1,200 years to the Caddo Indians. History buffs will savor the many museums and cultural sites that showcase the area's rich history.
Start with an afternoon at the Caddo Mounds State Historic Site, where a self-guided walking tour reveals the innovations and cultural traditions of the Caddo Indians. Stroll by a recreated village with dwellings, ceremonial areas, temple, and burial ground to see how this important tribe lived
Nacogdoches is also home to events associated with the Texas Revolution, and you can hear about tales of heroic deeds retold at the Stone Fort Museum, a stone structure that was once used as trading post, private home, church, jail, and even a saloon. Take a walk through Oak Grove Cemetery to visit the final resting places of statesmen of the Republic of Texas, including four signers of the Texas Declaration of Independence.
Get a glimpse of life on a Texas frontier with a visit to Sterne-Hoya House Museum and Library, the oldest building in town and the home of Texas Revolution leader Adolphus Sterne. Be sure to check out the second oldest building, the historic Durst-Taylor House and Gardens. This remarkable time capsule features 1840's and 1850's décor, along with a blacksmith shop, smokehouse, and historic gardens.
Immerse yourself in the East Texas pioneer experience with a leisurely day at the charming 37-acre Millard's Crossing Historic Village, a reconstructed settlement featuring a log school house, general store, parsonage, chapel, and much more.
---
Shop and Dine in Charming Downtown Nacogdoches
Nacogdoches might be the oldest town in Texas, but its charming brick-lined downtown is filled with modern shops, cafes, and eateries. You'll want to block out plenty of time to explore its colorful and vibrant storefronts—historic structures reclaimed to hold a bounty of retailers. Shop for books, records, fashion, yarn, antiques, art, home décor, and of course, plenty of Texas-themed gifts.
Drop by a local gallery and pick up a new art piece for your collection. Bring home a unique antique for the home. Find a trendy new outfit or piece of jewelry to wear to dinner. Speaking of dinner, enjoy a meal under the Texas stars in one of downtown's many restaurants offering patio dining.
---
Walk Yourself Silly on Nacogdoches' Fabulous Trails
Three multi-use trails conveniently situated right in the middle of Nacogdoches make it easy to spend a few hours with Mother Nature. These well-maintained local treasures burst with cheerful color in the spring, and shine with red, gold, and orange in the fall.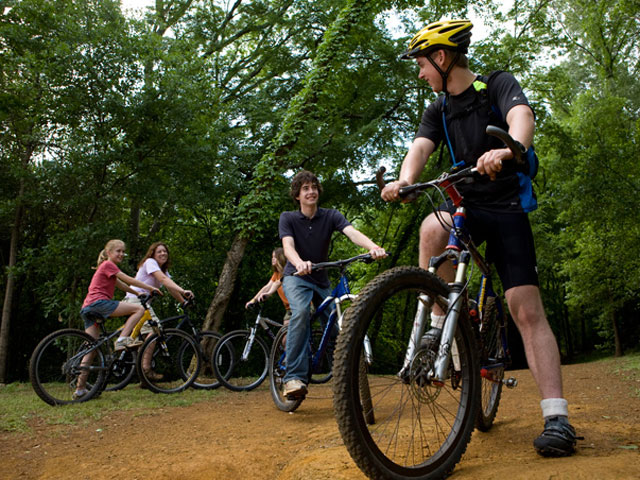 Take a walk on the nearly 6-mile Lanana Creek Trail, whose history includes its use as a Native American footpath. Experience its beauty as you stroll past thickets of paw-paw, dogwoods, and blooming buckeye set against a pine forest backdrop.
Birders, break out your binoculars and head for the SFA Interpretive Trail, part of the Angelina National Forest and a magnet for wildlife enthusiasts. Comprised of two paths that amount to three miles, the trail is home to about 150 species of birds and 80 types of butterflies.
The stunning sights continue in Nacogdoches with the 1.9-mile Banita Creek Trail, where you'll spot hickory, maple, and sparkleberry trees, and even waterfalls. A beloved part of this trail is the 8-foot, 300-lb. sculpture, Ab's Chair, made by local artist Jeff Brewer. This large-scale, outdoor artwork resembles a classic folding lawn chair. Great for photo ops! Pack a picnic and hit the trail in Nacogdoches.
---
---