---
Attractions in Stephenville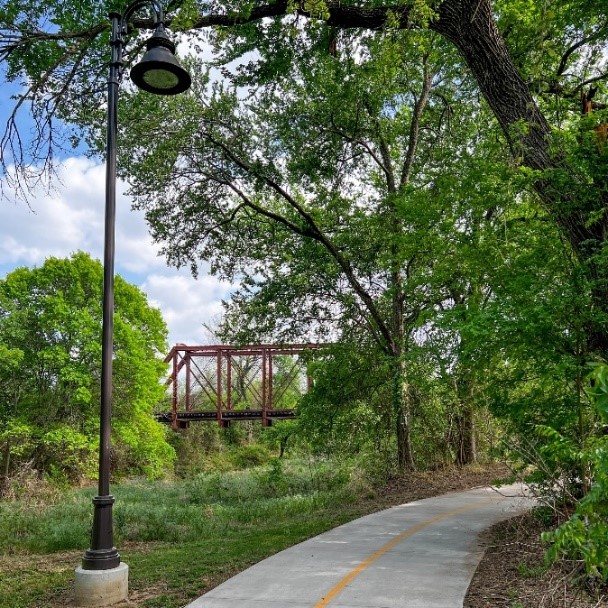 Stephenville may be known as the "Cowboy Capital of the World" and home to Tarleton State University, but its long list of attractions means it has something for everyone.
This vibrant city has arts, history, outdoor recreation, science, and plenty of nightlife to discover while you're in town.
Taste Texas cheese, order a custom cowboy hat, and splash around at the water park before dancing the night away to a backdrop of live music.
Check out some of Stephenville's top attractions below.
---
Bosque River Trail
Hike, bike, or run along the 1.5-mile Bosque River Trail in Stephenville that winds through grasslands and woods with views of the river along the way. Pack a picnic and keep your eyes peeled for wildlife like deer, turkey, and armadillos along this path that connects the Stephenville City Park, historical museum, and Boy Scout area to downtown.
Stephenville, TX 76401
(254) 965-5313
---
Capital Hatters
Get fitted for a custom cowboy hat at Capital Hatters, where you'll also find a selection of felt hats, straw hats, fashion hats, apparel, and accessories for all ages.
830 East South Loop
Stephenville, TX 76401
(254) 965-5678
---
Cross Timbers Fine Arts Council
Cross Timbers Fine Arts Council (CTFAC) is an arts hub that serves several of the surrounding counties. Tour the council's four art galleries throughout Stephenville and catch any of the CTFAC's dance, music, and theater performances year-round.
204 River North Boulevard
Stephenville, TX 76401
(254) 965-6190
---
Splashville Water Park
Cool off at Splashville Water Park in Stephenville, where it's all-day fun in the sun playing on twisting slides, water obstacles, and a lazy river. When you're not riding the rides, join in a water aerobics class and enjoy a meal in the shaded eating area.
850 South Graham Street
Stephenville, TX 76401
(254) 918-1219
---
Stephenville Historical House Museum
Experience what life was like on the range at this museum that features a log cabin and chapel on the historic museum grounds.
525 East Washington Street
Stephenville, TX 76401
(254) 965-5880
---
Tarleton State University Planetarium
Discover the wonders of the universe at the Tarleton State University Planetarium, where the Digistar 5 projection system brings stories of faraway planets, black holes, galaxies, and solar systems to life on a 40-foot dome screen.
1333 West Washington Street
Stephenville, TX 76401
(254) 968-0523
---
Twisted J Live
The Twisted J Live is a popular place to enjoy live music in Stephenville. Hear favorites like Kevin Fowler, Roger Creager, William Clark Green, Bart Crow, and Little Texas, and discover new bands on their way to becoming legends.
2281 North US Highway 377
Stephenville, TX 76401
(254) 434-2660
---
Veldhuizen Cheese
Get a behind-the-scenes look at how Texas hand-crafted artisan cheese is made at Veldhuizen Cheese, just outside of Stephenville. Shop for everything from cheddar to gouda and go on a tour of the farm to learn all about the cheese-making process.
3364 County Road 299
Dublin, TX 76446
(254) 968-3098
---
---