---
Things to Do in Stephenville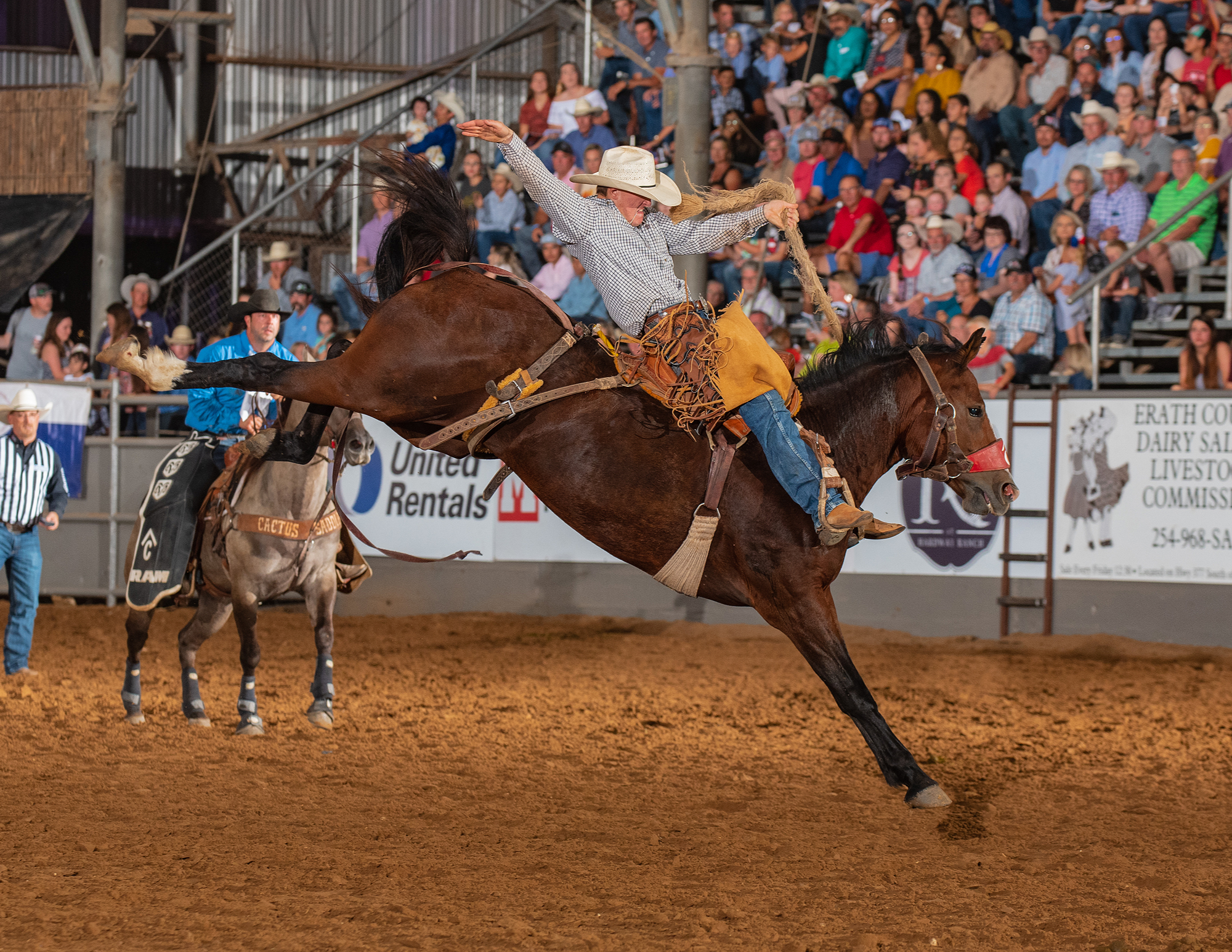 Taste locally made cheese produced in Texas' top milk-producing county. Catch first-class rodeo action in the "Cowboy Capital of the World." Get your own custom cowboy hat. Experience an authentically Texan getaway in Stephenville.
Located about 70 miles southwest of Fort Worth, Stephenville offers an idyllic small-town retreat from the rush of the big city, as well as its fair share of one-of-a-kind experiences well worth traveling for.
Plan your next getaway by checking out some of the top things to do in Stephenville.
---
Rodeo It Up in the Cowboy Capital
With its abundance of rodeos, Stephenville lives up to its nickname as the "Cowboy Capital of the World." This is where up-and-coming rodeo contestants come to train. The main campus of Tarleton State University, the founding member of the Texas A&M University System, is located here and it's a college known for its agriculture programs.
One of the best ways you can cowboy up in Stephenville is to be here in September for the Cowboy Capital of the World Pro Rodeo. This long-running tradition coincides with Rodeo Heritage Week, which includes a rodeo queen contest, barbecue cook-off, cowboy church services, live music, and plenty of dancing. April brings in the Tarleton State University Stampede Rodeo each year, where you can watch some of the best college athletes compete. Be sure to check out the event calendar when planning your trip to Stephenville. This iconic town hosts barrel racing, roping competitions, and all kinds of other rodeo events throughout the year.
---
Listen to Live Music
If you're into music festivals and intimate concerts with music legends (and who isn't?), you'll enjoy a trip to Stephenville, also known as "The Other Live Music Capital of the World." Being a college town, this city offers live music throughout the week. Put on your dancing boots and head to City Limits or Twisted J Live for live music, great specials, and a good time. As a Texas Music Friendly Community, there are opportunities to see where Texas music legends play regularly. In the summer, the Summer Concert Series in the Park provides live outdoor concerts in Stephenville City Park, with past lineups including Ricky Skaggs, Roger Creager, and Gary P. Nunn.
Some of the biggest names in the business also show up for the Larry Joe Taylor's Texas Music Festival, a six-day event in April full of raucous concerts and a chili cook-off. To get the most out of this festival, book one of the camp sites so that you're never far away from all the action.
---
Taste Locally Made Cheese
The farm and ranchlands surrounding Stephenville make the area a top dairy-producing region in the state. Get acquainted with this industry when you're in town with a visit to the Veldhuizen Cheese farm and shop. Located just out of town as you drive toward Dublin, this Texas hand-crafted artisan cheese is produced by multiple generations of a family. Shop delicious wheels of mild, medium, and sharp cheeses crafted with whole raw milk, then learn how it's all made on a tour that takes you along all the steps of the process. If you're a cheese lover and want to taste an authentically Texan take on cheddar, gouda, karst, and more, find your way to Veldhuizen Cheese.
---
Get a Custom Cowboy Hat Made
There's nothing that says "cowboy" like a wide-brimmed hat. Although you could go buy one from your local shop, why not have your very own made at Capital Hatters? Choose from a long list of color, brim width, shape, and other options as you create a hat that you'll be proud to wear around town. Although you won't be able to walk out with your hat the same day you order it, visiting the store is a good chance to see all the options in person. While you're here, check out all the other cowboy gear, ranging from apparel and leather accessories to boot polish and straw hats for those hot Texas summer days.
---
Celebrate Art
Whether you admire it or want to learn how to create it, Stephenville is just the place to do either. Learn how to paint or work with mixed media in one of the Cross Timbers Fine Arts Council's workshops for all ages. Then take your time as you visit the council's four galleries spread throughout town, including at the Stephenville Public Library and the Clark Field Regional Airport, to see photographs, paintings, illustrations, and other works by talented artists. These exhibits change throughout the year, so there's always something new to see.
---
---