---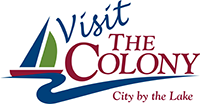 Attractions in The Colony
With many jogging and biking trails, award-winning golf courses, water parks, and live music options, the list of attractions in The Colony is endless but still growing! Spend some time on Lewisville Lake, one of the largest Dallas-area lakes, where you can ski, fish, camp out, and more.
Shop at the larger-than-life Nebraska Furniture Mart and search for a new television or a piece from Magnolia Home by Joanna Gaines. Splash around and stay cool at Hawaiian Falls Water Park and The Colony Aquatic Park, or play a round at one of the top-ranked lakeside golf courses in The Colony. These are just a few examples. There's much more to The Colony, but to discover what that is you'll have to read on.
---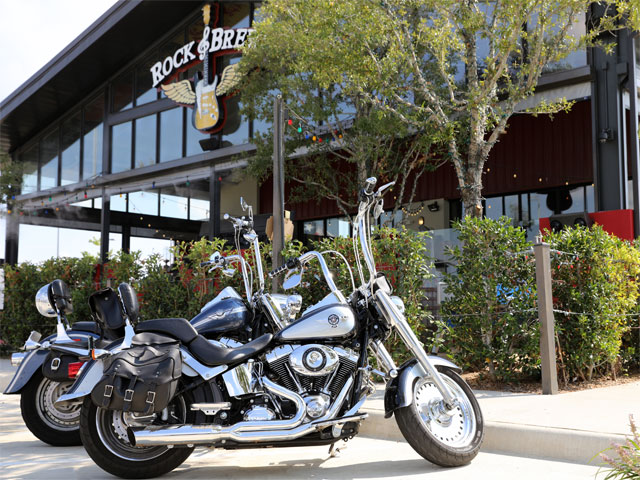 Grandscape
Home to attractions such as Nebraska Furniture Mart, Lava Cantina, Rock and Brews, Truck Yard, and many others, this 433 acre development will feature 3.9 million square feet of retail, entertainment, dining and attractions. When complete in 2021, this multi-phase development will include entertainment venues, retail stores, recreation areas, convention center hotel and spa, outdoor amphitheater and a variety of unique restaurants.
In 2020 Grandscape will welcome Andretti Indoor Karting and Games, Galaxy Theaters, Scheel's and restaurants such as Akira Back and Windmills.
Located along Sam Rayburn Tollway (SH121) between Plano Parkway and Spring Creek Parkway.
The Colony, TX 75056
---
Lava Cantina
Marrying food and fun under one retractable roof, Lava Cantina brings new live music opportunities to The Colony. With its Bourbon Street vibe, this live music venue provides both indoor and outdoor stages, multiple levels, VIP seating, retractable roofs and more. The menu at Lava Cantina is a creative rock n' roll themed Creole-Mexican fusion that offers selections such as Great Balls of Fire, Catfish Atchafalaya, Motley Mexican Salada and Dr. Feelgood's Cheesecake. The massive concert venue, bar and restaurant seats over 1,500 guests and hosts every type of music from local artists to major international acts with many shows being free.
5805 Grandscape Boulevard
The Colony, TX 75056
(214) 618-6893
---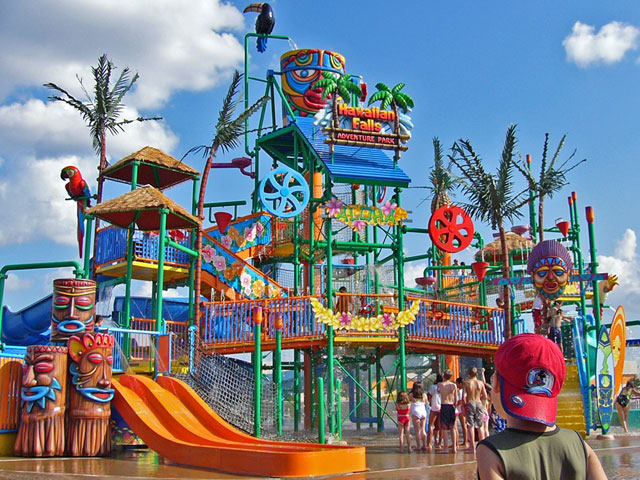 Hawaiian Falls Water Park
Pack your swimsuit and sunscreen and head to Hawaiian Falls Water Park in The Colony, where you can play in the Breaker Bay wave pool, relax in the Kona Cooler lazy river or speed down The Torpedo.
Hawaiian Falls is open May through September making it the perfect Texas summer escape.
4400 Paige Road
The Colony, TX 75056
(972) 370-4327
---
Hidden Cove Park & Marina
Everything you need for a fun day or outdoor adventure weekend getaway to The Colony can be found at Hidden Cove Park and Marina on Lewisville Lake. Rent pontoon boats, jet skis, kayaks, stand up paddleboards, and trail bikes. Take advantage of all the amenities, including a sandy beach front, horseshoe and volleyball courts, playground, and barbecue grills. You can also camp in tents, cabins, bunkhouses, or RVs and savor some seafood favorites on the floating patio at Rockin' S Bar & Grill.
20400 Hackberry Creek Park Road
The Colony, TX 75034
(972) 294-1443
---
Lakes Lanes
Take your friends and family to Lakes Lanes bowling alley in The Colony for a day of bowling and arcade games. Beer and mixed drinks are served at the snack bar, and the alley itself is open seven days a week.
5000 Main Street
The Colony, TX 75056
(972) 624-5263
---
Lasertag - DFW
Bring your competitive spirit to Lasertag-DFW for a heart-pounding game of laser tag in The Colony. With more than 30 acres of outdoor playing field, Lasertag-DFW is the perfect place for team building, birthday parties, and reunions.
5700 Squires Drive
The Colony, TX 75056
(469) 371-4056
---
Lewisville Lake
Lewisville Lake offers visitors a whole host of activities like swimming, boating, fishing, hiking, camping, and birding. The lake is surrounded by numerous parks, marinas, trails, and a federal wildlife preserve providing a safe place for wildlife and humans to come together.
Various access points.
---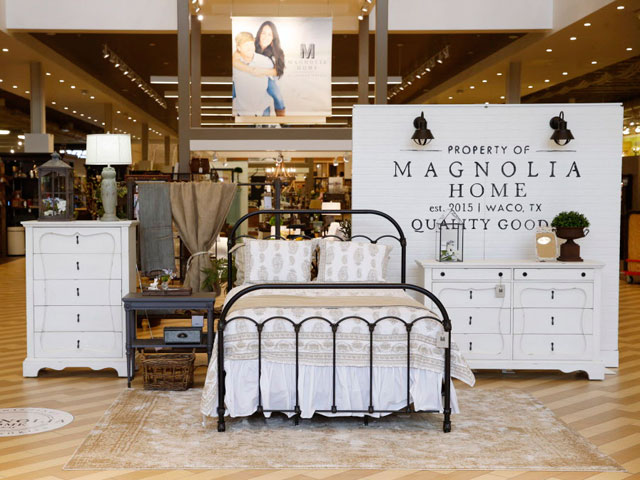 Nebraska Furniture Mart
As the saying goes, "everything's bigger in Texas," and you'll find that to be true when you shop at Nebraska Furniture Mart. Sprawling across 100 acres, this is not your typical furniture store. Shop the 1.8 million square feet of showroom and warehouse space for home furnishings like lighting, flooring, electronics, appliances, and furniture. The Mart also hosts monthly special events from celebrity appearances and live entertainment to high tech electronic shows and gaming trucks.
5600 Nebraska Furniture Mart Drive
The Colony, TX 75056
(972) 668-3000
---
Old American Golf Club
Old American Golf Club is home to the Volunteers of America Classic. The state's only LPGA tournament will feature 144 of the world's top talent in a four-day stroke-play event, vying for a $1.3 million purse.
The Old American Golf Club looks like it was plucked right off a postcard and dropped in the middle of the Dallas and Fort Worth area. Designers Tripp Davis and Justin Leonard shared a love for the golf courses created between 1910 and 1937, the "Golden Age of Golf Architecture," and designed the Old American Golf Club to be reminiscent of that style. Regularly topping lists in places like Golfweek and Golf magazines, this course features natural contours, hazards, native grasses, and green shapes influenced by America's Golden Age courses. Top off the day with a meal and your favorite libation at the Old American Grill featuring garden-to-table fresh produce and local meats sourced by the chef.
1001 Lebanon Road
The Colony, TX 75056
(972) 370-4653
---
Stewart Creek Park
Covering 65 acres on the shoreline of Lewisville Lake, Stewart Creek Park is the site of multiple events in The Colony. Featuring barbecue grills, picnic tables, sand volleyball, designated swim beach, two playgrounds, fishing pier, boat ramp, and tent and RV camping; visitors can enjoy the park from the shore or the water.
3700 Sparks Road
The Colony, TX 75056
(972) 624-2248
---
Stewart Peninsula Golf Course
You'll be hard pressed to find a more relaxing way to spend a day than playing through the Stewart Peninsula Golf Course. Situated on a picturesque peninsula in Lewisville Lake, this nine-hole masterpiece is ranked as one of the best short courses in Texas by Texas Outside and The Dallas Morning News' SportsDay. After a day on the course, enjoy green chili enchiladas at the Santa Fe Neighborhood Grill inside the lighthouse-style clubhouse on the lake.
100 Cottonwood Springs Circle
The Colony, TX 75056
(972) 625-8700
---
The Colony Aquatic Park
The Colony Aquatic Park is the perfect year-round aquatic facility featuring a heated indoor swimming pool, as well as outdoor summertime attractions such as the Leisure Lagoon, the Wading Pool, and the Splash Zone.
5580 North Colony Boulevard
The Colony, Texas 75056
(972) 624-2225
---
The Colony Five Star Complex
With 25 sports fields, The Colony Five Star Complex is a huge draw for soccer, baseball, football, and softball players of all ages and can also accommodate lacrosse, rugby and ultimate Frisbee tournaments. The complex design provides multiple amenities for spectators such as shaded seating areas, restrooms, playground area, walking trail and concessions. Visitors are encouraged to take a moment at the Veterans Memorial.
4100 Blair Oaks Drive
The Colony, TX 75056
(972) 625-1106
---
The Colony Five Star Hike and Bike Trail
The Colony's Five Star Hike and Bike Trail takes working out to a new level with its QR F.I.T. workout stations along the 1.3-mile trail. Download any free QR code reader application on your smart phone and scan the code at each station for videos of exercises to perform on the spot.
4100 Blair Oaks Drive
The Colony, TX 75056
(972) 625-1106
---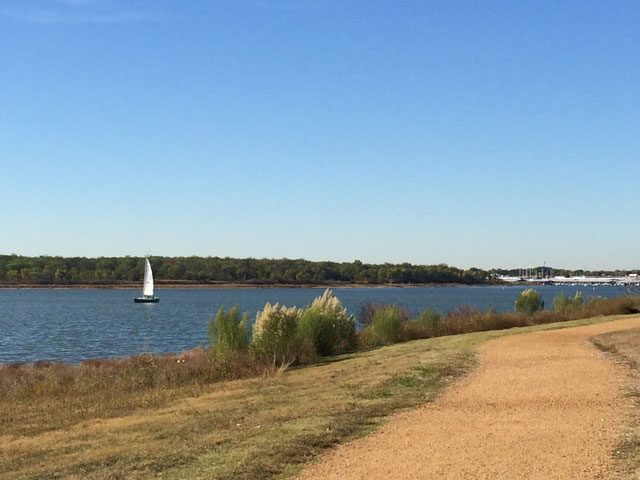 The Colony Shoreline Trail
Take advantage of the nice Texas weather with a walk, jog, or bike ride on the 3.5 mile Shoreline Trail along the shore of Lewisville Lake.
Enjoy the natural scenery and abundance of wildlife, and stop to read the interpretive signs along the trail to learn about the flora, fauna, and history of the area.
Trailheads are located at Ridgepoint Park (Standridge Drive & Sarasota Drive) and Stewart Creek Park (3700 Sparks Road).
---
The Tribute Golf Links & Guest Suite
Take in the emerald beauty along the shores of Lewisville Lake with a round of golf at The Tribute Golf Links. This Dallas-area golf course combines Old World charm with modern luxury while paying homage to legendary Scottish courses. The Tribute is also an ideal place for weddings and events, complete with an on-site guest suite.
1000 Lebanon Road
The Colony, TX 75056
(972) 370-5465
---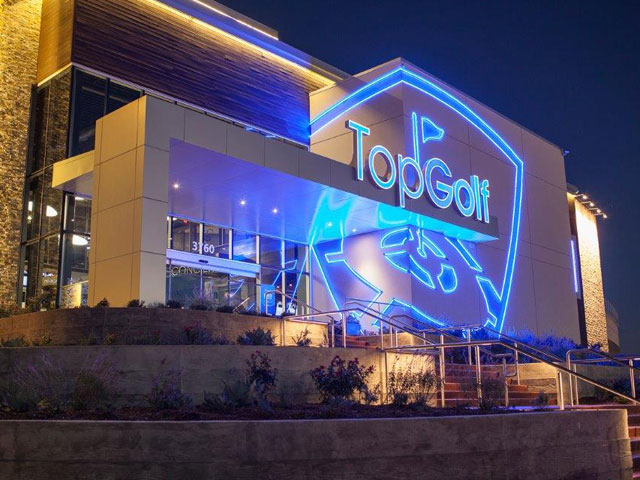 TopGolf
The craze that has swept the nation, TopGolf, is located right here in The Colony. Enjoy delicious food, drinks, and live music as you aim for the targets from the comfort of your very own climate-controlled bay. When you need a break, play pool or foosball and watch other sport games on more than 250 HDTVs.
3760 Blair Oaks Drive
The Colony, TX 75056
(469) 213-5204
---
Truck Yard
Part honky tonk, part beer garden, Truck Yard is all Texas flair. Referred to as an "adult playground" Truck Yard offers something for everyone with nightly live local tunes, quirky toilet seat museum, oversized yard games, rotating food truck fare, and cold brews on tap.
5959 Grove Lane
The Colony, TX 75056
(469) 401-6764
---
---