---
San Antonio River Walk Spring & Summer Events
The San Antonio River Walk is the heart of the city. Over 15 million people visit her each year to dine, dance, drink, and recreate while soaking in the beauty, history, and culture of our diverse community. Spend the day, the night or the week – you will have no shortage of things to do. Year-round special events punctuate the ongoing fun with something going on every month. Most of the special events are free to enjoy. Visit our website for a list of events, hotels, restaurants, museums, shops, tours, amusement parks, and more.

Ford Parade of Lanterns
January 25 - February 8, 6 - 9 PM
Ten 26-ft. long boats carrying large illuminated lanterns float throughout the downtown section of the River Walk. Enjoy the spectacular lanterns for free each night.
---
River Walk Artisan Shows presented by Hiltons of San Antonio
Mardi Gras, Feb. 21 - 23
St. Patrick's Day, March 13 - 15
Memorial Day Artisan, May 22 - 25
Experience the beauty of the River Walk will shopping at 40 handmade artisan booths, including pottery, textiles, jewelry, woodwork, paintings, andd more. Stay closer to the action with Hilton by booking any of their 50+ branded hotels in the San Antonio area at travel.hilton.com/ArtShow.
---
Royal Masquerade Gala
February 21
Formal attire, masks, and beads will set the tone as guests dance to live music, play casino games, dine on a sumptuous Cajun buffet, sip cocktails, and bid on the silent auction to vie for great prizes. Tix sold online at TheSanAntonioRiverWalk.com/events
---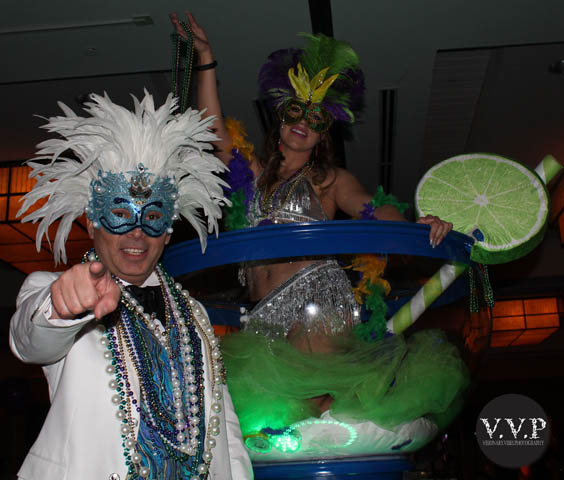 Mardi Gras Festival & Parade
February 22, Festival: 1 - 9 PM; River Parade: 4 - 6 PM
Live entertainment on stage, and a procession of decorated river floats transforms the San Antonio River Walk into a floating Mardi Gras celebration. Krewes of costumed revelers celebrate San Antonio style. Come dressed in masks, costumes, and beads. Free admission. Food truck.

---
Sunday JazzFest
February 23, 1 - 6 PM
Join us for an afternoon of free live jazz on the Arneson River Theatre's outdoor stage. This year's event will include a salute to beloved local jazzman Jim Cullum (1942-2019), who used his national fame to serve as an ambassador for the River Walk. Musical lineup on website.
---
Dyeing the River Walk Green
March 14, 15 & 17, 1 - 3 PM each day starting at Mad Dogs British Pub
Each year since 1968, the River Walk is magically transformed into the River Shannon through 25-gallons of eco-friendly green dye. This is a popular event on social media, and the transformation is fun to watch while sitting on an outdoor patio. A bagpiper plays on the dye boat as the river transforms into an emerald green color. Free viewing along the entire 2 ½ mile downtown portion of the River Walk.
---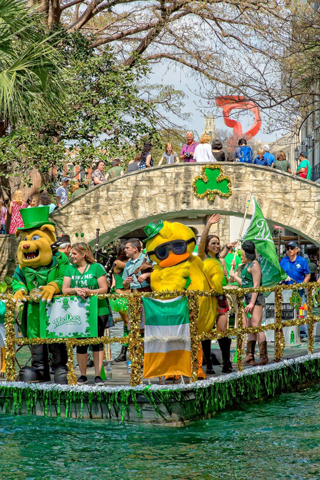 St. Patrick's Day Festival
March 14, 12 - 8 PM, March 15, 12 - 6 PM
Since 1968 this event is a joint project of the San Antonio River Walk Association and the Harp & Shamrock Society of Texas. Festivities include Irish and ethnic foods and beer. Entertainment includes family-friendly interactive booths, free photo booths and an all new Lucky dog Parade. Free admission and activities. Food Trucks.
---
St. Patrick's Day River Parade
March 15, 5 - 6 PM
2 ½ mile downtown area of the River Walk
A procession of 14 decorated floats filled with Irish entertainment, including bagpipers, will grace the floats on the emrald green water of the River Walk. Free to enjoy.
---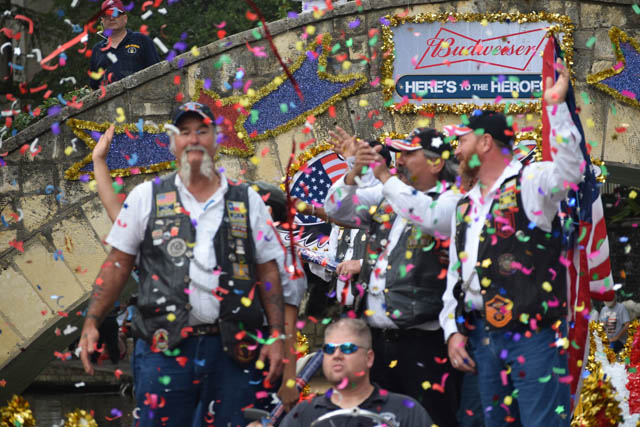 Armed Forces River Parade
June 27, 5 - 6 PM, Concert, Arneson River Theatre
6 PM Parade, 2 ½ mile downtown portion of River Walk
6 - 7 PM, Parade Televised Live, CW35 KMYS
This parade is dedicated to the men and women in all branches of the United States Armed Forces and features 25 patriotically-decorated floats. View the parade for free from throughout the downtown section of the River Walk. Break out your red-white-and-blue, and let's show 'em we appreciate our nation's freedom made possible through their sacrifices.
---
---