---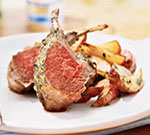 1 rack of lamb
1 cup fresh assorted herbs
2 tablespoons olive oil
Sea salt and cracked pepper to taste
Courtesy of Executive Chef Soren Pedersen of Sorrel Urban Bistro
Instructions
Place herbs, oil, salt and pepper in blender and puree until smooth.
Pour the herb oil over the lamb and marinate for at least 2 hours. Place on grill at high heat and sear the rack on all sides.
Finish in oven at 425°, until desired temperature.

For the Roasted Potato:
Ingredients
1 large Yukon Gold potato, cut into wedges
Olive oil
Salt and pepper
Instructions
Toss one Yukon Gold potato, cut in wedges, with olive oil and season with salt and pepper.
Roast in baking pan at 350° until tender and golden.

For the demi-glace:
Ingredients
3 pounds assorted veal bones
3/4 pound veal leg bone
1/2 carrot, roughly chopped
1 small onion, roughly chopped
1 celery stalk, roughly chopped
1/4 cup red Burgundy wine
1 bouquet fresh thyme
1/4 teaspoon salt
3 tablespoons red currants
Instructions
Preheat oven to 350°. Spread bones, carrot, onion and celery on rimmed baking sheet. Roast, tossing several times, until vegetables and bones have begun to take on color, about 1 hour.
Transfer roasted vegetables and bones to stock pot. Add wine and 2 quarts (8 cups) water and thyme and bring to boil.
Reduce heat and simmer gently until reduced to a one-quarter, about 2 hours. Strain and reserve stock.
Place stock and dried red currants in pot and reduce until sauce consistency. Stir in a few small pieces of diced cold butter before serving.