---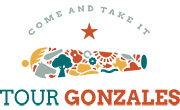 7 Great Ways to Enjoy a Weekend Getaway in Gonzales
Nestled on the eastern banks of the pristine Guadalupe and San Marcos rivers, Gonzales is a quaint town steeped in history. Known for the Battle of Gonzales, when the first shot for Texas Independence was fired, and the famous Come and Take It cannon, Gonzales holds many tales of Texas' past.
Yet there's far more here than the legends of yesterday. Stay in a unique bed and breakfast, immerse yourself in the natural beauty of Central Texas, and take a break from the hustle and bustle of the big city. Located an easy one-hour drive from San Antonio and Austin and just over two hours west of Houston, Gonzales is an easy-to-reach destination with an identity all its own.
Discover some of the best ways you can create your own weekend getaway in Gonzales below.
---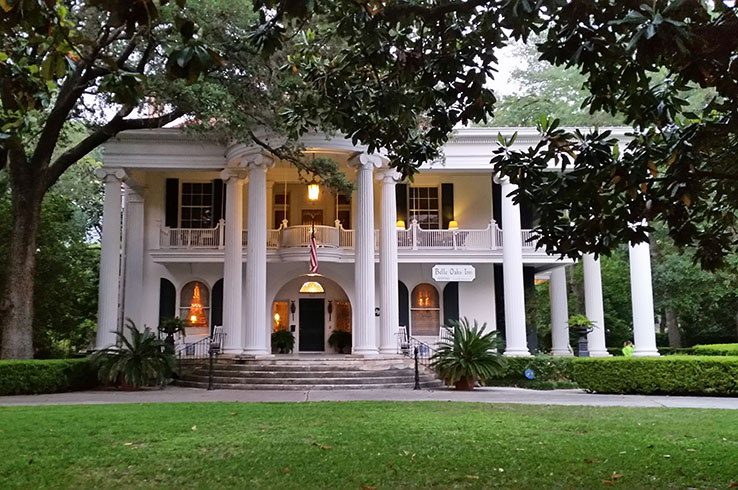 Relax in a Charming Hotel
Where you stay is one of the most important parts of a weekend getaway, and Gonzales' one-of-a-kind bed and breakfasts and inns provide inviting places to escape. Located in the historic Dilworth Bank Building in the heart of downtown Gonzales, The Dilworth Inn & Suites is a boutique hotel that has it all. The 14 spacious rooms feature contemporary and traditional design elements and everything you need to feel right at home. Wake up early for the complimentary continental and come back for La Bella Tavolas's delicious Italian fare.
For a taste of Gonzales' history, opt for one of its bed and breakfasts. Live it up in the luxurious rooms found in the Belle Oaks Inn and the Boothe House Bed & Breakfast, two breathtaking historic homes built in 1912 and 1913, respectively. The Laurel Ridge Inn serves up ample charm as well, as each room is furnished with antique furniture and fine art. Feel all your stress melt away as you soak in a hot bath and rest easy in your bed topped with luxurious linens in your own private getaway.
Gonzales is full of unique places to spend your weekend. See the rest here.
---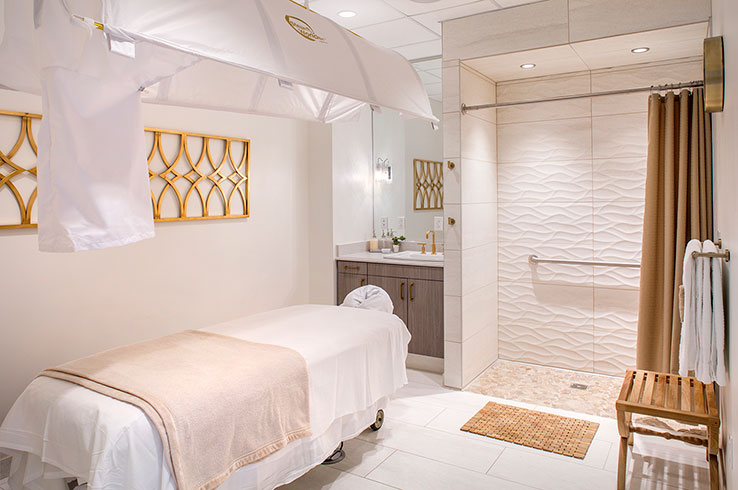 Indulge in Some Self Care
If you think pampering yourself is an essential part of traveling, you'll find everything you're looking for at the thrive HEALTHPLEX's Rejuvenate Med Spa. Loosen up tight muscles with a Swedish or deep-tissue massage and rejuvenate your skin with one of many types of facials. The spa even offers laser and Botox treatments, peels, and waxes. Want to work up a sweat while you're in town? Step on over to Thrive Fitness, the on-site gym stocked with state-of-the-art equipment and a recreational pool.
---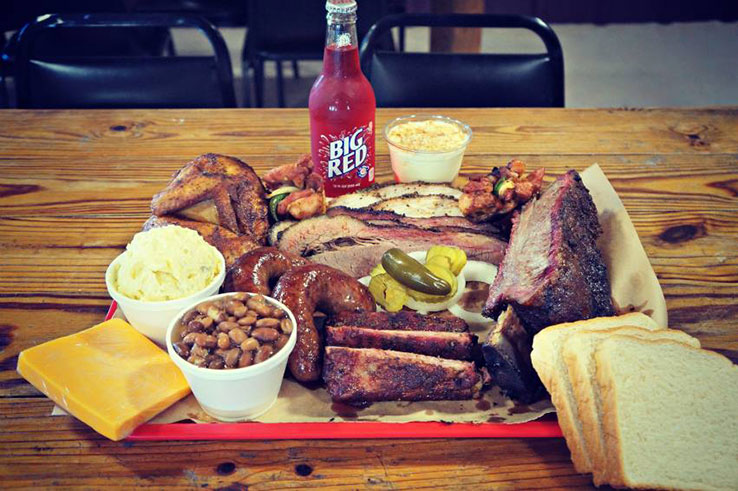 Treat Yourself to Delicious Eats
Spend enough time charging around Gonzales and you're bound to work up an appetite. Fortunately, there's a long list of mouthwatering food you can dig into for breakfast, lunch, dinner, and dessert. Treat yourself to any of the delectable pastries at Kountry Bakery. Craving good old-fashioned Texas barbecue? Rated by Texas Monthly as one of the top 50 barbecue joints in Texas, Baker Boys BBQ is the place to go for pit-style, pecan-smoked brisket, chicken, pork tenderloin, ribs, sausage, and turkey. Make sure to try the stuffed chicken leg, a house specialty.
Savory lasagna, home-baked pastas, and piping-hot pizzas are all on the menu at La Bella Tavola, one of Gonzales' best spots for Italian food that is located right on the downtown square. For an authentic taste of Gonzales, shop the selection of fresh vegetables and local goods at The Farmers Daughter, a farmers market and health food store. Of course, no day is complete without some dessert. Pick up a box of oh-so-tasty gourmet cookies or cupcakes at Sweet B's, a local bakery that offers a multitude of sweet-tooth-pleasing treats. While these spots are among Gonzales' best, there's far more to the town's dining scene. Whet your appetite here.
---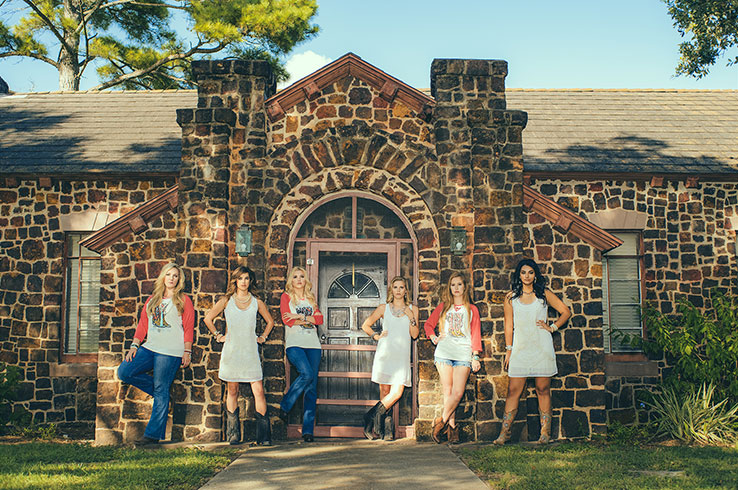 Uncover Unique Treasures
Shopping in Gonzales is like going for an epic treasure hunt. With stores you won't find anywhere else, you never know what you'll uncover. Pick out stunning new character pieces for your home at Discovery Architectural Antiques, vendors of vintage wood furniture, doorknobs, hardware, stained glass, and more. If you're looking to furnish a room in a certain style (such as Victorian or Rustic Ranch), there's plenty to work with here.
Hunt for more antiques at Main Street Marketplace, where sellers of home décor, collectibles, and other goodies cover 6,000 square feet of shopping space. Looking to up your style? Check out the fashionable t-shirts and jewelry at Angels & Outlaws, a funky boutique in the heart of downtown Gonzales. You could spend all day at just these three spots, but they are just a few of the many shops here.
---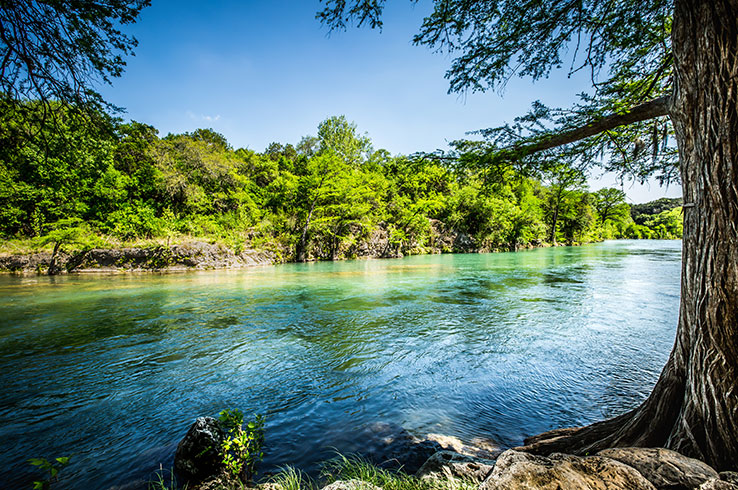 Paddle the Beautiful Guadalupe River
Weaving for miles through the rolling hills of Central Texas, the Guadalupe River is one of the most popular recreational waterways in the state. With its two official paddling trails, Gonzales is a great place to experience it for yourself. Follow the trickling waters of the Guadalupe along the Independence Paddling Trail, a 2.6-mile loop accessible from Independence Park that is perfect for leisurely afternoons on the river. If an adventure is what you seek, paddle the Come and Take It Paddling Trail. Watch wading herons and egrets, rest in the shade of cypress trees, and relish the feeling of being far away from it all as you meander along this 11-mile route.
Forgot your canoe or kayak at home? Rent one from Lou's Canoes and Bait Shop, where you can also borrow a paddle board or an inner tube, or get your last-second drinks, snacks, and fishing gear.
---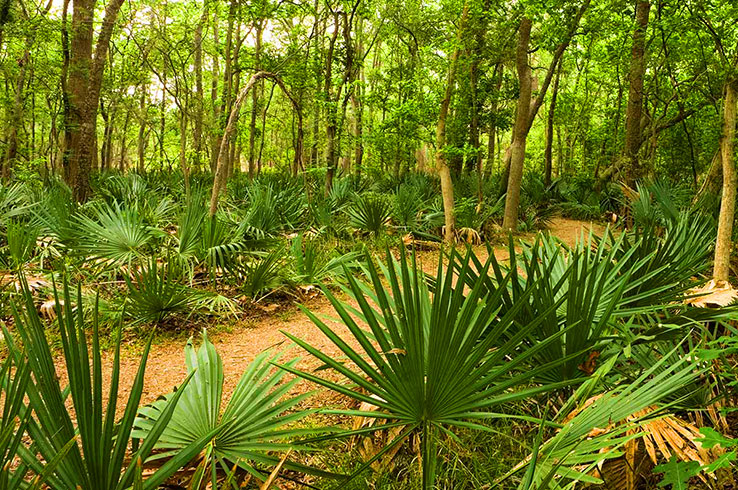 Get Outdoors
Hike scenic trails, play a round on a picturesque golf course, and savor a picnic paired with abundant sunshine. These are among the many ways you can celebrate the outdoors in Gonzales, with much of the action happening in Independence Park. Wander along the 2.35-mile hike and bike trail, taking in remarkable views of the Guadalupe River along the way. Spend the rest of your day grilling in the barbecue pits, splashing in the swimming pool, or playing on the basketball and volleyball courts.
Independence Park's nine-hole course tees up plenty of challenging play that still accommodates players of all skill levels. Yet it's not the only kind of golf in town. Enjoy an afternoon out with friends on Gonzales City Parks' 18-basket disc golf course that includes rolling fairways and wooded areas. There's even more adventure to be had at the nearby Palmetto State Park, where you can swim, tube, fish, and paddle in the San Marcos River or hike nearly five miles of trails that afford plenty of birding and wildlife watching.
No matter how you love spending time in nature, you'll discover something inspiring in Gonzales.
---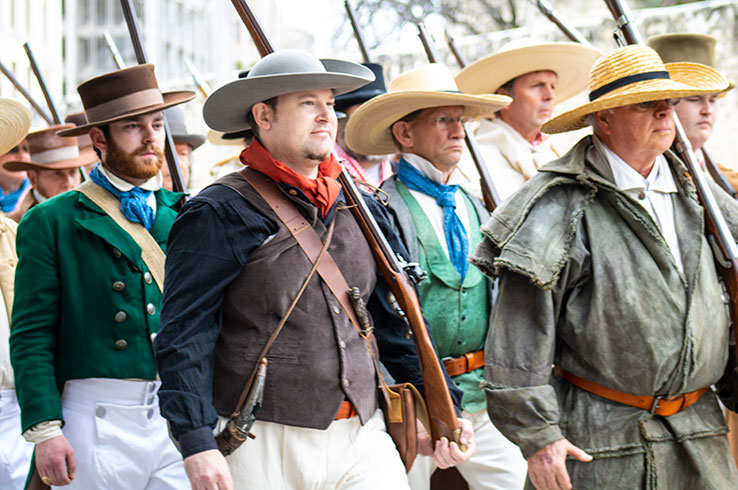 Pay Your Respects to the Immortal 32
A call for reinforcements rang out from the Alamo, and the Immortal 32 were the only ones to answer. Led by George Kimble, this company of heroes joined the Alamo's defenders just days before the infamous battle. Originating in Gonzales, the Immortal 32 are now known as Texas heroes. Visit a memorial to these brave souls at the Gonzales Memorial Museum, where you'll also find the Come and Take It cannon that started Texas war for independence. For even more local history, stop by the Old Jail Museum and watch the past come to live at the Pioneer Village.
If you're a firearm enthusiast, check out the vast Charles DuBose Collection in Gonzales' Robert L. Brothers Memorial Library. The collection is made up of more than 700 historic pistols, rifles, and other weapons, along with helmets, holsters, and other kinds of military memorabilia from different eras. While you're at the library, peruse the Bushong Collection. It's here you'll find the largest collection of original documents from the Texas Revolution, some of which have the original signatures of the likes of Davy Crockett, William Travis, and Sam Houston.
Looking for even more history? Discover Gonzales' other historic sites here.
---
Whether you love spending time outdoors or you're simply looking to get away from the hustle and bustle of the big city, Gonzales has everything you need to create your own getaway. Plan your visit here.
About the Author: James Waterson is the head writer and content specialist for Tour Texas. When he isn't writing about the many great places in the state of Texas, he's planning his next epic adventure in the Lone Star State.
---
---