---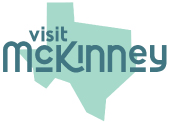 7 of the Best Ways to Enjoy a Weekend Getaway in McKinney
By Ashley Donde
Admire the architectural splendor of an undeniably charming historic downtown square. Sip wine on a tree-shaded patio set in what, at first glance, looks like a Mediterranean village. Get a true taste of local flavor at one-of-a-kind restaurants. Welcome to your next weekend in McKinney, a captivating town north of Dallas that has a way of drawing you in and inviting you to stay. That's exactly what you should do the next time you need to get away. While there's plenty to see and do, these are some of the most essential experiences you need to have while you're here.
Tour Texas Travel Tip: Sign up for Visit McKinney's Weekend Update newsletter so you don't miss a thing while you're here.
---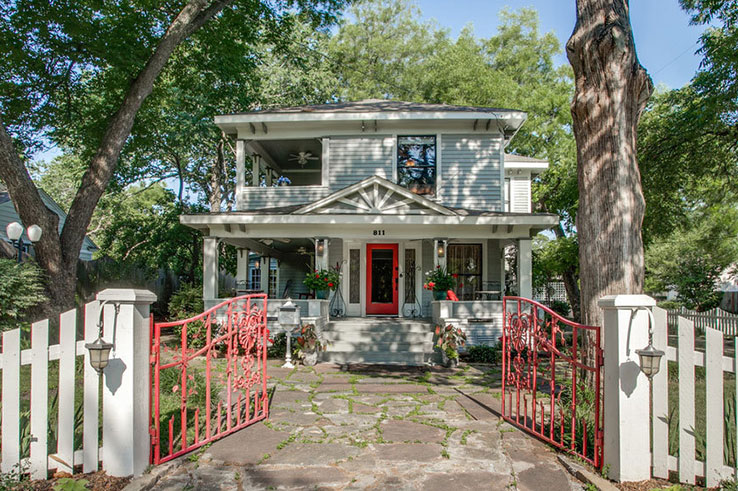 Stay in a One-of-a-Kind B&B
Adding the unmatched character of a local bed and breakfast can make any vacation memorable, and McKinney has several places where you'll feel right at home. The quaint crimson gate that ushers you onto the grounds of The Red Gate Inn makes for a stunning start to an enchanting stay. An ode to 1920's Texas, this restored historic home has cozy rooms with vintage furnishings that will take you back in time, with modern amenities (like an Apple TV in each room) and complimentary homemade breakfast.
For refined romance and luxury, there's no better choice than the historic Neathery Estate Bed and Breakfast. Imbued with ample historic charm, this National Parks Registry-listed getaway offers a unique experience and an ideal location near Downtown McKinney. Ease into the private salt-water pool and unwind in one of five beautifully appointed suites equipped with organic spa products, 4K flat-screen TVs with Hulu and Netflix, and antique furniture.
Finally, The Grand Hotel, built in 1880, is the picture of sophisticated elegance. With 44 boutique rooms outfitted with rich furnishings and lush linens, and an on-site four-star restaurant, you'll probably want to request a late check out.
Tour Texas Tip: McKinney is home to many other hotels, specialty inns, and campgrounds. See all your options here.
---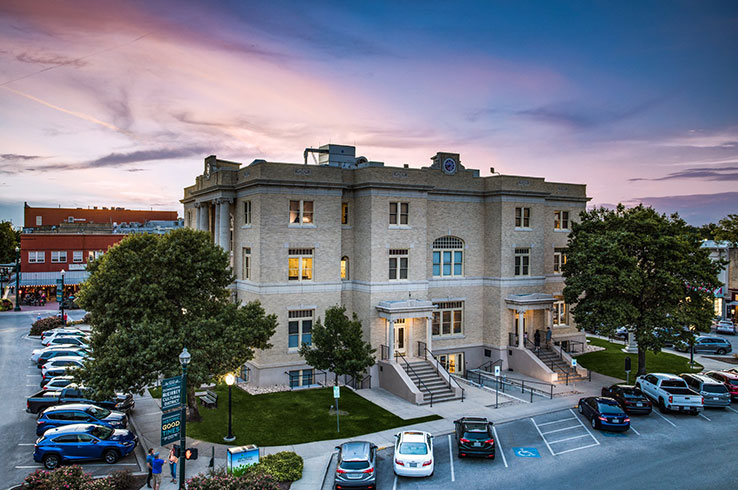 Experience Downtown McKinney
One of the oldest historic downtowns in Texas, Downtown McKinney is a thriving hotspot for dining, shopping, and entertainment. Ease into your weekend at Landon Winery, purveyors of award-winning Texas wines where you'll share a savory meat and cheese board, enjoy live music, and sample your favorite reds and whites from the winery's large menu. Located in a former theater, the cozy atmosphere at Lone Star Wine Cellars will make you feel right at home. The knowledgeable staff is always happy to share their diverse collection of wines, and there's a good chance you'll settle on a new favorite at this family-owned boutique winery.
A small venue dishing out big laughs, The Comedy Arena is a family-friendly comedy club that offers an interactive show. They host Comedy Sportz improv every Friday and Saturday night, when "teams" of comedians compete for laughs and points in improvised sketches. For something a bit edgier, the arena has a variety of late-night shows to choose from, and you can bring your own beverages.
To show off your problem-solving skills, conquer one of the escape rooms at Exit Plan TX. Choose between several themed rooms of varying difficulty, and piece together clues that will help you complete your mission. Let your inner geek loose at Carpe Diem Comics, where you can play board games and browse hundreds of comics. If a nostalgia trip is what you seek, Arcade 92 (opening soon) is your spot. Relive your childhood as you sip on a tasty cocktail or craft beer and play retro arcade games, then take a break in the restaurant that serves grilled paninis, flatbread pizzas, and tasty desserts.
---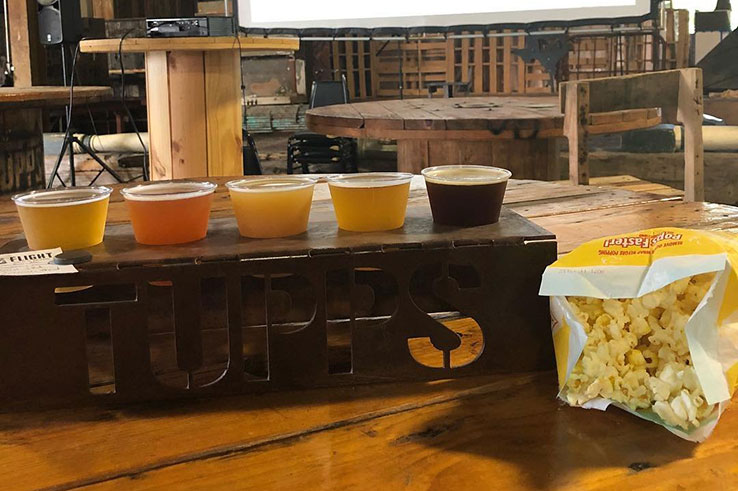 Go Behind the Scenes at a Local Brewery
You've sipped a beer or two in your day. You may even have a favorite style. But do you know how it's made? Learn the ins and outs of the beer-brewing process on a tour at either of McKinney's two local breweries. Known for its authentic German-style brews, including a refreshing Kolsch and a dark and savory Dunkel, Franconia Brewing Company offers two-hour tours at 11 a.m. every Saturday. Along the way, you'll learn about the different ingredients used in beer making and get the chance to try a few free samples.
Established in a historic cotton mill, TUPPS Brewery pairs its laid-back charm with an enticing (and diverse) selection of brews that range from a light and crisp shandy to an imperial stout with decadent tastes of chocolate and coffee. Hear the story behind this fascinating brewery on one of its free tours, held every Saturday at 12:30 p.m. Both family and dog friendly, it's a great place to hang out and try some new beers. Bring an old bottle to add to the bottle tree farm, and don't forget to write your name on the wall before you leave.
---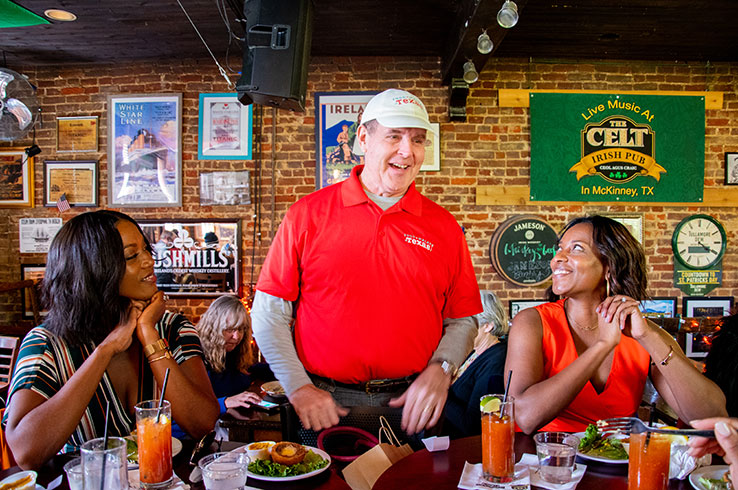 Indulge on a Decadent Food Tour
Looking to treat yourself? Downtown McKinney is the place to be. Pamper your palate with some of the finest local flavors on a food tour of the downtown area. Start the day with mimosas and mouthwatering fare from seven unique foodie spots as you behold murals and more on Food Walks of Texas' Let There Be Brunch! tour. If you're craving something fresh, opt for the Farmer's Market Food Walk & Gourmet Lunch, a three-hour exploration of McKinney's farmer's market followed by a chef-prepared gourmet lunch made with produce from local farms. Meanwhile, We Ate Well Food Tours' two culinary excursions either take you to the best spots for craft cocktails or to tastings at up to eight restaurants.
While these tours serve up a great introduction to Downtown McKinney's dining scene, they many not hit all the must-visit spots. Continue your own personal tasting adventure by ordering a steak at the refined Rick's Chop House (located in the Grand Hotel), or one of the creative creations on the rotating, super-seasonal menu at Rye. Stop by Square Burger for a salmon, tuna, lamb, turkey, or grass-fed beef burgers, salads, chef-inspired entrees, and ice cream sandwiches to top it all off. Cadillac Pizza Pub has something for every palate, with gourmet pizzas topped with locally sourced ingredients, and a huge selection of beer. Most of the downtown eateries use local ingredients, so you'll be getting a true taste of North Texas almost anywhere you go.
---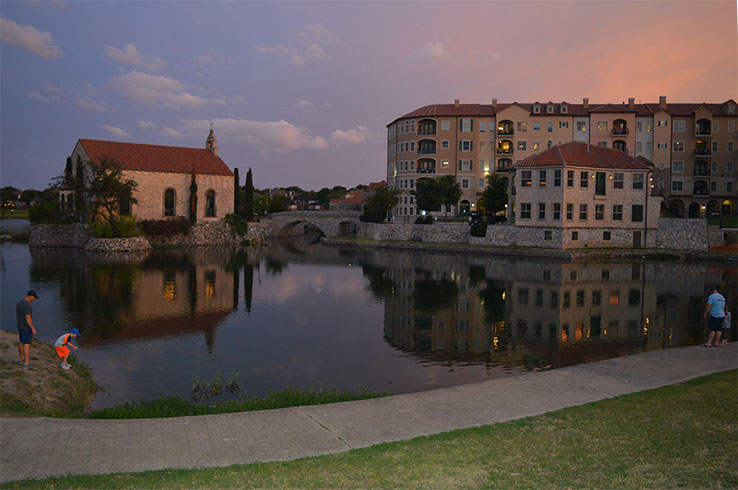 Spend the Day in Adriatica Village
You don't have to book a flight to experience the charm of a European city. Adriatica Village, a chic shopping and dining destination, looks just like a small Croatian village, complete with rustic stone walls, terracotta-tiled rooftops, and even a bell tower. Sip your favorite style of California, Italian, or French wine as you take in lake views from the outdoor patio at Harry's at the Harbor, then savor a delicious grilled steak, salmon blackened to perfection, flavorful crawfish etouffee, and more.
For a low-key afternoon date, find a cozy spot on the tree-shaded patio at Zin Zen Wine Bistro and tip back a glass of your favorite wine (or get a flight) paired with a flatbread, sandwich, or salad. If a slice (or several) of perfectly authentic Neapolitan pizza is what you seek, Cavalli Pizza is the spot for you. Whether you're a guitar player or a music enthusiast, you'll want to spend some time in The Guitar Sanctuary. Admire stunning specialty and custom guitars and check out all the clothing and accessories, then head next door to The Sanctuary, an intimate concert venue that hosts shows throughout the year.
---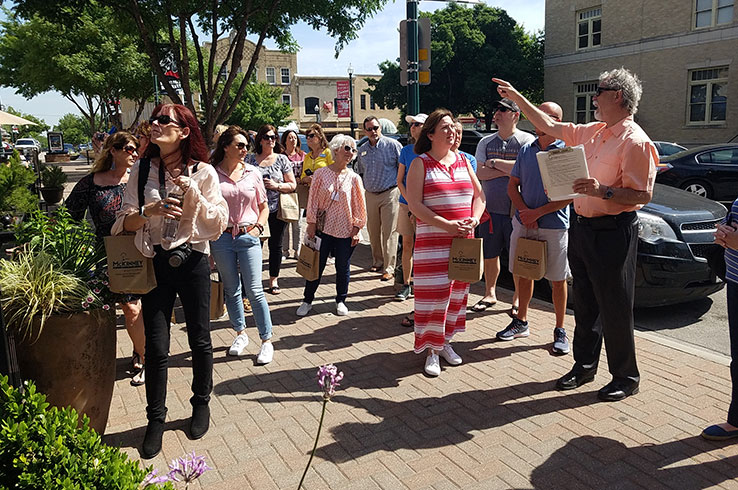 Discover McKinney's History
From frontier settlers and the arrival of the railroad to the present day, McKinney's history holds many fascinating stories. One of the best ways to experience it is by going on a tour. Hop on a trolley tour (offered every second Saturday of the month from April through November) and hear from a trained docent about the downtown area's historic homes and buildings, as well as the fascinating cast of characters that helped shaped the town.
There are also several self-guided walking tours available. The Residential Tour takes you to McKinney's Victorian, Colonial Revival, Prairie, and Tudor Revival-style historic homes. To see more eye-catching structures, follow the Historic Building Tour through downtown to see noteworthy buildings like the 1880 Collin County Prison. As you walk around the downtown square, let the Downtown Walking Tour guide you to uncovering many historic details and stories that will help you get to know McKinney.
---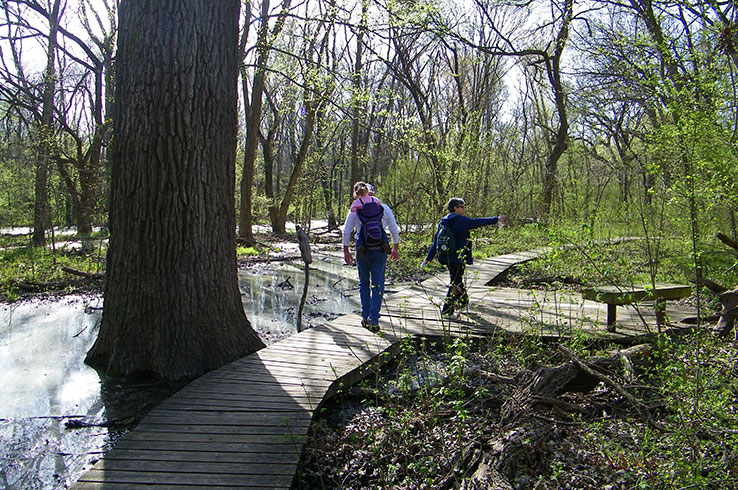 Enjoy Some Time Outdoors
Watch common slider turtles basking in the sun, colorful butterflies gliding from one flower to the next, and white-tailed deer foraging in the shade of a bottomland forest. You may see this, and so much more, as you explore the 6.5 miles of scenic trails at the Heard Natural Science Museum & Wildlife Sanctuary. Take your time as you traverse five distinct environments and you may spot some of the local wildlife, including rabbits, armadillos, American bullfrogs, and hundreds of species of birds. In fact, the Heard has been designated an important birding area by The Audubon Society, and there are guided bird walks held the second Saturday of the month from September through June.
Exploration at this wildlife sanctuary isn't limited to land. Guided canoe tours allow you to experience nature from a whole new perspective, while the zip lines and ropes adventures course lets you enjoy a bird's-eye view. Spend some time learning the history and ecology of the wetlands from a guide as they take you along a canoe trail, or paddle on your own. Be sure to visit the science museum for interactive activities and exhibits, including an animal exhibit, a pioneer village, a touch-screen globe, and an 85-million-year-old Mosasaur specimen excavated from Garland, Texas.
---
With so much to see and do, no two weekends in McKinney are the same. Plan your next getaway and you'll be sipping wine, savoring local craft beer, and staying in style before you know it.
About the Author: Ashley Donde is a freelance writer who loves adventure. Her family of four can often be found exploring the great outdoors, touring museums, or enjoying a local festival.
---
---