---
Dumas Moore County Chamber of Commerce
1901 S. Dumas Ave. PO Box 735
Dumas, TX 79029
(888) 840-8911
www.dumaschamber.com/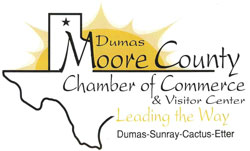 Get Your Warm & Sunny Feeling this Winter in Dumas, TX
By Alexandra Dedovitch
Nestled in a cozy nook of the Texas Panhandle High Plains is homely western Dumas, TX. Only one hour from the border of New Mexico, and halfway between Dallas, TX and Denver, CO, travelers passing through can stay a comfortable night or more off the beaten trail in this charmingly nostalgic small town.
Whether you're taking a road trip for winter break, visiting family and friends for the holidays, or eager to explore places you've never been to before, enjoy outdoor activities, fun attractions, and artsy photo-ops in Dumas.
---

Warm and Sunny Outdoor Adventures in Dumas
Texas beaches are all the rage during the winter months, but it can be quite a hike if you live far from the coast. Dumas offers warm and sunny outdoor adventures, including watersports, for those excited to enjoy time in the sun and fun outings in nature.
The glistening jewel of the Texas Panhandle, Lake Meredith National Recreation Area is only a short drive outside of Dumas. Surrounded by rolling hills and dry grasslands, spend a breezy day taking in the sights and sounds boating on the lake. Rent a pontoon boat, kayak, or paddleboard from local vendors or bring your own private boat, free of charge. Open for public use boat ramps are available.
An abundant fishing spot, anglers can enjoy a leisurely day catching largemouth, smallmouth, and white bass, walleye, rainbow trout, sunfish, yellow perch, and three kinds of crappie on the built-in docks and along the shores. Lake Meredith is also a natural haven for wildlife and migratory birds, be sure to bring your binoculars with you!
More outdoor adventure awaits at Alibates Flint Quarry. An ancient site once well-known by mammoth hunters as a source of flint tools approximately 13,000 years ago, Alibates flint is easy to spot. Both beautiful and functional, these organic tools feature colorful, marbled patterns in crimson reds, cream whites, opal blues, and sage greens.
Today, you can explore this natural historic area, hike with a ranger, and learn all about Native Americans and Alibates Flint Quarries. Spot ancient petroglyphs carved into the landscapes stone and get hands-on at the Alibates Museum's interactive exhibits.
---

Wild West History Buff Museums
Once upon a time, Texas frontier settlers took to the dusty plains on the outskirts of civilization in the 19th century. This hard-earned and humble area of Texas became Dumas-Moore County. Learn about the real lives and fascinating stories of early settlers through 1800's reproductions and relics, including a horse-drawn buggy, retro drug store, and old dentists office, at The Windows on the Plains Museum in Dumas.
If you've haven't gotten your fill of history yet, take a day trip during your stay in Dumas to Texas' largest history museum, The Panhandle-Plains Historical Museum. Located on the thriving campus of West Texas A&M University, history buffs are invited to make a fun day exploring wild western history by exploring its large collection of art, paleontology, geology, agriculture, and natural history.
---

Get Your Kicks on Route 66: Dumas at Night & Amarillo by Day
Stay a comfy night in Dumas, then hit the "Mother Road" by day to explore nearby tourist attractions in Amarillo. Located along the famous Route 66, Amarillo Cadillac Ranch is a great stop to take quirky photos or grab a can of spray paint and make art yourself. Impossible to miss, this must-see attraction features multiple cars buried nose-deep in the ground, jolting from the earth, and completely decked out in colorful graffiti.
For a big bite to eat, Big Texan restaurant brings both fun and flavor to every meal. You'll cure your hunger pangs and your need for good ole' roadside Texan grub all in one place.
A popular attraction for nature lovers, Palo Duro Canyon is the second largest canyon in the United States and it's located only 25 miles from downtown Amarillo. Experience its breathtaking beauty, hit the trails by foot or bike, giddy-up by horse through the weaving, rugged terrain and learn along the way from its many historical sites and markers.
---

Dumas Cultural Charm & Artsy Attractions
Take cute and kitschy photos with the classically famous 1920s song "Ding Dong Daddy From Dumas" themed cut-outs on arrival at the Dumas Visitors Center. Next, make your way to downtown Dumas for more creative pics in front of the town's hand-painted art murals. Christmas-card-worthy for holiday craft makers!
There's more artistry abound at The Art Center in Dumas. Peruse talented works by local artists and craftsmen. Afterwards, be sure to check out its historic next-door neighbor, The Window on the Plains Museum.
For a taste of Dumas local culture, you'll find hearty food and micro brewed beer served up properly in a family-friendly atmosphere at Toppled Turtle Brewing Co. Take a load off in their laid back taproom or embrace the beautiful weather in their outdoor beer garden. Satiate your palate at one or many of their adjacent food trucks and ice cream parlor concession stands. There's live music, entertainment, and events happening all throughout the week. Check their event schedule for more details during your stay.
---

Make a List and Check it Twice: Holiday Candy Cane Lane Event
It's not the holidays without a festive event to get you in the spirit!
In November, Annual Candy Cane Lane in Dumas is gifting all guests with merriment and fun. Shop local vendors homemade goods and crafts, fill your belly at the many participating food and beverage stands, enjoy musical entertainment and holiday performances including a Christmas train ride for kids, and be sure to snap plenty of pics with Ole' Saint Nick.
A special Santa Claus show kicks off the season during the event, when the Big Man in Red pushes a magical button and lights up the town!
Dumas offers many affordable hotels and lodging accommodations, including the Horse Motel – a unique staple of Dumas. Get that warm and sunny feeling this winter season by making a visit to quaint and cozy Dumas, TX.
---
About the Author: Alexandra is the Head Writer and Digital Content Creator for Tour Texas. She is an avid traveler, lover of the arts, and enthusiast of all things Texas!
---
---
Dumas Moore County Chamber of Commerce
1901 S. Dumas Ave. PO Box 735
Dumas, TX 79029
(888) 840-8911
www.dumaschamber.com/