---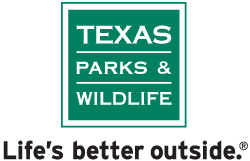 10 Unique Things to Do in Texas State Parks
Think of a Texas state park and the first things that come to mind are picturesque hiking trails, dense oak thickets, or even a pier that stands over the rolling waves of the Gulf Coast. While most of these parks offer similar things to see and do, there are a few that provide utterly unique – and unforgettable – experiences that every Texan should enjoy. Traverse the trails in the second largest canyon in the United States, surf on magnificent sand dunes, and search for parrots near the Rio Grande River. These are just a few of the many unique things to do in Texas' state parks. Continue reading to see what other activities await in the Lone Star State.
---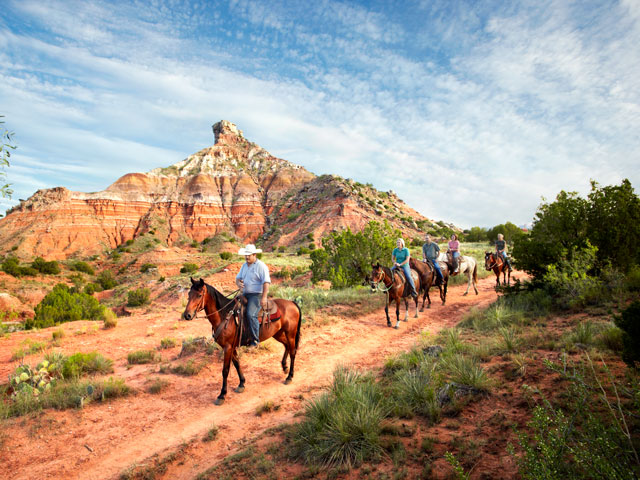 Explore the Second Largest Canyon in the Country
Rugged bright-orange sandstone rock formations and cliffs and verdant tree covered valleys make up Palo Duro Canyon State Park, second in size only to Arizona's Grand Canyon. Tie on your hiking shoes and wander on more than 30 miles of multi-use trails that take you through the floors of canyons and up to the summit of jagged peaks. For a truly one-of-a-kind experience, spend a few nights in one of the park's cabins and take in the marvelous sunrises and sunsets of the Texas Panhandle.
Park: Palo Duro Canyon State Park
---
Perfect Your Rock Climbing Skills
Rock-climbing gyms are all over the place at this point, but there's nothing quite like testing your skills in the great outdoors. Fortunately, there are several parks across the state that provide idyllic outdoor rock climbing, two of which are in the El Paso area. One of these, Hueco Tanks State Park & Historic Site, even hosts a major rock climbing competition every February (the Hueco Rock Rodeo). No matter where you go, don't forget your climbing shoes, crash pads, chalk, food, and water. Go with a friend or hop on a guided tour for the best climbing experience.
Check each park's website to see what types of rock climbing activities are offered onsite.
Parks: Enchanted Rock State Natural Area, Franklin Mountains State Park, Hueco Tanks State Park & Historic Site, Lake Mineral Wells State Park & Trailway
---
Spot Rare Tropical & Migratory Birds
What do red-crowned parrots, green parakeets, and tropical kingbirds have in common? They're among the more than 500 species of native and migratory birds that can be seen across the Rio Grande Valley throughout the year. While you spot many of these amazing avians just about anywhere in the valley, you'll have your best luck at Bentsen-Rio Grande Valley State Park and the other locations in the World Birding Center. These parks are a great place to see birds you won't find anywhere else in the United States, so bring your binoculars or long-lens camera.
Parks: Bentsen-Rio Grande Valley State Park & the World Birding Center
---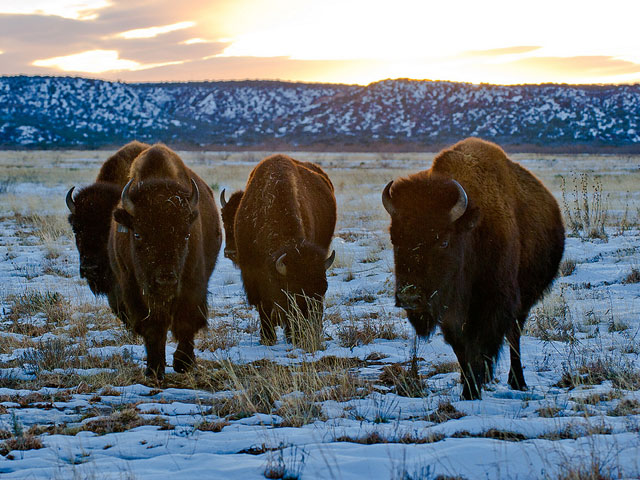 See Texas' Only Wild Buffalo Herd Roam
"Oh give me a home, where the buffalo roam, where the deer and the antelope play" is probably what you'll be singing to yourself as the state's only wild buffalo herd holds your gaze. Where are you? Caprock Canyons State Park & Trailway, of course. Situated in the Texas Panhandle, the park is full of beautiful valleys and geological features that you can admire from the more than 90 miles of hiking and biking trails. Visit during the winter and you may even be lucky enough to play in the snow.
Park: Caprock Canyons State Park & Trailway
---
Go Sand Surfing in West Texas
Yes, you read that right: sand surfing. You may not immediately associate rolling sand dunes with the state of Texas, but sure enough that's what you'll find at the aptly named Monahans Sandhills State Park. A veritable natural wonder, the park consists of more than 3,800 acres of dunes, some of which are 70 feet tall. So, what do you do with that? Sand surf, of course! Rent a toboggan or disk at park headquarters and enjoy one of the most unique experiences in Texas as you soar down the side of a dune. Pause for a moment to appreciate the one-of-a-kind landscape that, due to the winds, is always changing.
Park: Monahans Sandhills State Park
---
Hunt for Dinosaur Tracks
There's walking in someone else's footsteps, but the experience you'll have at Dinosaur Valley State Park takes that to another level. Millions of years ago, colossal dinosaurs roamed the area that was once on the edge of an ancient ocean, leaving tracks that can still be seen to this very day. Keep an eye out as you hike or bike the park's 20 miles of trails that take you to the four available track sites that contain massive imprints by what are believed to be sauropods and theropods. With plenty of scenic beauty and the Paluxy River to play in, Dinosaur Valley State Park is also a great place to appreciate the outdoors in North Texas.
Park: Dinosaur Valley State Park
---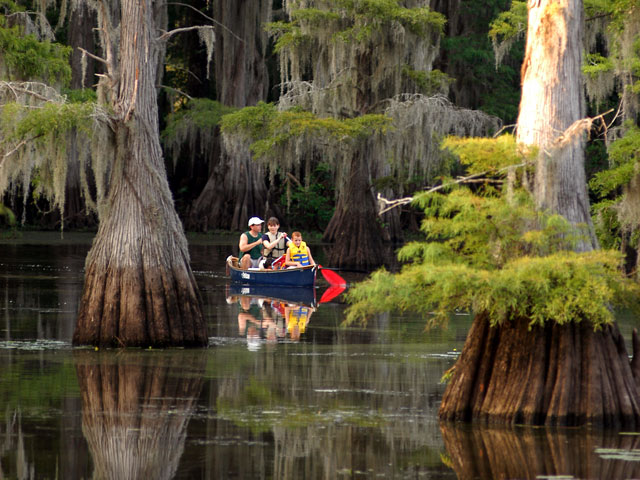 Paddle the Only Natural Lake in Texas
Firmly seated in your canoe, you paddle past towering bald cypress trees that reflect off of the still mirror-like waters of Caddo Lake. Keep an eye out and you might catch a glimpse of an alligator sunbathing on the bank or a white-tail deer foraging just beyond the tree line. This is what you may see and experience at Caddo Lake State Park, a sprawling East Texas treasure made up of bayous, wetlands, and backwaters teeming with all sorts of flora and fauna. Try your luck at snaring a crappie or a largemouth or white bass, hike the trails, and spend the night in a historic cabin to prolong your adventure.
Park: Caddo Lake State Park
---
Discover Ancient Native American Rock Art
The earliest days of Texas history don't date back to the arrival of the Europeans just a few hundred years ago. Instead, it stretches back thousands of years, when groups of Native Americans carved out lives along the Rio Grande River within the harsh climate of south and west Texas. Although they are long gone, their stories live on through the ancient rock paintings that still remain. Some of the most astounding examples are the 4,000-year-old pictographs at Seminole Canyon State Park & Historic Site and the more than 3,000 paintings at Hueco Tanks State Park & Historic Site.
Check each park's website to get some rock art spotting tips before visiting.
Parks: Big Bend Ranch State Park, Devils River State Natural Area, Hueco Tanks State Park & Historic Site, & Seminole Canyon State Park & Historic Site
---
Do Some World-Class Stargazing
As the popular tune goes: "The stars at night are big and bright, deep in the heart of Texas." Camp out under the stars at Big Bend Ranch State Park and you'll discover just how true that is. Designated Class 1 on the Bortle Scale, you'll enjoy a stunning view of the Milky Way Galaxy, the Pinwheel Galaxy, and many of the sky's other celestial wonders on a clear night. A few other parks, including Davis Mountains State Park and Brazos Bend State Park, also have or are located near observatories. Whether you want to take in a stunning view of the heavens or you're looking to get an awesome photo or two, plan a trip to one of the state parks listed in the link below.
Parks: See a Full List Here
---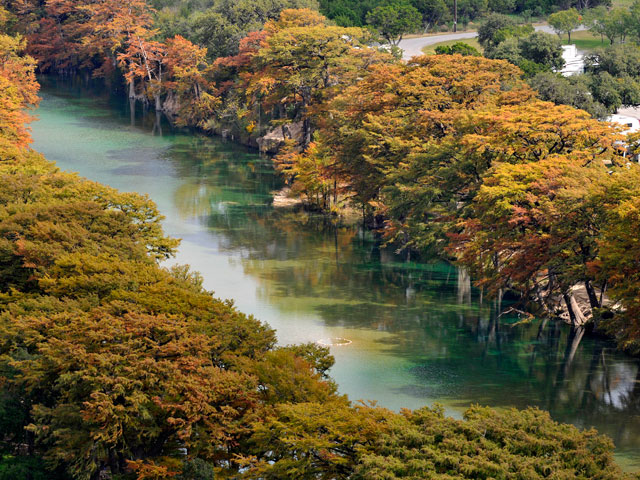 Admire Beautiful Fall Foliage
Each fall, the verdant forests across the Lone Star State transform into a kaleidoscope of glorious reds, oranges, and yellows. While you can see the colors of the season in many places in Texas, there are a few that stand out. Two of the best examples of this include Lost Maples State Park and Tyler State Park, although there are many Texas state parks where you can see some amazing fall foliage. For more information on a few of these, click the link below.
Parks: Check This List
---
---