---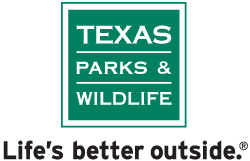 5 Awesome Urban Paddling Trails in Texas
There's nothing quite as soothing as floating down a peaceful river surrounded by all the natural splendor of the Lone Star State. With 15 major rivers, 3,300 miles of coastal shoreline, and 71 paddling trails, you're never far from an amazing kayaking adventure. This is true even if you're in one of the largest cities in the state, as there are numerous urban kayaking trails in Texas. For a relaxing time in the great outdoors without wandering far from all the action of a city, check out these awesome paddling trails.
---
Lady Bird Lake Paddling Trail (Austin)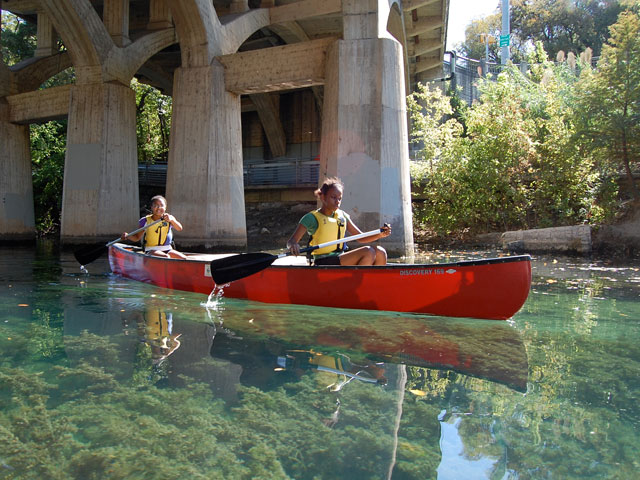 The tranquil and immaculate waters of the Colorado River flow through the heart of Austin, providing scenic views and one of the most popular recreational attractions in the Texas capital. Explore the 11-mile Lady Bird Lake Paddling Trail that runs along this stretch of the river and you'll see towering skyscrapers, limestone cliffs, a variety of birds, and turtles swimming under the water's surface.
There are numerous places for you to drop your kayak or canoe into the river, or you can rent one from one of the several shops along the trail. Not only is the trail fantastic for paddling, it's a hot fishing destination as well. Largemouth bass, redbreast and redear sunfish, and large common carp are frequently caught here.
While there is plenty to see and do on the trail, the best part may be its location. Get out of the water, pack up your gear, and you'll be moments away from all the restaurants and hangout spots in downtown Austin.
Photo Credit: Texas River School
---
Bosque Bluffs and Brazos Bridges Paddling Trails (Waco)
Perhaps best known for being the home of Baylor University and Chip and Joanna Gaines' Magnolia Farms, Waco is a mid-sized town with plenty of natural beauty best enjoyed from one of its two rivers. That's what the Bosque Bluffs and Brazos Bridges Paddling Trails are for, of course. Together, these two trails follow the Bosque and Brazos rivers through the heart of Waco for seven miles.
During your kayaking adventure, you'll see birds such as red-tailed hawks and blue cranes and an array of native trees growing along river. Both trails were designed with the beginning or novice paddler in mind, so you can get outdoors even if you're not a well-practiced kayaker. For boat rentals, check out the listings on the trails' website.
---
River Legacy Parks Paddling Trail (Arlington)
The Dallas and Fort Worth Metroplex is a massive urban sprawl made up of numerous towns and cities, but that doesn't mean there aren't places to walk on the wild side. In fact, the Trinity River that flows through the area has several paddling trails you can take on, including the River Legacy Parks Paddling Trail in Arlington. Spanning two to eight miles, the trail offers a good way to get away from the crowds for a few hours or an entire afternoon. Catch and release fishing is also popular on this part of the trail as largemouth bass, catfish, and sunfish reside here in abundance.
---
Buffalo Bayou Paddling Trail (Houston)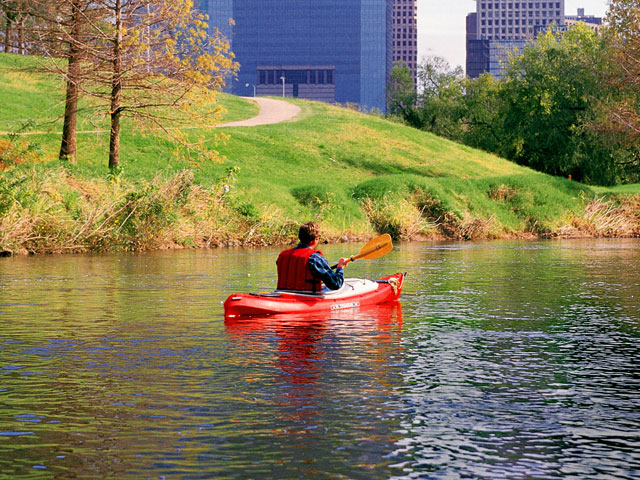 Houston is a bustling metropolis known for its expansive highways, yet you don't have to go far to find a remarkable kayaking adventure. Starting on the far west side, the Buffalo Bayou Paddling Trail flows 26 miles all the way into downtown Houston. While it would take too long for you to do the entire trail in one day, you can take on a few of its segments. Regardless of the route you choose, you'll see banks composed of sand, sandstone, and red Beaumont clay; egrets, herons, and hawks hunting; and even the occasional alligator. Spend an hour on the trail and you'll likely forget you're in the heart of America's fourth largest city.
Photo Credit: Harris County Flood Control District
---
Victoria Paddling Trail (Victoria)
Travel just a stone's throw away from historic downtown Victoria and you'll run into the Guadalupe River, one of the state's most popular recreational waterways. That's particularly true in the section that wanders and weaves through verdant hills and past cypress, oak, and pecan trees through the western side of town. In total, the Victoria Paddling Trail stretches on for 25 miles, starting north of town and meandering past Riverside Park. There are five sections of the trail, from as little as 1.54 miles to as long at 9.67, that offer great kayaking and canoeing for paddlers of all experience levels.
The area along the Guadalupe River is teeming with wildlife, much of which you can see from your water craft. Bald eagles, ospreys, egrets, herons, kingfishers, and even turkeys have been spotted. Catfish and Guadalupe bass live in the river in abundance, so if you're looking to do some fishing then you'll have good luck with small lures.
---
---