---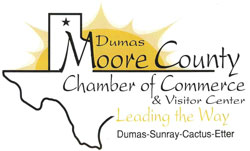 Dumas Moore County Chamber of Commerce
1901 S. Dumas Ave. PO Box 735
Dumas, TX 79029
(888) 840-8911
www.dumaschamber.com/
Dumas-Moore County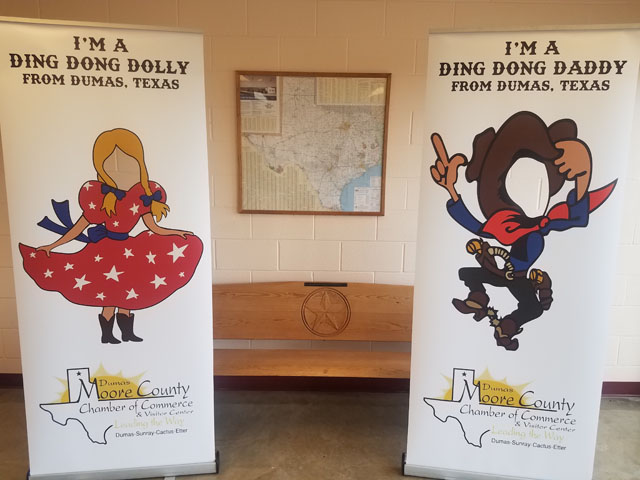 Set among wide-open plains and captivating blue skies, the pioneering spirit and West Texas charm is alive and well in Dumas and Moore County. Just north of Amarillo, Dumas is conveniently located halfway between Dallas and Denver—a great stop for that cross-country road trip!
Yet Dumas is much more than a stopping point on a longer journey. This one-of-a-kind place that inspired the song I'm a Ding Dong Daddy From Dumas, has plenty to offer adventure seekers and those looking to escape the big city hustle and bustle.
You can't start your visit to Dumas without snapping a photo with the Ding Dong Daddy and Ding Dong Dolly pull-up banners at the Dumas/Moore County Chamber of Commerce & Visitors Center. If you're here in the summer, cool off and enjoy a few thrills at the Treasure Island Water Park in nearby Sunray, or go for a swim at the Dumas Aquatic Park. Then relive the past as you experience life on the prairie at The Windows on the Plains Museum. Step on over to The Art Center, where you'll find stunning works by local artists, as well as traveling exhibits on display.
For some retail therapy, uncover unique finds and vintage treasures at shops like Blessings From Above Boutique, Jeannie B's, and Rafter 6 Antiques & More. Cap your day with movie night at the historic Evelyn Theater, a beautifully renovated two-screen movie house built more than 70 years ago.
Do you love spending time outdoors? You'd better pack your hiking shoes, as there is plenty of Panhandle terrain to explore. Get lost in Lake Meredith National Recreation Area and adjacent Alibates Flint Quarry National Monument, a geologist's dream where you'll encounter 13,000 years of history through geological formations. The former has nearly 30 miles of hiking trails, a vast lake you can fish and kayak in, and camping sites that offer scenic views. Even Palo Duro Canyon, the second-largest canyon in the U.S., isn't that far away.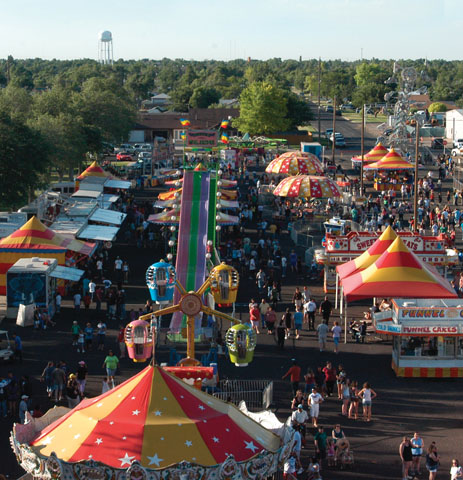 To get the most out your visit to Dumas, plan your stay so you can experience the town's lively annual events and festivals. Dogie Days (June) is an extended weekend celebration of the cowboy way of life with a carnival, parade, and a town barbecue. Meanwhile, the 4th of July World Championship Mud Volleyball Tournament and D'Town BBQ Cook-Off elevate the excitement here each July.
Mid-August brings the Cowboy Classic Rodeo, two days of professional-grade rodeo action featuring competitions for riders of all ages. For you cyclists out there, enter the Texas Tumbleweed 100 (September). This Texas-sized bike ride draws cyclists from near and far to ride one of four courses that range from 12 to 100 miles. Once the holidays roll around, check out such festive happenings as Candy Cane Lane and the Christmas Open House at Window on the Plains Museum to celebrate the season.
Visit Dumas and Moore County to experience life on the frontier for yourself. Plan your visit here.
---
---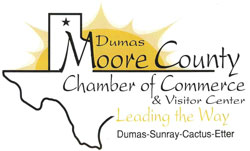 Dumas Moore County Chamber of Commerce
1901 S. Dumas Ave. PO Box 735
Dumas, TX 79029
(888) 840-8911
www.dumaschamber.com/