---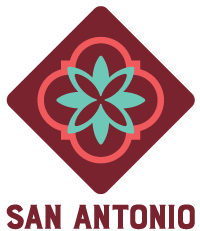 Attractions in San Antonio
San Antonio is a vibrant and diverse city full of fantastic historical sites, spectacular museums, vast public parks, and more. Discover life in the Alamo City's earliest days at the San Antonio Missions National Historical Park, play a round of golf at one of the best public courses in Texas, and then browse one of the city's many unique art galleries. Of course, no visit is complete without spending some time eating at a local restaurant and strolling along the San Antonio River Walk. There are plenty of things to see and do while you're here, so check out our list of attractions in San Antonio to see just what this city has to offer.
---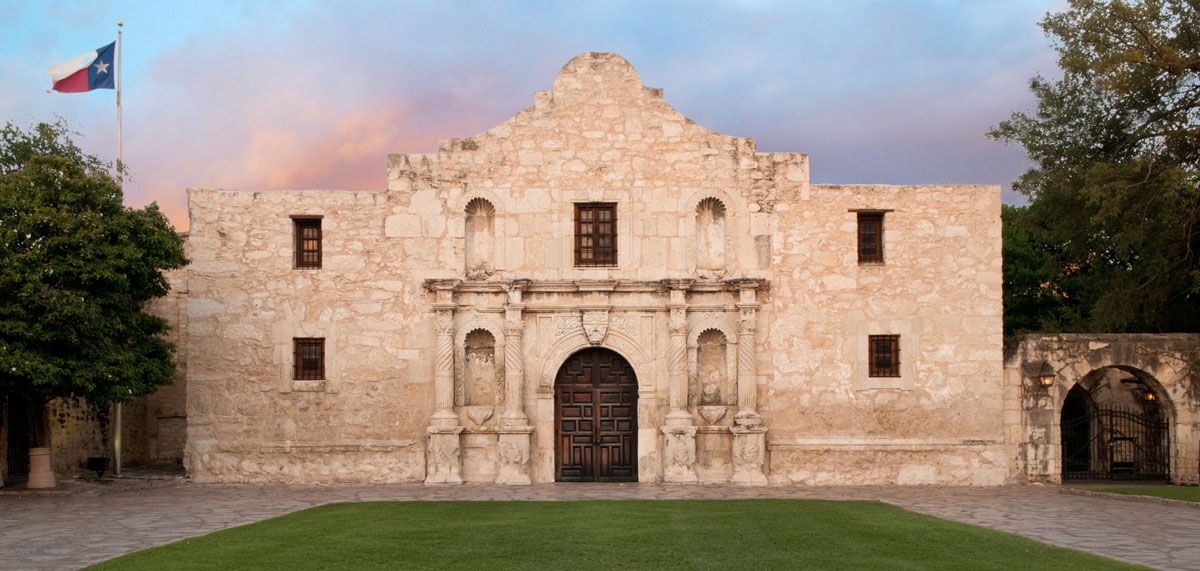 Alamo Mission in San Antonio
The Alamo in San Antonio is one of Texas' most important landmarks. Although the famous battle that occurred at the Alamo in 1836 resulted in a Mexican victory, the courage and sacrifice of the Alamo's defenders would galvanize the people of Texas to fight for their freedom. Today, this historic landmark, located in the heart of downtown San Antonio, features numerous exhibits outlining the siege of the Alamo, the original layout of the mission, and the Texas Revolution. The Alamo is open seven days a week throughout the year.
300 Alamo Plaza
San Antonio, TX 78205
(210) 225-1391
---
Brackenridge Park
Brackenridge Park is a more than 370-acre natural area home to many of San Antonio's top attractions, such as the Brackenridge Park Golf Course, Japanese Tea Garden, San Antonio Zoo, and Witte Museum. The park also has scenic hiking and biking trails, a miniature railway, playgrounds, and picnic areas. It is also one of the top birding areas in San Antonio.
3700 North St. Mary's Street
San Antonio, TX 78208
(210) 207-8480
---
Brackenridge Park Golf Course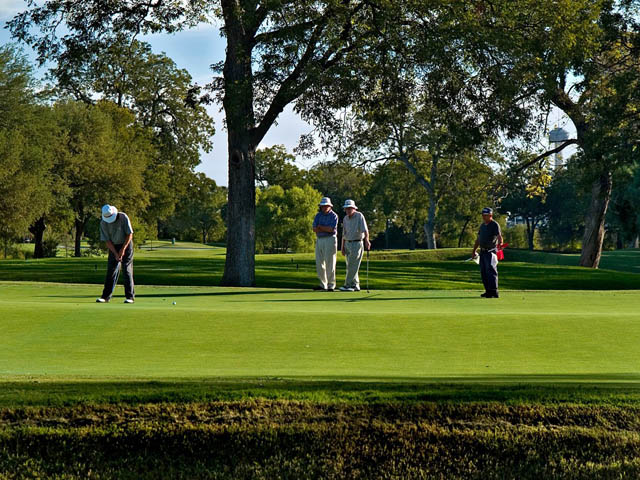 Play one of Texas' most significant golf courses, right in San Antonio! Brackenridge Park Golf Course is the oldest municipal golf course in Texas, and to this day it is still one of the best in the state. A major renovation project in 2008 rerouted the course back to its early 20th-century layout, offering a rare chance to play your way through history. Eighteen well-crafted holes with tree-lined fairways and elevated greens offer a tough challenge for any golfer, making for a great afternoon on the course.
2315 Avenue B
San Antonio, TX 78215
(210) 226-5612
---
Briscoe Western Art Museum
Explore the art, history, and culture of the American West at the Briscoe Western Art Museum in San Antonio. The museum displays works of art and historical artifacts, such as Santa Anna's sword and a Blackfoot war shirt, at its gallery situated near the River Walk within San Antonio's first public library. Visitors are welcome to the museum Tuesday through Sunday.
210 West Market Street
San Antonio, TX 78205
(210) 299-4499
---
DoSeum
The museum is safe place for children to get inspired and tap into their creativity and curiosity to learn and play with purpose. The majority of the exhibits at The DoSeum boast a science, technology, and mathematics (STEM) focus, which integrate with literacy and creative arts concepts.
2800 Broadway
San Antonio, TX 78209
---
Government Canyon State Natural Area
Government Canyon State Natural Area offers more than 40 miles of rugged hiking and biking trails that wind through remote canyons and scenic grasslands. Trail running, camping, picnicking, and geocaching are other popular things to do in Government Canyon, one of the few state parks near San Antonio. Government Canyon is open Friday through Monday throughout the year.
12861 Galm Road
San Antonio, TX 78254
(210) 688-9055
---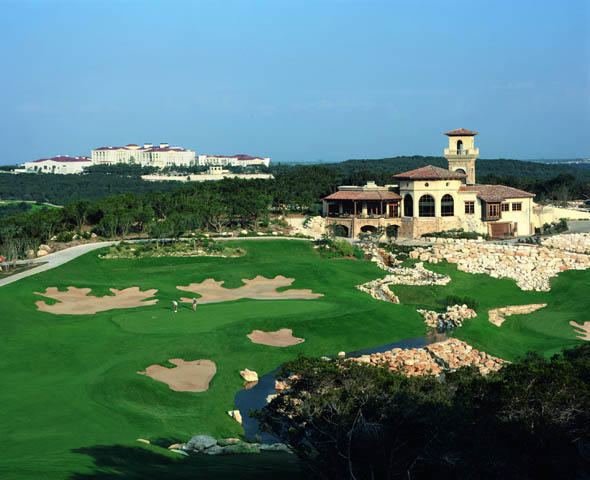 La Cantera Golf Club
Breathtaking Hill Country views, along with some excellent golf, are all par for the course for the La Cantera Golf Club. The club's two 18-hole courses, the Resort Course and the Palmer Course, are recognized as some of the best in Texas. Tee times for both courses can be arranged on the golf club's website.
16641 La Cantera Parkway
San Antonio, TX 78256
(210) 558-4653
---
La Villita Historic Arts Village
Experience some of the best shopping, dining, and art galleries in San Antonio in the La Villita Historic Arts Village. Here you'll find restaurants within historic buildings, quaint shops stocked with Mexican folk art and fine jewelry, and art galleries and museums. The village sits along the banks of the San Antonio River on the south end of downtown.
418 Villita Street
San Antonio, TX 78205
(210) 207-8614
---
Majestic Theatre San Antonio
From top-class Broadway shows to stand-up comedy acts and concerts, catch it all at the historic Majestic Theatre. The 2,264-seat theater, built in 1929, features a distinct combination of Spanish colonial, baroque, and Mediterranean architectural styles, creating a beautiful setting for any kind of performance. Performances, concerts, musicals, and plays are offered at the Majestic Theatre throughout the year, and tickets for each show are available on the theater's website.
224 East Houston Street
San Antonio, TX 78205
(210) 226-5700
---
Market Square
Shops, restaurants and vibrant surroundings. All at Market Square. A three-block outdoor plaza lined with shops, and restaurants in downtown San Antonio, Market Square is the largest Mexican market in the United States.
514 W. Commerce St.
San Antonio, Tx 78205
---
McNay Art Museum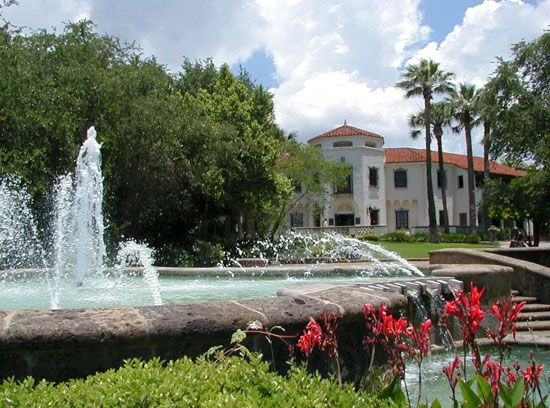 The McNay Art Museum is a modern art museum that features 19th- and 20th-century American and European Art. Works from such the likes of Pablo Picasso, Ernst Ludwig Kirchner, and Henri Matisse are featured within the museum, located within a Spanish Colonial-Revival-style home built in the late 1920's. In addition to works crafted by European and American masters, the museum also has a stunning collection of Medieval and Renaissance art, glass art, and art from New Mexico.
6000 North New Braunfels Avenue
San Antonio, TX 78209
(210) 824-5368
---
Natural Bridge Caverns
Natural Bridge Caverns is a massive cave system that has the largest show cavern in Texas. Take in amazing cave formations, such as massive stalactites and stalagmites, on one of several available guided tours. A zip line course, 5,000-square-foot outdoor maze, and a gem and fossil mining area provide plenty of fun above the surface. Natural Bridge Caverns is open every day except Thanksgiving Day, Christmas Day, and New Year's Day.
26495 Natural Bridge Caverns Road
San Antonio, TX 78266
(210) 651-6101
---
Natural Bridge Wildlife Ranch
Take a walk on the wild side. In the comfort of your own car, that is. At the Natural Bridge Wildlife Ranch, guests can drive through 450 of acres of Texas ranchland, including rolling hills, creek beds and magnificent oaks trees, to admire and interact with more than 500 animals from around the globe; think ostriches, zebras, buffalos and more! Make your next drive an adventurous one and come experience a Texas-style safari at the Natural Bridge Wildlife Ranch.
26515 Natural Bridge Caverns Rd.
San Antonio, TX 78266
---
San Antonio Missions Baseball Club
San Antonio Missions is a Double-A minor league baseball team affiliated with the San Diego Padres. Since it was established in 1888, the San Antonio Missions have won 13 Texas League and 21 division titles. The Missions play their games at the Nelson Wolff Municipal Stadium from April through September.
5757 West Old U.S Highway 90
San Antonio, TX 78227
(210) 675-7275
---
San Antonio Botanical Garden
Explore, picnic, relax and socialize on the lush grounds of the San Antonio Botanical Gardens. With more than 15 new spaces that encourage unstructured play and exploration of nature, there's always something fun to see, explore and play with at the San Antonio Botanical Gardens.
555 Funston Pl.
San Antonio, TX 78209
---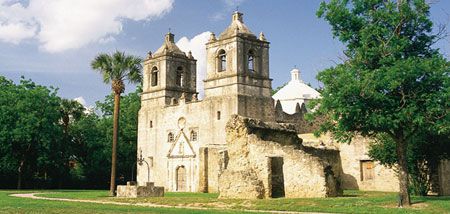 San Antonio Missions National Historic Park
The missions in San Antonio are among the city's most famous landmarks, and were recently designated as a UNESCO World Heritage Site. Four of San Antonio's five missions (Mission Concepcion, Mission San Jose, Mission San Juan Capistrano, and Mission Espada) reside within the San Antonio Missions National Historic Park, located on the south side of town. All of these missions were built in the mid-18th century as cities for Native Americans, with a church as its focus. Each mission contains a small museum, and admission to each location is free.
6701 San Jose Drive
San Antonio, TX 78214
(210) 922-0543
---
San Antonio Museum of Art
Travel around the world with a visit to the San Antonio Museum of Art (SAMA). On the banks of the Museum Reach of the river, SAMA is housed in the historic complex of buildings that was once home to the Lone Star Brewery.
200 W. Jones St.
San Antonio, TX 78215
---
San Antonio Spurs
San Antonio is home to the five-time NBA champion Spurs, one of the most successful teams in the league. From late October until the middle of April, the Spurs play their home games at the AT&T Center, a top-class sports and concert venue located on San Antonio's east side. Tickets for Spurs games are available on the team's website or at ticket counters at the stadium.
1 AT&T Center Parkway
San Antonio, TX 78219
(210) 444-5000
---
San Antonio River Walk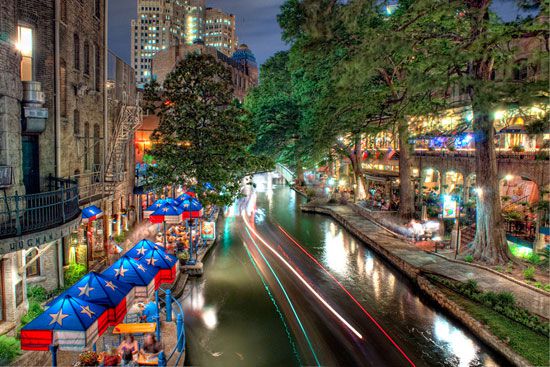 The San Antonio River Walk is one of the city's most well-known attractions. Stroll along the river on a wide limestone path and you'll pass charming shops and an incredibly wide variety of restaurants in the heart of San Antonio. But there's much more to the River Walk than what you see in downtown San Antonio. In fact, the trail runs south to San Antonio Missions National Historic Park and north to Brackenridge Park, totaling 15 continuous miles. Along with all the space for hiking, jogging, and biking, there are also river access points for kayaks and canoes.
Downtown
San Antonio, TX 78205
(210) 227-4262
---
San Antonio Zoo
Take a walk on the wild side at the San Antonio Zoo, a historic zoological facility that was established in 1914. Today, the zoo is home to 9,000 animals of 750 species, including ostriches, African lions, Asian elephants, cheetahs, and a king cobra. The zoo is open every day of the year, and tickets are available online.
3903 North St. Mary's Street
San Antonio, TX 78212
(210) 734-7184
---
San Fernando Cathedral
San Fernando Cathedral is a historic Roman Catholic church that is a fine example of the Spanish gothic-style architecture that can be found throughout San Antonio. The cathedral, one of the oldest active cathedrals in the United States, towers above downtown San Antonio's main plaza just steps away from the River Walk.
115 Main Plaza
San Antonio, TX 78205
(210) 227-1297
---
SeaWorld & Aquatica San Antonio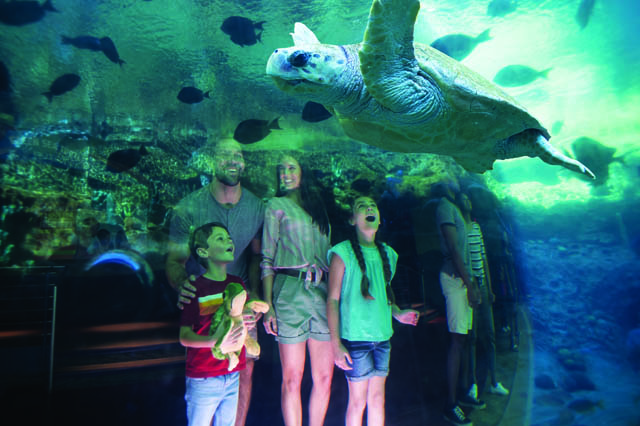 Enjoy a fun day out for the whole family at SeaWorld San Antonio, one of two major amusement parks in San Antonio. Sea lion and orca shows, roller coasters, and a variety exhibits can be found at Sea World, providing plenty of fun for just about anyone.
10500 Sea World Drive
San Antonio, TX 78251
(210) 523-3000
---
Six Flags Fiesta Texas
Thrilling roller coasters, wet and wild water park rides, and all the entertainment, dining, and shopping you can handle can be found at Six Flags Fiesta Texas. The amusement park also hosts several events throughout the year, such as the Halloween-themed Fright Fest and the Holiday in the Park. Six Flags in San Antonio is open throughout the year, although some areas of the park only operate seasonally.
17000 IH-10 West
San Antonio, TX 78257
(210) 697-5050
---
The Quarry Golf Course
Play a round at one of San Antonio's most unique golf courses. The first nine holes of The Quarry Golf Club consist of rolling hills and links-style fairways that look as if they were plucked right out of Scotland, while the back nine wind through what was once a limestone quarry. A clubhouse and restaurant provide a fine place to kick back and relax after you've played through the course.
444 East Basse Road
San Antonio, TX 78209
(210) 824-4500
---
The Republic Golf Club
The Republic Golf Club, considered one of the best in San Antonio, offers 18 holes of scenic golf set among a thicket of oak and mesquite trees situated along the flowing waters of Salado Creek. Along with its well-maintained course, the club features a range and practice facility, as well as an events facility for banquets, corporate events, and weddings.
4226 Southeast Military Drive
San Antonio, TX 78222
(210) 359-0000
---
Tower of the Americas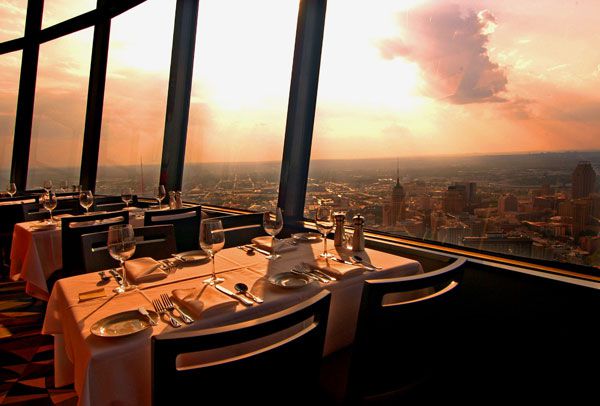 San Antonio's Tower of the Americas is a 750-foot-tall structure that is an essential part of the downtown skyline. At the top of the tower, you'll find a high-end restaurant where you can take in a stunning panoramic view of San Antonio. There's also an observation deck with historical photos for reference, and a 4D theater ride.
739 East Cesar E. Chavez Boulevard
San Antonio, TX 78205
(210) 223-3101
---
Witte Museum
The Witte Museum is a popular science and natural history museum that features children's exhibits, early Texas art, and a collection of more than 300,000 artifacts. A revolving selection of traveling exhibits from around the world can be found in the museum throughout the year. The recently added South Texas Heritage Center tells the story of Native Americans, Spanish settlers, Tejanos, and ranchers who helped write the history of the state. The Witte Museum is located on the east end of Brackenridge Park just steps away from the San Antonio River.
3801 Broadway Street
San Antonio, TX 78209
(210) 357-1900
Images courtesy of Visit San Antonio.
---
---