---
Attractions in Somervell County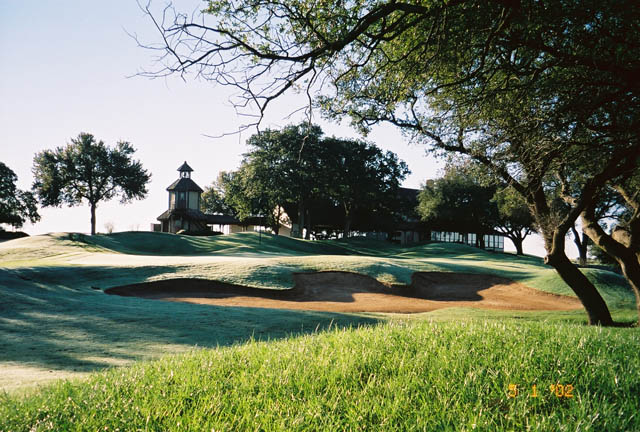 From an award-winning golf course to hiking trails that take you to dinosaur tracks, Somervell County is full of one-of-a-kind attractions that are well worth seeing.
Located less than 60 miles southwest of Fort Worth, the county and its seat, Glen Rose, have a fascinating history and an abundance of small-town charm perfect for when you're looking for an escape from the big city.
Plan your visit here by checking out some of the top attractions in Somervell County below.

---
Barnard's Mill and Art Museum
What was originally a water-powered gristmill built in 1860 by one of Somervell County's earliest families is now both a historic site and a showcase of first-rate art. Admire the works of established artists from Texas and beyond in numerous exhibits that rotate throughout the year.
307 SW Barnard Street
Glen Rose, TX 76043
(254) 897-7494
---
Big Rocks Park
Cool off in the pristine waters of the Paluxy River and enjoy spectacular views in Big Rocks Park. Known for its unusually large rocks that tower over the river, the park is a breathtaking oasis less than one mile from downtown Glen Rose.
1014 NE Barnard Street
Glen Rose, TX 76043
---
Creation Evidence Museum
Discover the scientific evidence for creation through exhibits of historic artifacts, documents, and fossils at the Creation Evidence Museum. Stroll through the museum and you'll encounter a replica of Noah's Ark, a fossilized human finger, The Meister Print, and The Burdick Track.
3102 FM 205
Glen Rose, TX 76043
(254) 897-3200
---
Dinosaur Valley State Park
Hike scenic trails and stop to compare your feet to massive dinosaur footprints, swim and fish in the immaculate Paluxy River, and enjoy some quality time outdoors. A world of adventure awaits at Dinosaur Valley State Park, a sprawling escape located just about 60 miles southwest of Fort Worth.
1629 Park Road 59
Glen Rose, TX 76043
(254) 897-4588
---
Dinosaur World
Dig for shark teeth, gastropods, and other fossils and stand at the feet of 150-foot-tall dinosaurs. Welcome to Dinosaur World, a larger-than-life attraction in Glen Rose home to imposing dinosaur statues and a museum full of animatronic ancient creatures, including tyrannosaurus rex, triceratops, and velociraptors.
1058 Park Road 59
Glen Rose, TX 76043
(254) 898-1526
---
Eagle Eye Ranch Carriage Company
Climb into the saddle and trot along verdant trails on horseback on a tour with Eagle Eye Ranch. Choose from 10-, 30-, and 60-minute excursions and you'll feel like a cowboy or cowgirl as you ride through Dinosaur Valley State Park.
1629 Park Road 59
Glen Rose, TX 76043
(817) 382-9855
---
Fossil Rim Wildlife Center
Take a walk on the wild side when you embark on an epic safari at the Fossil Rim Wildlife Center. Cruise past roaming giraffes, gazelles, and wildebeests before stopping by the Children's Animal Center to say howdy to Nigerian dwarf goats, Texas tortoises, and an African black-footed cat, the smallest cat in the wild. While you're here, you'll encounter animals from around the world, from American bison and American red wolves to cheetahs and rhinoceroses.
2299 County Road 2008
Glen Rose, TX 76043
(254) 897-2960
---
Paluxy Heritage Park and River Walk
Uncover some local history as you explore Glen Rose's Paluxy Heritage Park, where you'll find several historic homes and other structures from the town's earliest days. When you're done, follow the 1/4-mile concrete path along the Paluxy River to Big Rocks Park.
Glen Rose, TX 76043
---
Old Somervell County Jail
Built in 1934, the Old Somervell County Jail has seen its fair share of stories. The local sheriff and the jailer lived on the first floor, while the prisoners were kept on the second. In the 1960's, prisoners managed to break out by cutting the bars at night, concealing their work with wax during the day, and then soaping themselves up so they can slip out (they were later apprehended). The 1970's brought an end to the building's use as a jail. Today, it stands as a reminder of a bygone era of the county's past.
Glen Rose, TX 76043
---
Somervell County Courthouse
With its limestone façade, triangular pediments, and imposing clock tower, the historic Somervell County Courthouse is a must see. Built in 1894 in the Romanesque Revival and General Grant architectural styles, the courthouse is today a Texas Historic Landmark and is listed on the National Register of Historic Places.
101 NE Barnard Street
Glen Rose, TX 76043
---
Somervell County Expo Center
Home to the Glen Rose Summer Classic, the Somervell County Expo Center is the place to catch the county's top rodeo events. The center features a main arena that can seat up to 4,500 people for concerts, a pavilion, exhibit hall, show barn, and a concourse and saloon.
202 Bo Gibbs Boulevard
Glen Rose, TX 76043
---
Squaw Valley Golf Course
Set on rolling hills among stately oak trees, the Squaw Valley Golf Course is a must play for golfers of all skill levels. Named among the best municipal courses in Texas by The Dallas Morning News, Squaw Valley features 36 holes of championship-caliber golf. Tee times are available on the course's website, so make sure to pack your clubs to enjoy some of the best golf in the Lone Star State.
2439 E, US-67
Glen Rose, TX 76043
(800) 831-8259
---
The Promise
Watch as the story of the life of Jesus Christ unfolds every year in Glen Rose. Starring a cast and crew of more than 150 actors in period costumes and even animals, this unique musical production's awe-inspiring nature is only matched by the Texas Amphitheater, the largest outdoor amphitheater in the state that forms the show's backdrop.
5000 Texas Drive
Glen Rose, TX 76043
(254) 897-3926
---
---
Somervell County
101 NE Barnard St P.O. Box 851
Glen Rose, TX 76043
(254) 897-3750 ext 3230
www.somervell.co/