---
Events in Somervell County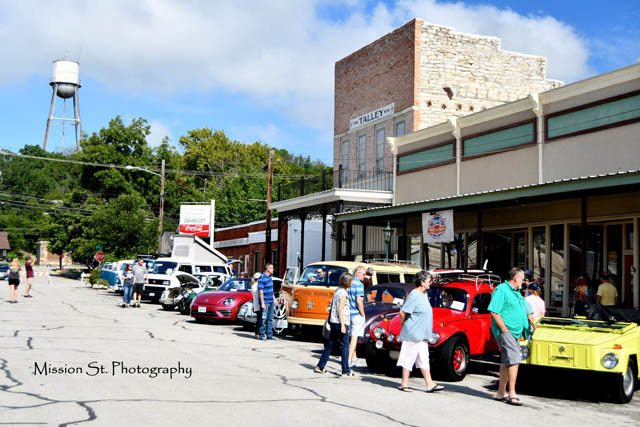 Set where the Paluxy and Brazos rivers meet among verdant rolling hills covered by oak trees, Somervell County provides a scenic retreat from the hustle and bustle of the Dallas-Fort Worth area.
Full of ways to enjoy the outdoors (especially if you want to hunt for dinosaur footprints), there are many reasons to visit the county and its seat, Glen Rose. While any season is a great time to come here, you won't want to miss any of the county's many one-of-a-kind events and festivals.
Read on to see some of the top events in Somervell County.
---
January
Dino Dive
Think you're tough? Start the new year with a dive into the frightfully frigid waters of the Paluxy River at the annual Dino Dive. Not only will you get to participate in a fun local tradition, you'll also get a special medal to show off just how hardy you are.
1629 Park Road 59
Glen Rose, TX 76043
---
February
Big Rocks Chili & BBQ Blowout
Warm up from the cold North Texas temperatures with a bowl full of delicious chili or some mouthwatering barbecue. Featuring cooks from Texas and beyond, this culinary event has something for anyone who brings their appetite.
1019 NE Barnard Street
Glen Rose, TX 76043
---
April
Somervell County Rodeo
Steer wrestling, team roping, bull riding, and more. You name it, and you'll see some of the best cowboys and cowgirls in the business competing for top billing at this annual rodeo held at the Somervell County Expo Center.
202 Bo Gibbs Boulevard
Glen Rose, TX 76043
---
April & November
Gypsy Hearts Market
Browse the finest goods from more than 100 vendors from around the Lone Star State during this one-of-a-kind market.
202 Bo Gibbs Boulevard
Glen Rose, TX 76043
---
May
Lone Star State Dulcimer Festival
With its fretboard and strings, a dulcimer might look like a guitar at first glance. Yet it is its very own instrument, and one that can trace its roots back to the earliest days of America's musical traditions. Hear some of the best dulcimer players around at the Lone Star State Dulcimer Festival, held in Oakdale Park in Glen Rose. Along with multiple days of performance, the festival features free workshops and an arts and craft show.
1019 NE Barnard Street
Glen Rose, TX 76043
---
June
Cowboy Mounted Shooters
Find your way to Glen Rose in late June for a rodeo event like no other. See some of the world's finest cowboys and cowgirls ride horses through the arena at the Somervell County Expo Center as they take aim at a multitude of targets. The event, a Cowboy Mounted Shooting Association, offers the perfect way to mark the National Day of the Cowboy when you're in Somervell County.
202 Bo Gibbs Boulevard
Glen Rose, TX 76043
---
July
National Day of the Cowboy Celebration
The tension of a Wild West shootout, a colorful parade, and all kinds of concerts and demonstrations. Celebrate the cultural impact of the American cowboy and cowgirl during the Glen Rose National Day of the Cowboy Celebration.
Glen Rose, TX 76043
---
September
Texas Time Trials
Pack your gear, tune up your bike, and get ready for an ultra-endurance event that'll push you to your limits. Cycle over rolling hills near the Brazos River along a 26.3-mile loop in six, 12, and 24-hour races, or compete in the fixed-distanced races of either one lap or 19 (500 miles).
Glen Rose, TX 76043
---
October
Paluxy River Bluegrass Festival
Enjoy first-rate bluegrass music played by some of the genre's top artists at this free, three-day fall festival held in Oakdale Park.
1019 NE Barnard Street
Glen Rose, TX 76043
CareFlite Paluxy Pedal
Explore the sloping hills and winding roads of Somervell County while supporting a charitable cause during this friendly bike ride. Choose from four scenic routes (29, 38, 53, and 60 miles) or two gravel trails, all of which serve up remarkable views of this part of North Texas.
Glen Rose, TX 76043
Glenn Sanders' Texas Music Reunion Festival
Set near the bank of the Brazos River, this annual three-day concert is a can't-miss showcase of some of Texas country music's top singers and songwriters. Bring your own beverages and lawn chairs and find a spot in front of the stage at Sandlin's Camp in Nemo.
Nemo, TX 76070
---
November
Extreme Cowboy World Championship
Held in early November, Somervell County's edition of the Extreme Cowboy World Champion features professional and amateur cowboys and cowgirls from Texas and beyond competing in an array of rodeo events.
202 Bo Gibbs Boulevard
Glen Rose, TX 76043
---
December
A Heritage Christmas
Start your holiday season off with twinkling lights and a festive Christmas market at this annual celebration in Glen Rose's Paluxy Heritage Park. Find some one-of-a-kind gifts and take a carriage ride before meeting Jolly Old Saint Nick himself.
Glen Rose, TX 76043
Glen Rose Holiday Bazaar
Fill your stockings with yuletide joy at this can't-miss holiday event. Browse for unique gifts in the sprawling market, catch the vibrant Christmas parade, enjoy live performances and carriage rides, and say "howdy" to Santa.
Historic Courthouse Square
Glen Rose, TX 76043
---
---
Somervell County
101 NE Barnard St P.O. Box 851
Glen Rose, TX 76043
(254) 897-3750 ext 3230
www.somervell.co/