---
Attractions in Boerne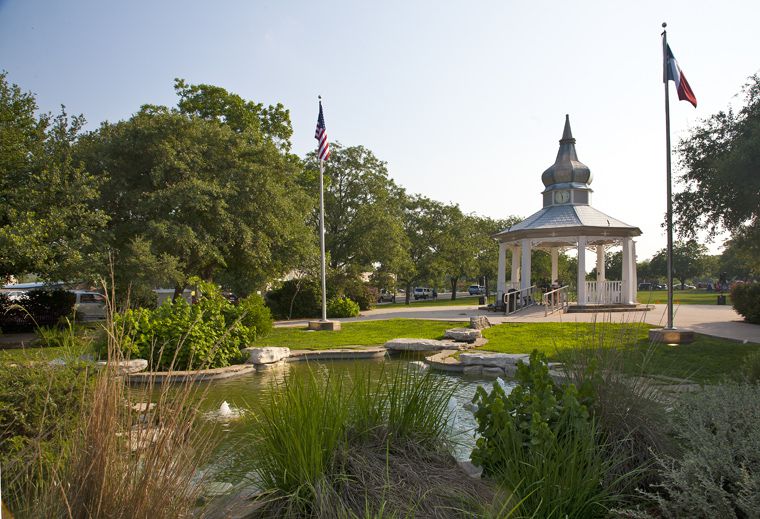 Much of what makes the Texas Hill Country unique can be experienced at one of the many attractions in Boerne. Visit a home built by a German settler in the 1880's, enjoy the Hill Country's enchanting scenery at the Guadalupe River State Park, or journey underground at Cascade Caverns or the Cave Without a Name.
These are just a few ways you can enjoy your time in this captivating village, located about 30 miles north of San Antonio. Read on to discover many of Boerne's great attractions below.
---
Agricultural Heritage Museum
Discover the history of agricultural and rural life in the Texas Hill Country at the Agricultural Heritage Museum in Boerne. The museum contains blacksmithing and woodworking shops, a pioneer house, outdoor displays of antique farm equipment, and a museum full of various exhibits.
102 City Park Road
Boerne, TX 78006
(830) 537-5509
---
Boerne Brewery
Treat your pallet to a pint of flavorful beer at the Boerne Brewery, a small microbrewery located in on the north side of town. The brewery welcomes visitors for tastings and tours. See the brewery's website for availability.
9 Hill View Lane
Boerne, TX 78006
(830) 331-8798
---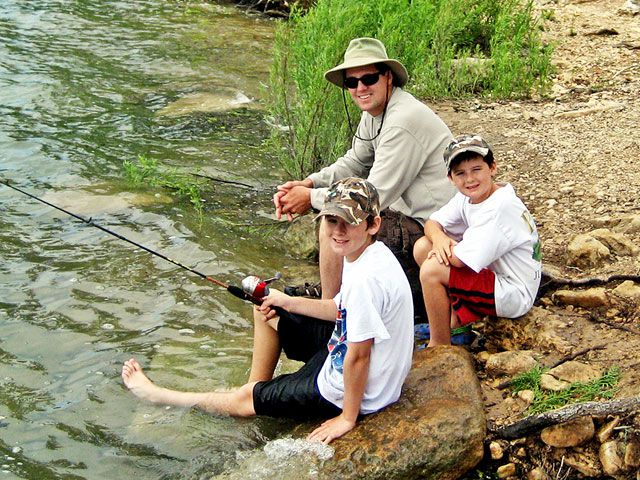 Boerne City Lake Park
Boerne City Lake Park is a picturesque outdoor area that includes a fishing pier, picnic areas, playground, volleyball court, boat dock, nine-hole disc golf course, and butterfly garden. Climb, slide, and jump at BEE Inflatable Water Park, a floating playground that offers fun for the whole family. Swimming, kayaking, boating, and hiking are some of the other top things to do in the park. Kayak and paddle board rentals are available at Hill Country Paddle Sports.
1 City Lake Road
Boerne, TX 78006
(830) 249-9511
---
Cascade Caverns
Experience life underground at Cascade Caverns, Boerne's oldest tourist attraction. A guided one-hour tour will take you through the cave's five corridors full of spectacular cave formations and unusual animals, such as the cliff chirping frog and the Cascade Caverns salamander. Above ground, you'll find a gift shop, nature trails, picnic tables, and camping sites.
226 Cascade Caverns Road
Boerne, TX 78015
(830) 755-8080
---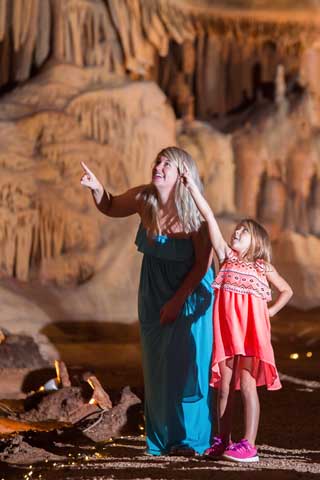 Cave Without a Name
Incredible stalactite and stalagmite formations, magnificent flowstones, and more fill the six main rooms of Cave Without a Name, a natural and living cave system about 11 miles northeast of Boerne. Well lit, easily traversable trails offer great views of these complex formations that take thousands of years to form. The cave is open every day of the year except for Thanksgiving and Christmas.
325 Kreutzberg Road
Boerne, TX 78006
(830) 537-4212
---
Cibolo Nature Center
The Cibolo Nature Center has four distinct ecosystems that cover 100 acres of spectacular Hill Country terrain. Numerous hiking trails meander through these four areas, including a cypress tree-lined creek and a flat prairie blanketed by tall yellow-brown grass, and offer a great vantage point to take in all the local wildlife.
140 City Park Road
Boerne, TX 78006
(830) 249-4616
---
Dodging Duck Brewhaus
Award-winning beer and a plate full of bratwurst and sauerkraut; does it get any better than this? Enjoy a swig of tasty beer and order a hearty meal from Dodging Duck's eclectic menu that includes items such as chimichurri grilled beef tenderloin, Thai lettuce wraps, and traditional fish and chips. There's even an extensive wine list if you prefer a glass of Pinot Grigio or Riesling.
402 River Road
Boerne, TX 78006
(830) 248-3825
---
Kinematic Brewing Company
Sip on an imperial porter or sample a barrel-aged beer at Kinematic Brewing Company, a nano-brewery located just a few miles east of downtown Boerne. Savor good conversations with friends and fellow craft beer enthusiasts in the brewery's spacious tasting room, and don't forget to buy a 32 oz. or 64 oz. growler of your favorite brew before you leave. The tasting room is open on Fridays and Saturdays throughout the year.
635 Highway 46 East
Boerne, TX 78006
(830) 336-2043
---
Guadalupe River State Park
Guadalupe River State Park features four miles of riverfront terrain within a nine-mile stretch of the Guadalupe River. Canoeing, fishing, swimming, bird watching, and hiking are some of the more popular activities in the park, which connects with the Honey Creek State Natural Area to cover more than 4,200 contiguous acres of Hill Country territory.
3350 Park Road 31
Boerne, TX 78006
(830) 438-2656
---
Kreutzberg Canyon Natural Area
Swim, paddle, fish, or simply relax on the scenic shores of the Guadalupe River in the Kreutzberg Canyon Natural Area, situated about 10 miles northeast of Boerne. In addition to easy river access, the 117-acre natural area includes three miles of multiuse trails and three observation blinds ideal for observing or photographing birds and other wildlife.
143 Mark Twain
Boerne, TX 78006
(830) 537-3470
---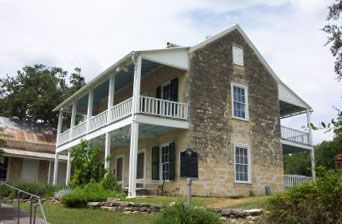 Kuhlmann-King Historical House
Visit one of the oldest homes in Boerne, the Kuhlmann-King Historical House. The home, built in the 1880's by German immigrant William Kuhlmann, has a historic kitchen and a historical marker. This site is open from 10 a.m. to 3 p.m. on the second Saturday of each month.
402 East Blanco Road
Boerne, TX 78006
(830) 331-1033
---
Six Flags Fiesta Texas
Six Flags Fiesta Texas is one of the largest amusement parks in Texas. Everything from heart-stopping roller coasters to towering water slides can be found within the park's 200 acres, located about 20 miles southwest of Boerne. Numerous restaurants and souvenir shops are on-site as well.
1700 I-10 West
San Antonio, TX 78257
(210) 697-5050
---
Wine and Brewery Tours in Boerne
There are many wineries and breweries throughout the Hill Country, and Boerne isn't far from some of the best of them. That's why one of the most popular things to do in town is to go on a wine or brewery tour offered by one of the many operators in Boerne. These tours take you to a few of the many wineries and breweries around Boerne, meaning you don't have to worry about driving. Does it get any better than that?
---
---