---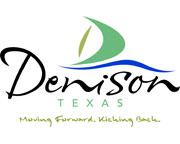 Attractions in Denison
Whether you enjoy spending all day outdoors or you prefer the quiet confines of an art gallery, Denison has something to offer you. The beautiful blue waters of Lake Texoma are just a few miles away, while Denison's historic Main Street has many of the shops and restaurants to keep you entertained. Of course, the town is also the birthplace of President Dwight D. Eisenhower, and the home he was born in is one of the top attractions in Denison. But that's not all. Read on to discover the many fun and exciting ways you can enjoy your time in this North Texas town.
---
Eisenhower Birthplace State Historic Site
Explore the Eisenhower Birthplace State Historic Site in Denison, a two-story 1870's home where President Dwight D. Eisenhower was born. Each room of the house is full of various displays related to Eisenhower's life, time as a general, and presidency. The historic site is open Tuesday through Saturday and on Sunday afternoons.
609 South Lamar Avenue
Denison, TX 75021
(903) 465-8908
---
Eisenhower State Park
Eisenhower State Park, located on the southern coast of a bay in Lake Texoma, offers a wide range of outdoor recreational activities. Miles of hiking and biking trails that offer scenic views of the lake, a beach ideal for swimming, ample space for camping, an amphitheater, fishing pier, and picnic area comprise the park. Eisenhower State Park is open daily from 8 a.m. to 5 p.m.
50 Park Road 20
Denison, TX 75020
(903) 465-1956
---
Grayson County Frontier Village & Museum
Experience life on the Texas frontier at the Grayson County Frontier Village & Museum in Denison. History comes alive at the frontier village, which is composed of 11 historic buildings, including the county's oldest school. Historical reenactments and a museum full of artifacts that tell the area's story are just a part of the overall experience. Grayson County Frontier Village & Museum is open in the afternoon every day except for Thanksgiving, Christmas, and New Year's Day.
111 R C Vaughan Road
Denison, TX 75020
(903) 463-2487
---
Hagerman National Wildlife Refuge
Hagerman National Wildlife Refuge is a biodiverse 12,000-acre natural area that sits in the middle of a migratory bird path. Hundreds of species of birds travel here during the nesting season, while many others live in the refuge full-time. Bobcats, river otters, turtles, fox squirrels, white-tailed deer, and many other animals call the refuge home throughout the year. Numerous hiking trails wind their way through the park and offer a great vantage point for wildlife watching and photography. Fishing and hunting are popular activities here as well.
6465 Refuge Road
Sherman, X 75092
(903) 786-2826
---
HeyDay Entertainment
HeyDay Entertainment is serious about FUN! Our Denison attractions include 16 state of the art bowling lanes in our downstairs, all-ages area. Upstairs, our Revolutions Bar is 21-over and features an additional 8 cherry wood bowling lanes, a fireplace, billiards and shufflleboard. Our full service bar features an amazing selection of beer, wine and specialty cocktails.
HeyDay Entertainment is the Texoma region's premier entertainment venue. The two story laser tag arena features specialty themed laser tag shows and is great for families, groups of friends or team building with your coworkers! The fun doesn't stop there! Also enjoy our thrilling ropes course, state of the art arcade and outdoor mini golf course!
5002 Convention Way
Denison, TX
---
Hidden Hangar Vineyard and Winery
Just a few minutes from Downtown Denison sits a beautiful vineyard! Relax with your friends and enjoy a wine tasting or schedule a tour of the vineyard.
273 Middle Road
Denison, TX
903-014-0434
---
Homestead Winery of Texas
Savor a glass of award-winning wine at the Homestead Winery in historic downtown Denison. The winery's tasting room is located within a 1920's art deco-styled building that also houses an art gallery and an Italian restaurant. Wine samples and bottles, along with racks and other accessories, are sold at the tasting room, which is open every day but Sunday.
220 West Main Street
Denison, TX 75020
(903) 464-0030
---
Ironroot Republic Distillery
Ironroot Republic Distillery is an award-winning distillery that produces handcrafted spirits made with local, non-GMO ingredients. The distillery offers tours and opens its bar to visitors on Friday and Saturday evenings.
311 Loy Lake Road
Denison, TX 75020
(903) 337-0495
---
Main Street
Take a stroll down our historic Main Street in Downtown Denison! Explore the wide variety shops from antiques to clothing boutiques. From local craft beer to carefully brewed coffee, you are sure to find something fabulous to sip on. Peruse the art galleries, murals, and public art and even create a masterpiece that you can take home! Pamper yourself with a facial or manicure at one of our spa's. Choose from a wide variety of restaurants or check out our local farmers market.
---
Munson Park
Munson Park in Denison is a 120-acre natural area that boasts a professionally designed 18-hole disc golf course. There's also a picnic area, a grill, a playground, and two baseball fields.
2000 North US Highway 69
Denison, TX 75020
(903) 465-2720
---
Perrin Air Force Base Historical Museum
Discover the military history of Perrin Field at the Perrin Air Force Base Historical Museum. The museum includes various displays that outline the 30 years (1941 to 1971) the airfield operated as an active military base. These displays include photographs and gear used by pilots from the earliest days of aviation through the jet age. The museum is open Tuesday through Saturday.
436 McCullum Avenue
Denison, TX 75020
(903) 786-8741
---
Red River Railroad Museum
Explore the early history of the railroads in North Texas at the Red River Railroad Museum, located within the restored historic Katy Depot in downtown Denison. Displays of photographs, equipment, and models comprise the museum, which is open Thursday through Sunday.
101 East Main Street
Denison, TX 75021
(903) 463-5289
---
Texoma Health Foundation Park features space for residents to enjoy outdoor physical activity, as well as sports and games in order to promote the overall health and wellness of the community. Softball/baseball fields, soccer fields, sand volleyball courts, playgrounds, a splash pad, pavilions, multi-use trails, and open space for outdoor physical activity are among the amenities. Over two miles of trails within the park connect to an additional 10 miles of trails planned within the Gateway Village development along with future regional trail connections to other parts of the city.
3801 South Hwy 75
Denison, TX
---
Waterloo Lake Regional Park
Waterloo Lake is a 52 surface acre lake located at 1000 Waterloo Lake Drive in Denison, TX. Waterloo boasts an awesome 7 mile Hike and Bike trail circling the Scenic Waterloo Lake! Trailhead starts at the boat ramp going counterclockwise for bikers clockwise for Hikers. There is a main Loop with additional loops. Be sure and take the Cave trail to see the really neat Cave.The Bike trail is a beginner to intermediate trail, bypasses go around the harder features, be sure and note the signs.
1000 Waterloo Lake Drive
Denison, TX
---
---