---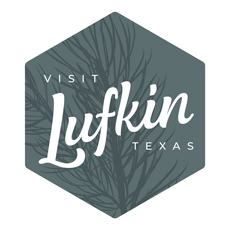 Events in Lufkin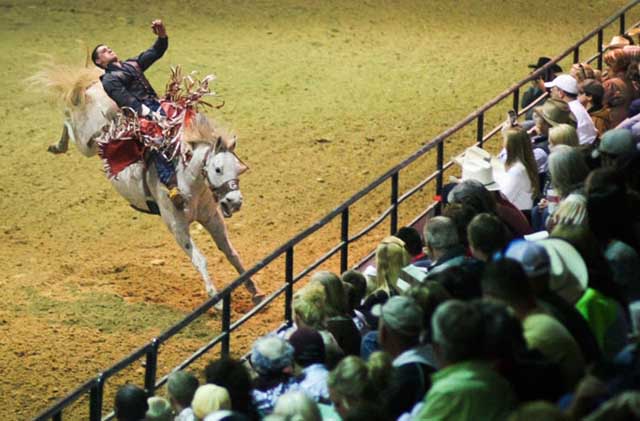 Lufkin's charming historic downtown and idyllic location between two national forests draws foodies, shoppers, art enthusiasts, and outdoor adventurers alike throughout the year. Many of the very best things about Lufkin, such as its natural beauty and local dining scene, are celebrated by many of the town's annual events.
Starting in February with a slew of culinary events, the year-long party continues with several rodeos, a canoeing excursion down the Neches River, and more. Don't miss these annual events in Lufkin during your next visit.
---
February
CBR Bull Bash
All the heart-pounding action of a Championship Bull Riding rodeo gallops into Lufkin for the annual CBR Bull Bash. Take in all the wild rodeo action, along with a country music concert, at the George H. Henderson, Jr. Exposition Center in late February.
1200 Ellen Trout Drive
Lufkin, TX 75904
---
April
Angelina Benefit Rodeo
There's even more exciting horseback riding and mutton-busting action at this Professional Rodeo Cowboy's Association-sanctioned event held over four days in late April. Not only do you get to see some of the best in the business compete for the top prize, you'll also be supporting a good cause.
1200 Ellen Trout Drive
Lufkin, TX 75904
Spring Fest
Browse art and craft vendor stalls along the streets of downtown Lufkin, tuck into something tasty, and take in all the entertainment on two stages.
Lufkin, TX 75902
---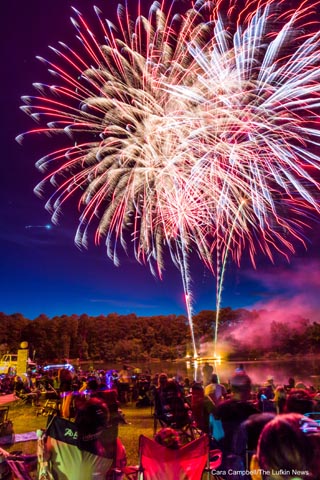 July
The City of Lufkin July 4th Celebration
A family tradition with a magnificent firework display of multi-colored fireworks exploding in the sky over the City of Lufkin. Free family fun activities, food trucks, and vendors will be onsite beginning at 3:00 pm with full setup by 5:00 pm. Lufkin Police Department will close down North Loop 287 between Hwy 59 North and Hwy 69 North starting at 8:00 pm until after the fireworks display. The fireworks will begin at approximately 9:00 p.m. The timing of the fireworks shows may change due to weather conditions. Low lawn chairs, blankets, and coolers are welcome at the events. There will be food vendors and activities for families on-site. Alcoholic beverages, tobacco products, and pets are not permitted.
Ellen Trout Zoo, 402 Zoo Circle
Free parking and shuttle service will be provided from Lufkin High School
309 S Medford Dr., starting at 5:00 p.m. The only parking available near the site will be at the George H. Henderson Exposition Center parking lots.
September
Texas State Forest Festival
Given its location between two national forests, there may be no better place in Texas to have a "forest festival" than Lufkin. Head to the George H. Henderson, Jr. Exposition Center during the fourth week in September for an amazing array of entertainment, including a lumberjack show, concerts, and specialty acts. Don't miss the giant carnival, petting zoo, and the Southern Hushpuppy Championships, a one-of-a-kind cooking competition.
1200 Ellen Trout Drive
Lufkin, TX 75904
---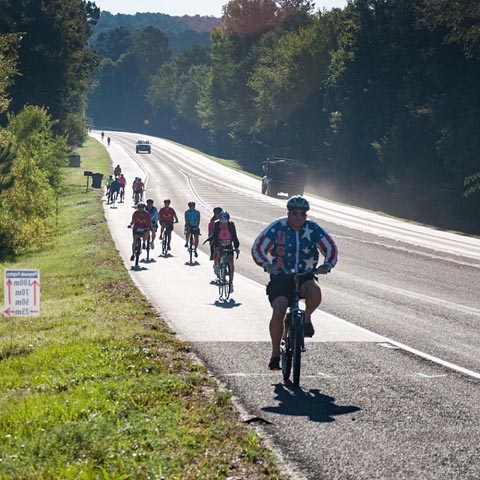 October
Pineywoods Purgatory
All the rolling hills and dense forests that surround Lufkin make for a spectacular backdrop for one of the premier cycling events in Texas: the Pineywoods Purgatory. Tune up your road bike and ride one of four routes ranging from 25 to 102 miles. Reach the finish line and celebrate with live music, fajitas, and drinks at the Beer Garden.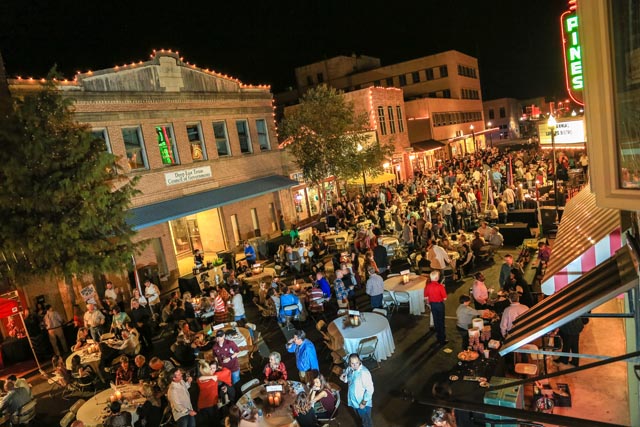 Lufkin's Bistro
A smorgasbord of enticingly edible eats form the foundation of this annual event in Lufkin. Treat your taste buds to tantalizing tidbits made by Lufkin's top local chefs. Pair your food of choice with something from the extensive beer and wine menu and enjoy all the live music. This event, held in downtown Lufkin, is held the same weekend as the Pineywoods Purgatory.
Lufkin, TX 75904
Angelina County AirFest
Watch high-flying daredevils twist, turn, and soar at the Angelina County AirFest, an annual airshow near Lufkin. Meet the pilots, take pictures, have a great time, with profits from the event going to Toys for Tots campaigns in Angelina and Trinity counties.
800 Airport Boulevard
Diboll, TX 75941
---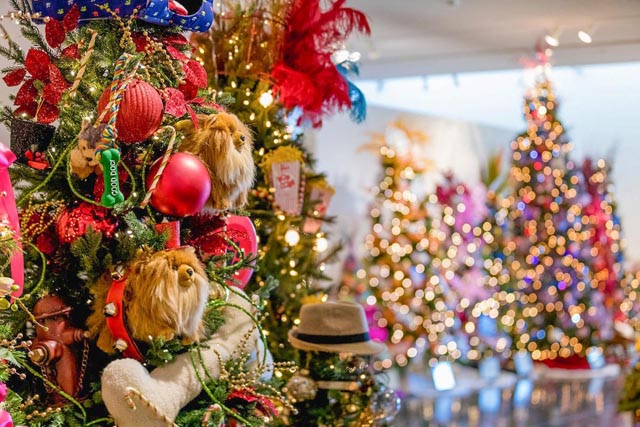 December
Festival of Trees
Every winter, the Museum of East Texas transforms into a delightful winter wonderland as the hallways are lined with dozens of Christmas trees festooned with festive holiday decorations. The event is a fundraiser for the art museum's scholarships and programs, so see the sights and support a good cause.
503 North 2nd Street
Lufkin, TX 75901
Christmas in the Pines
The City of Lufkin kicks off the holiday season with "Christmas in the Pines", a downtown event street festival on the first weekend of December. The afternoon starts with vendors lining the streets of Downtown Lufkin creating a Christmas shopping extravaganza starting at 2:00 pm. Vendors from all over the state of Texas join together just in time to get your holiday shopping done. From craft vendors to boutique clothing, you will find the perfect gift. Be sure to come hungry as some of your favorite local food trucks (as well as a few new ones) are ready to serve up something delicious!
2:00 pm - 4:00 pm: Live performances on the stage from local groups. Lufkin Parks and Recreation will be showcasing some of their fun programs, and Susan's Studio of Dance is sure to put a smile on your face. You won't want to miss out on the fun!
2:30 pm - 5:30 pm: Santa Clause will be posing for photos inside the historic Pines Theater. Photos will be taken by Texas Size Selfie and are complimentary for attendees.
5:30 pm: Brookshire Brothers will have milk and cookies as workers prepare to light Rudolph.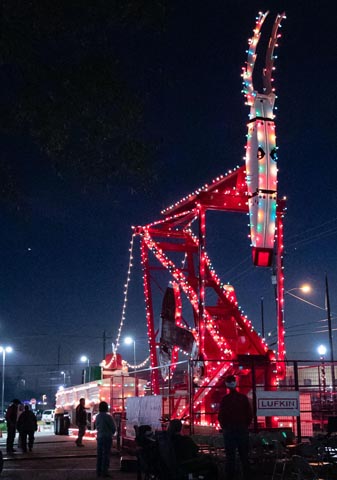 6:00 pm: The Lighting of Rudolph the Red-Nosed Pumping Unit! Thank you, Lufkin Industries, for this time-honored tradition!
Rudolph the Red-Nosed Pumping Unit
Rudolph the Red-Nosed Pumping Unit is a Lufkin Christmas ritual steeped in holiday cheer and East Texas tradition. For over 40 years, crowds have gathered to watch the lighting of the festive pumping unit, decorated to look like Santa's favorite reindeer. Rudolph is a full-size Mark 640 oil pumping unit. The unit is fully operational; however, the red paint job is a special touch reserved only for the holiday season. It takes nearly three days for a crew to get Rudolph moved into his holiday spot in Downtown Lufkin (next to Municipal Court). It takes an electrician about four days to set up the 1,000+ 7-watt lights that adorn Rudolph. When the unit is fully extended, it is 45 feet from top to bottom. Talk about a Christmas miracle! Attached to Rudolph is a 38-foot dump trailer decorated to look like Santa's sleigh, complete with a wooden cutout of Santa and all of his gifts for the good boys and girls of Lufkin.
---
---